Tokyo is like a genie in a bottle for gamers. You say you want to dress up like characters from Nintendo's Mario Kart racing game and haul tail through the streets in a souped-up go-cart? Boom! Wish granted.
Visitors shed their inhibitions (and dignity) to suit up as iconic characters from the Super Mario franchise or comic and anime legends like Dragonball and Marvel's Avengers.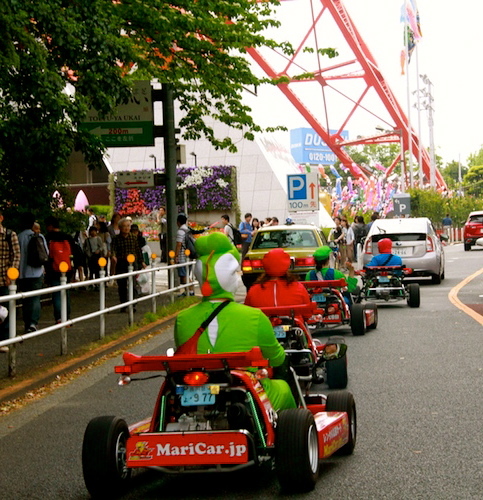 Carters can choose a guided tour or pick their own routes. This group is checking out Tokyo Tower. Photo by Shu Nakada.
Disguised as Mario, Luigi, Princess Peach, Yoshi, or whoever - Ironman, Captain America, and Spiderman are also always welcome in Tokyo - they play follow the leader on a street-level, open-air tour of the town.
Whizzing through Akihabara and Shibuya, drivers become instafamous. Onlookers clap, cheer, wave, and snap pictures because everyone loves these guys!
The whole experience is fun and pretty affordable. Half-hour cart rentals at several places start from just one thousand yen. But, the basic fee covers only cart and insurance. Costumes are a small surcharge of generally 700-800 yen. Gas is a charge of around 750 yen. There are other optional extras and add-ons. An English-speaking guide is an additional fee.
Most visitors opt for a two-hour tour to see more of the city. At MariCart, for example, the basic two-hour fee is 3500 yen, plus 750 yen for gas. An English-speaking guide is an additional 2000 yen per hour. One guide can cover a group of up to five people. Bluetooth headsets, so you can talk to each other, are 250 yen an hour. A GoPro camera to immortalize the event is 300 yen an hour.
Visitors must have a valid international driving license to rent a cart. These are easy to get before you leave home. If you are an American, apply at either an AAA (American Automobile Association) or NAC (National Automobile Club) office, not the Department of Motor Vehicles. You will need two passport-sized photos and a valid diver's license. It is an easy, quick process with no test.
On the day of your rental, also bring your passport for I.D. purposes.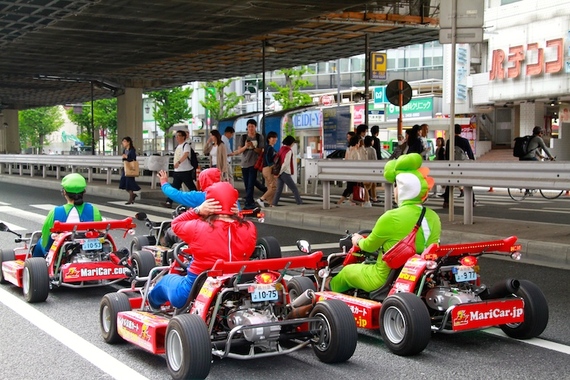 In safety-obsessed Japan, oddly, go-carts do not legally require drivers to wear a helmet at this time. Photo by Shu Nakada.
Cart rental websites are largely in Japanese and require advance reservations. Here are a couple of places to give readers an idea of what to expect.
Maricar Japan has an English Website with all their details.
They are located near Kita-Shinagawa or Shinagawa stations.
AkibaCart's website is only in Japanese, at least at the time of this writing. This popular rental agency is right in Akihabara electric town. Website.
If language is a problem, which - duh - it is for most tourists, another option is to visit the Tokyo Tourist Information Center across the street from the Takeshita Dori exit of Harajuku Station. This center is run by the Tokyo Metropolitan Government. Their staff is multi-lingual and a great resource for tours and fun things to do. Since they are run by the government, there is no commission-based agenda. English Website
Also, try online searches for 'Mario go-carts Tokyo' or 'dress up like Mario and drive go-carts'. These will give you some local tour companies that offer to arrange the package and book the date and time for an extra fee.
Currently, Voyagin Tours and Activities, for example, will reserve a basic two-hour tour (just cart and insurance) for around $40. Separate charges for an English speaking guide, costumes, and extra fuel are paid to the cart rental company but your reservation is in and they will be expecting you or your group.
So, drive on gamers! But for everyone's sake, please be careful. Friends don't let friends go-cart recklessly.