Oriental Land Company Ltd., which operates Tokyo Disneyland and Tokyo DisneySea, is breaking ground on expansive new themed areas for both Disney parks.
Mega-hit Frozen is receiving the royal treatment at DisneySea. Frozen will be the eighth themed port area for his unique Disney Park centered around a broad lagoon and its tributaries. Concept art shows a recreation of Elsa and Anna's castle and the port town. According to Oriental Land Co., the overall theme will be Scandinavia, with a portion of the area specifically devoted to Frozen. As of now, it's scheduled to open in 2018.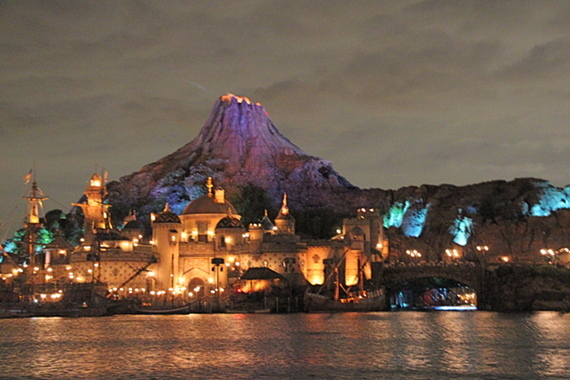 The new Frozen attraction will be in DisneySea. This is a view of the Park's main lagoon from Mediterranean Harbor. Photo by Gail Nakada.
Disney films Beauty and the Beast and Alice in Wonderland will get their own themed areas at Tokyo Disneyland, doubling the current size of Fantasyland. Concept art shows a walk-through garden maze for Alice that looks very similar to the one in Disneyland Paris. Concept art for Beauty and the Beast includes Beast's castle. As of now, both developments are targeted for a 2018 opening.

Alice's little corner of Fantasyland, here at the Queen of Hearts buffet, will expand exponentially. Photo by Gail Nakada
To see the concept art* for Frozen, Beauty and the Beast, and Alice in Wonderland attractions scroll down at this link.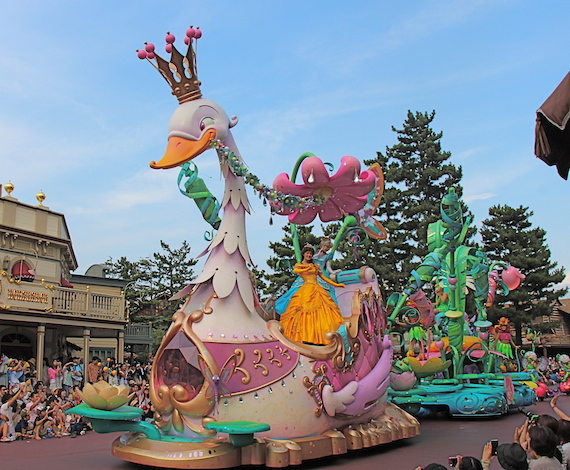 Yes, Belle, soon you will have your own castle in Fantasyland. No more sharing. Photo by Gail Nakada.

Also announced, an underwater adventure themed around Finding Nemo and the upcoming Finding Dory films. Visitors will board a simulated submarine. The ride will replace StormRider in the Port Discovery area of DisneySea. Scheduled to open in Spring of 2017, it will be limited to those three years of age and over - a real disappointment to parents of toddlers.
To see the concept art* for the Finding Nemo and Finding Dori attraction, scroll down at this link.
All new areas will include attractions, restaurants, and shops.
Frozen will be located adjacent to the Lost River Delta at DisneySea. For the Alice and Beauty development, Fantasyland will be overhauled, with expansion into parts of Tomorrowland, Guest Parking, and the Backstage area.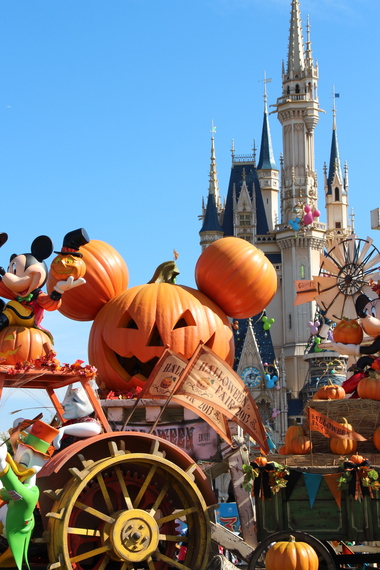 The Tokyo Disney Parks have an enviable repeater rate due to special seasonal events, food, and character items. Photo by Gail Nakada.
The resort has already finished a new parking lot on the other side of the Shuto Expressway to compensate for the loss of some current parking. The distance means they will probably have to run parking shuttles to the entrance.
In 2014, Tokyo Disneyland and Tokyo DisneySea had a combined total of over thirty one million guests. Just seven percent of those were overseas visitors. Over half (66.2 percent) were from their own backyard in the Kanto region. The park enjoys a spectacular repeater rate due in part to the seasonal shows that include special events, parades, exclusive character goods and food. For more information on visitor stats, see here.
Tokyo Disney Resort English Website.
*Please note that all the images by Oriental Land. Co., Ltd. in the press releases are concept only and subject to change.
Popular in the Community