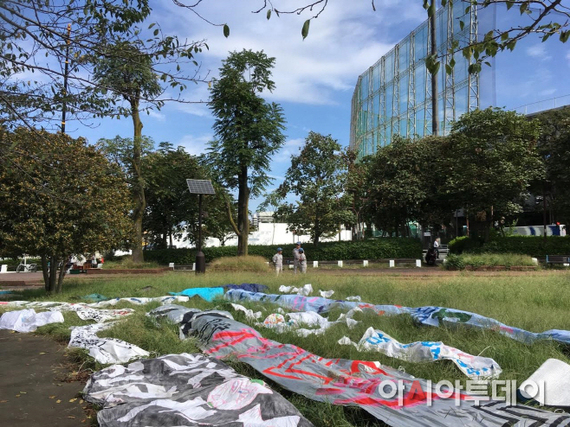 [Tokyo Metropolitan Government notified homeless campers in the Meiji Park that the area was being shut down and that they had to leave the area by Sept. 30. Placards made by homeless people and their civic group supporters and officials from Tokyo Metropolitan can be seen./ Photographed by Um Soo-ah]
By Um Soo-ah, Tokyo correspondent, AsiaToday - Tokyo has dozens of large parks and hundreds of smaller parks, which offer residents and visitors an opportunity to get a break from concrete. Each of these parks has as few as 10 homeless people and as many as 100 people living in.
I went to Meiji Park and met with some 20 homeless people in the area on September 30 at 9 a.m.. There was only one reason why they gathered. Tokyo Metropolitan Government notified homeless people to move from the park by the very same day. Tokyo decided to shut down the park for the construction of the new Olympic stadium. As high barriers were set up, many homeless left the park. Only some 20 were living there temporarily.
Four or five people from homeless supporting civic groups gathered as well. Hirano Ryoko, a supporter of the community of homeless persons, said, "They are evicting homeless from the park because of Tokyo Olympics. They say homeless should move from the park to facilities. But most of the facilities are in poor condition so many often end up coming out again."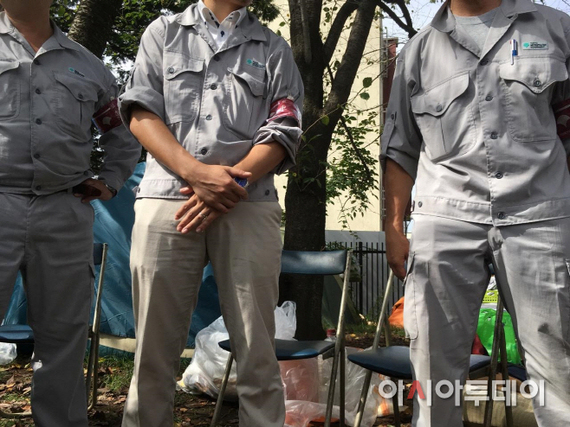 [Three officials of Tokyo Metropolitan Government give explanations to the homeless.]
At 9:30 a.m., three officials of Tokyo Metropolitan showed up. They were wearing a gray uniform that reads, "Tokyo Metropolitan Government." They told homeless people if all of them move out of the park by the weekend, they would introduce a facility that they would like to enter. They said they would build up a three-meter wall around the area for construction by October 4 at the latest.
Meiji Park is a place close to Meiji Jingu Baseball Stadium and National Gymnasium. All the surroundings were under construction for Tokyo Olympics. Nearly half of the parks in Tokyo were carrying out maintenance ahead of the Olympics Games.
Civic organization activists claimed that these policies not only destroy the basic functions of parks, but only take up opportunities of homeless people for independent living. They requested to make alternate plans at the current level for homeless people, but they failed to hear a clear answer from Tokyo Government.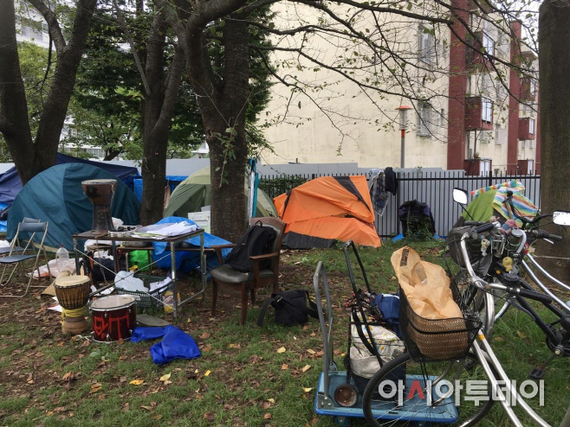 [The residence of homeless people in Meiji Park. Most of them left the area, and only 20 people were remained.]
The discussion between Tokyo Government and the homeless people was over one hour long, but they failed to sort out the issue. The homeless people asked not to shut down the park. They asked not to set up guards, surveillance cameras or barriers.
As they raised their voices, one official from Tokyo Government said, "Please lower your voice because it's frightening." The homeless people said, "Are you afraid of us because we raise our voices? Tokyo Government is more frightening to us."
Misako Ichimura, a homeless living in Yoyogi Park, said, "We are citizens, too. I don't understand why they are evicting poor people who have been living in the park for years just because of the Olympics."
A panel of experts commissioned by Tokyo Metropolitan Government handed over a report to Tokyo Governor Yuriko Koike on September 29, stating that plans for the 2020 Toyko Olympics must be swiftly reviewed because the estimated cost could balloon past 3 trillion yen that could be the potential burden on the city and its taxpayers.
Calling all HuffPost superfans!
Sign up for membership to become a founding member and help shape HuffPost's next chapter