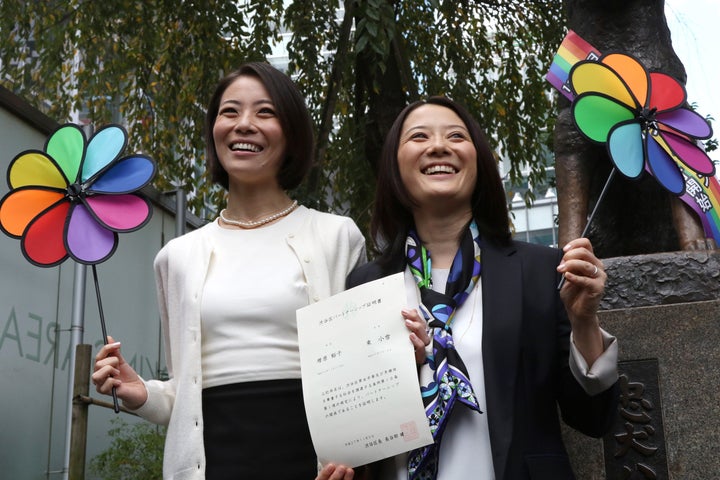 Holding rainbow fans and grinning from ear to ear, a couple in Japan was photographed on Thursday with a very special document clutched in their hands: a marriage certificate officially recognizing their same-sex union.
Koyuki Higashi, 30, and Hiroko Masuhara, 37, were married in Tokyo's Shibuya ward on Thursday morning.
"I am exhilarated that the city I am living has recognized my partner as my family," said Masuhara, per Reuters.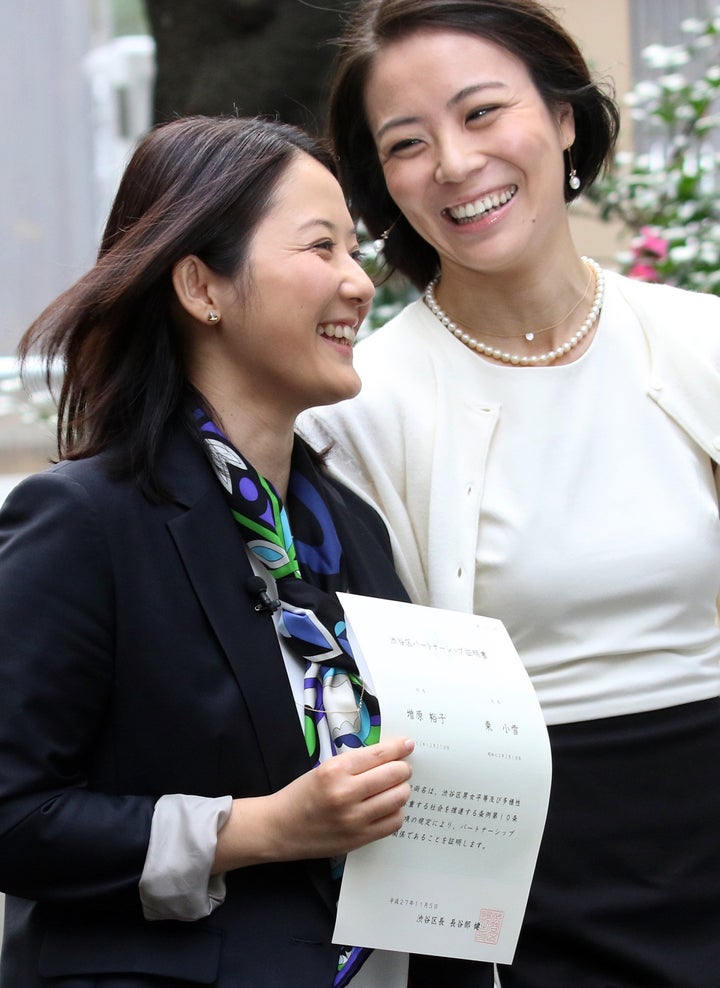 Shibuya's legislators voted in March to grant marriage certificates to LGBT couples, making the ward the first in Japan to recognize same-sex unions. Setagaya, another of Tokyo's 23 wards, voted to do the same a few months later.
The local ordinances recommend that same-sex couples be granted equal rights, including hospital visitations and apartment rentals.
At the time of Shibuya's vote, Toshitake Kuwahara, the ward's then-mayor, said that young "sexual minorities" were living in fear and struggling with self-doubt in Japan.
Although LGBT activists praised Shibuya and Setagaya's move to recognize same-sex unions, they noted the ordinances' many limitations.
For one thing, they only apply to the two wards in question, and are not legally binding. As such, organizations can flout the recommendations if they so choose.
Still, activists insist this is an important step forward for Japan, a country where LGBT issues remain taboo. As CNN notes, despite "recognition and protection from some local governments, Japan still has no national laws protecting LGBT people from discrimination. Coming out can mean getting fired, evicted or denied healthcare."
The wire service says Setagaya and Shibuya both began issuing marriage certificates to same-sex couples on Thursday.
"I'm so happy," Higashi said, her new wife by her side. "When they gave us the certificate, I cried. Our friends cried."
Across Asia, LGBT rights are limited -- or in many cases, non-existent. In Southeast Asia, for instance, being gay is criminalized in several countries. Read more about that here.
Support HuffPost
Every Voice Matters
Popular in the Community