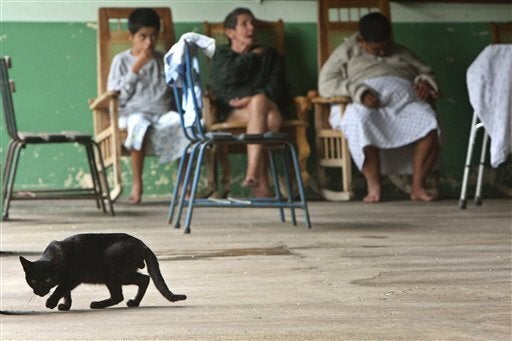 TOKYO -- I followed the instructions of the watchful cashier and took off my shoes, sanitized my hands, placed my bag in a locker and dangled an ID card ("customer #18") from a lanyard around my neck. The cashier then gave me a once over and a shallow bow, and I padded quietly into the sitting room of the cafe.
"She's the prettiest girl we have at our cafe. Everybody wants to touch her, but we ask that customers only do so if she doesn't resist you," a waitress told me.
She didn't resist. And since I was paying for the privilege, I leaned in and stroked her cheek. She was as lovely as the waitress had promised: a big-eyed, silky soft, compliant 2-year-old Russian Blue cat.
I was at Calico, one of Tokyo's increasingly popular cat cafes, where customers seeking human and feline companionship pay to sip tea and stroke one of the 20-odd resident cats, representing 17 different breeds.
In an increasingly childless and aging nation, cat cafes fill a void. The more fortunate Japanese are the middle-aged couples who cradle Dachshunds like grandchildren at car dealerships and the young women who hand feed their Maltese puppies on park benches. For those who live with long work hours, no-pet apartments and work-related travel, there are cat cafes.
I first heard of Calico cat cafe when it opened in March 2007, but then it was an oddity and the preserve of lonely women and cat fanciers. It is now staggeringly popular. This March it opened a second branch in the high-rent Shinjuku business and shopping district. Last October it published a glossy coffee table book featuring its "feline staff." The original branch is so packed that reservations are recommended on weekends.
Browsing in a bookstore, I found 39 establishments listed in the "cat cafe yellow page" section of a magazine. Calico advertises itself as a great "date spot," a place to make "friends" -- both cats and humans -- and a "fun place" to swing by after work.
Tokyo wasn't always like this. When I grew up here in the 1980s, people had both children and pets. But in the past decade, the Japanese have chosen to have fewer of both. The fertility rate, or average number of children born to a woman, was 3.65 in 1950, but had dropped to 2.13 by 1970. By the time I was born in 1980, it was 1.75. The rate now hovers at a little above one child per woman. The estimate for 2009 is that an average woman will bear 1.21 children.
When I visited Calico cat cafe on a Saturday afternoon, it was packed almost to capacity with young couples on dates, older married couples making an afternoon of it and young women in ones and twos. One shy man struggled to draw attention from the cats, the people and even the staff.
A bored husband slept, mouth gaping and fingers loosened around the cat toy in his lap. Men and women jockeyed for prime positions near the waking cats and took photos on cellphone cameras of cats snoozing in baskets and lapping at water bowls.
A waiter handed me a laminated page of rules: wear your cat-access pass around your neck at all times; no one under 5th grade may enter; cats too young to be held have scarves around their necks; do not hold or stroke a cat if it resists you; never wake a napping cat; bringing cat nip or cat food to the cafe is strictly forbidden.
"Is this a rare breed, this one that looks like a poodle?" a woman asked a waitress while her husband snapped a photo of the sour-faced cat.
"Oh yes, Kukuru is very rare. She's one of around only 20 in all of Japan," the waitress replied. The husband grunted, impressed, and stroked the sleeping cat.
A few yards away, two young women waged a near silent and very polite battle over a complimentary plastic bag of six pieces of dried cat food. (Customers were permitted to use the food to try to lure cats to come closer.)
All but three of the cats were asleep when I left the room full of adults vying for their attention, crawling on the floor with cat toys shaped like miniature fishing rods and brandishing their cellphone cameras. As I paid up, the cashier bowed and offered me a complimentary postcard-sized photograph of cats that had been made into a sticker.
It had been a bargain, albeit a strange one: An hour of commitment-free cat stroking cost me only $9.
Related
Popular in the Community