Japan's favorite pink, party madness is ready to burst into bloom. The Cherry Blossom Front reaches Tokyo March 25 and hopefully runs thru April 10.
The city's most popular viewing spots are already hanging lanterns and readying food and drink stalls for the hanami, or flower viewing, crowds counting the days until the city floats on fluffy clouds of pink petals -- and overflowing cups of sake.
Cherry blossom viewing is not the quiet, haiku-writing, kimono-sleeve-fluttering event you might think. There's a slightly more bacchanalian edge to it.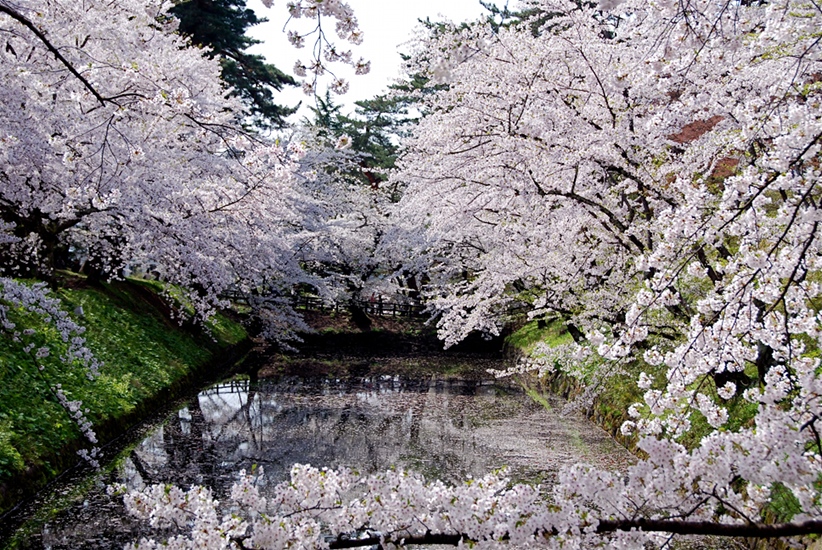 Visitors in transit with limited time or those just hoping to take in as many sites as possible, can follow this guide to Tokyo's top cherry blossom sites. All are centrally located in town and near public transit. Be sure to make time to walk under the blossoms at night. Night-time viewing even has a special name in Japan, yozakura. The effect is vastly superior to daylight. Try it, you'll see.

Every shrine has at least a few cherry trees. Toyokawa Inari, Akasakamitsuke.
Oh, and here's a number to start off with: Ueno Park expects around 2.3 million visitors during these two weeks.
Shinjuku Gyoen Park: 1300 trees
No place else in the city proper has as many blossoms massed together. The park is best known for its large, formal Japanese garden - which looks especially nice framed by all those cherry trees. Those Shinjuku skyscrapers towering behind masses of blossoms create an interesting photographic contrast. Shinjuku Gyoen gets crowded but is not as crazy as Ueno (see below) since alcoholic beverages are banned from the park. No night viewing, last admission 4 p.m. Open daily during cherry blossom season. Entrance fee is 200 yen ($2.20) for adults.
Access: Shinjuku Gyoen Mae Station, Marunouch metro line.
Anywhere from a hundred to a thousand times as many visitors as there are trees flood into the park during the afternoon and evening this time of year. It's loud, rowdy and crowded. Really crowded. If that's your thing, you'll love Ueno. If not, try one of the other hanami spots, like Chidorigafuchi. Or come really early in the morning and then stay for coffee. The Starbucks right in the center of the park opens at 8 a.m.
If you can stand the crush, do visit the many shrines and temples tucked here and there around the grounds, especially Kiyomizu Kannon-Do. The temple's viewing platform overlooks a hill of massed cherries.
Ueno stays open after dark during this season with the trees lit until 8 p.m.
Access: Ueno Station, take the Ueno Koen (Park) Exit from the JR. If you come out of the Ginza line at the bottom of the hill, don't despair. Just bear to the right and walk up the hill on your left that borders the park. For Kannon Do temple, at the police box on the main park thoroughfare, go to your left, it's about 100 yards ahead on the left, at the top of a small hill.
Sumida Riverwalk:1000 trees
The river-front park is easy to find, just across the street from Asakusa Station and very near Sensoji Temple and its iconic red lantern gate. Since Sky Tree opened, the place has become even more popular for photo-ops of Sky Tree framed by cherry blossoms. (Note, this is better as a day shot, Sky Tree is only dimly lit at night.) The entire riverwalk is hung with traditional lanterns in the evening. Unlike staid Shinjuku Gyoen, alcohol is definitely on the menu at the many food and drink stalls set up on the weekends - or you can just bring your own.
The trees are illuminated until 9:30.
Also, although Sensoji temple is closed at night, the grounds, temple and pagoda are floodlit and make a great photo. For a one-of-a-kind birds-eye shot of the temple, go up to the eight floor of the Asakusa Tourist Center across from Kaminarimon gate, it's open until 8 p.m.
Access: Asakusa Station. JR, Ginza metro line, Exit 3.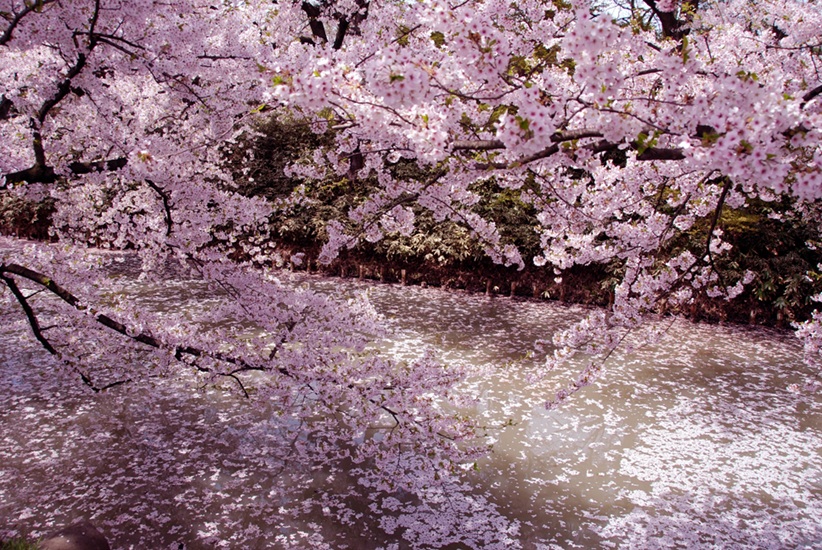 Chidorigafuchi: 1000 trees
Near the Imperial Palace grounds, this area is one of the city's most popular and traditional hanami viewing destinations. Trees hang low over the moat making for some great Instagram moments. You can even rent a row boat to get up close and personal with all that puffy pink goodness. 800 yen ($8.50) for thirty minutes.
Instead of lanterns, much of the walk will be illuminated with LED light displays this year. Not sure how we feel about that yet. Kudanshita doesn't have a lot of restaurants, though there should be plenty of vendors. If you want real food plan your meal before or after your walk.
The trees are illuminated until 10 p.m.
Access: Kudanshita Station, Tozai, Hanzomon and Toei metro lines.
If you're looking to combine cherry blossom viewing with a shopping trip to Harajuku and Shibuya, this is your spot. Yoyogi Park sprawls across a wide swath of land next to Meiji Shrine. The cherry trees are massed in two areas close to the Harajuku entrance. Just follow the crowds. The grounds will be full of partying hanani groups so be prepared. No special night-time illumination as the park is supposed to close at dusk.
Access: Harajuku Station, JR Yamanote Line. Meiji Jingumae Station, Chiyoda metro line.

Along the Meguro River.
During two weekends from April 1st, several blocks near Nakameguro Station are packed with gourmet food and wine stalls - and people. Just getting out of the station can be a challenge. If you like the crowds and jostling for really tasty treats, great. If not, weekdays are better, especially after dark. The crowds thin out as you move away from Nakameguro (facing the river, go to your right). The entire walk - 3.8 kilometers --is softly lit and this is a very romantic place in the evening. Just saying...
The lights are on until 10 p.m.
If you walk all the way to the busy street with the police box on the opposite side, (Meguro Dori) go left up the hill and it will take you to Meguro Station (JR, Mita and Namboku metro lines). This hill is famous for all the ramen noodle restaurants along the slope. Hungry? Keep to the left-hand side of the street.
Access: Nakameguro Station, Hibiya and Toyoko Lines. Go out of the station, cross the street and straight ahead on the side street facing you. The river is only a couple of minutes away.
Yasukuni Shrine: 600 trees
Yasukuni is often the center of political controversy but all that gets gleefully shoved aside at cherry blossom time. Cherry trees line the approach to the torii gate in front of the main hall and are clustered around the shrine grounds. The streets nearby are full of food and drink vendors, as many people combine Yasukuni with a visit to Chidorigafuchi (they're right next to each other).
Access: Kudanshita Station, Hanzomon, Toei, Tozai metro lines.
Looking for quality over quantity? Visit Hotel Chinzanso Garden - 90 trees --in Meijiro (take a taxi from Meijiro JR Station, it's the best way) or Meguro Happoen - 75 trees -- near Shiroganedai Station (Mita and Nanboku metro lines). Both have truly beautiful traditional Japanese gardens -no drunken revelers - and are probably the setting many visitors hope to see cherry blossoms in at least once during their visit. Go in the evening if you can. Happoen is open from 10-10. Chinzano until 11.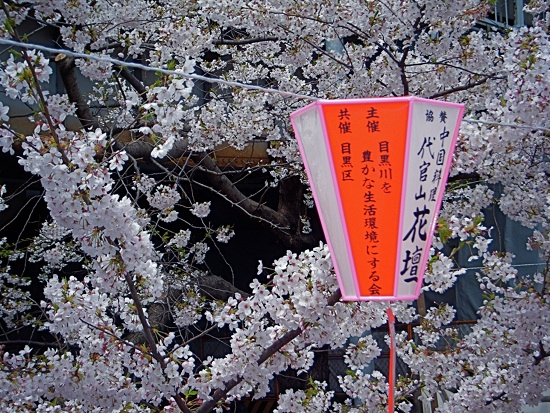 Yozakura, night viewing of cherries, is not to be missed.
By the numbers, those are the top spots within the city proper. If you want a list of places with 100-500 trees it would literally fill a book!
Nearly every neighborhood has it's own poofy pink claim to fame, even naughty Roppongi. On the way to the clubs, stop by Tokyo Midtown. The road at the back and side of the complex has 150 trees that are floodlit at night.
If all you have on your itinerary is a layover in Narita Airport, don't despair. Narita Shin Shoji, the big, bright, buddhist temple the city is actually famous for (not the airport) is do-able by taxi from the area hotels and boasts 350 cherry trees.
Actually, it's pretty hard not to find cherries during this short, brilliant, blooming time of year. Just be sure to bring your sunglasses. No, not for cherry blossom blindness - for the hangover you'll inevitably have in the morning after all those hanami and yozakura parties.
A few more numbers for you, one box of aspirin with twenty tablets costs 499 yen ($5.35).