Two Toledo-area residents have been arrested for allegedly plotting separate terror attacks, officials from the FBI and the U.S. Attorney's Office of Northern Ohio announced at a press conference Monday morning.
Elizabeth Lecron, 23, was arrested Monday morning and is accused of plotting an attack at a Toledo bar, officials said. She was arrested on charges of transporting of explosives for the purposes of harming others and property.
"This defendant bought black powder and hundreds of screws that she expected would be used to make a bomb," Justin E. Herdman, United States Attorney for the Northern District of Ohio, said in a statement. "Through her words and actions, she demonstrated that she was committed to seeing death and destruction in order to advance hate."
Authorities allege Lecron, a resident of Toledo, expressed admiration for mass murderers, even calling the two teenagers who killed 13 people at Columbine High School in 1999 "god-like."
"It's going to be a lot of fun and I can't wait to post pictures," she allegedly wrote on social media ahead of a visit to a memorial for the Columbine shooting in Colorado this past summer.
Authorities say Lecron also exchanged letters with Dylann Roof, the white supremacist who massacred nine black worshippers at a Charleston, South Carolina, church in 2015. Roof is in an Indiana prison awaiting execution. According to a U.S. attorney's office press release, Lecron also "attempted to send [Roof] Nazis literature."
Lecron allegedly had a Tumblr account called "CharlestonChurchMiracle," on which she posted photos and comments about mass shootings.
The FBI says agents raided Lecron's home and found an AK-47, a shotgun, handguns and materials that could be used to construct pipe bombs. Agents also found her journal, in which she allegedly wrote about committing "upscale mass murder."
Lecron studied the entrances and exits of the bar she planned to attack, authorities said.
She also allegedly expressed interest in committing other attacks. Authorities said she considered targeting a pipeline in Georgia, freeing animals from a farm and attacking her own workplace in Toledo, which she claimed was leaking pollutants into a river.
She is scheduled to appear in federal court on Monday.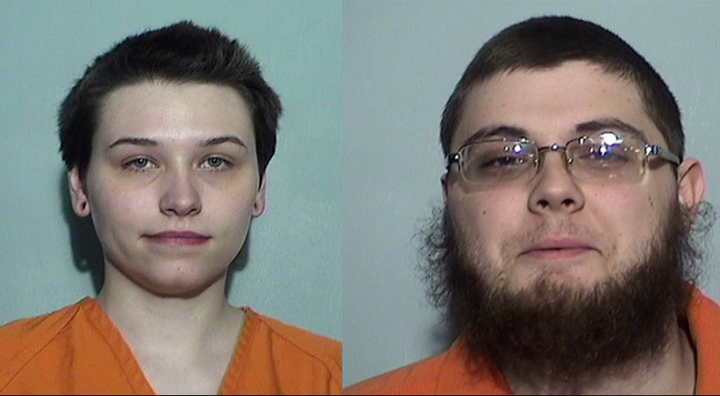 At the press conference Monday morning, authorities also announced the arrest of Damon Joseph, a 21-year-old resident of Holland, Ohio.
Joseph is accused of pledging his support for ISIS and plotting attacks on two synagogues in Toledo. He is charged with one count of attempting to provide material support to ISIS.
He was arrested Friday after purchasing two AR-15 rifles from an undercover agent, according to an affidavit filed in U.S. District Court in Toledo.
"In a matter of months, Damon Joseph progressed from radicalized, virtual jihadist to attack planner," FBI Acting Special Agent in Charge Jeff Fortunato said in a statement. "He ultimately decided to target two Toledo-area synagogues for a mass-casualty attack in the name of ISIS."
According to the affidavit, Joseph came to the attention of FBI agents after posting photos of weapons to his social media accounts. He also allegedly posted a photo distributed by ISIS.
Authorities say Joseph later told undercover agents that he was an ISIS supporter and sent the agents videos he had made in hopes of recruiting more people to join ISIS.
An official at the press conference Monday stated that Joseph had told an undercover agent that he hated "the gays, the Christians, the Catholics, the Jews, you name it."
After a white supremacist killed 11 people at a Pittsburgh synagogue in October, Joseph allegedly told an undercover agent that "Jewish people are evil and they got what was coming to them."
On Dec. 6, Joseph allegedly met with the undercover agent and said he wanted to target two synagogues in Toledo, but then said it was more realistic to attack one.
Joseph allegedly wrote the name and address of the synagogue he wanted to attack and told the undercover agent that he wanted to kill a rabbi and target the place of worship during the Jewish Sabbath.
He was scheduled to appear in federal court on Monday.
Popular in the Community