A Maryland reporter got scolded Thursday on social media for soft-pedaling his story about a local man who routinely carries an AR-15-style rifle near a school bus stop in Severn.
"Tonight on @wbaltv11: A man with an AR-15 has been showing up for weeks to a school bus drop off for local elementary school students," tweeted Tolly Taylor, a journalist for NBC affiliate WBAL-TV.
"Parents say their kids are afraid, the man says he's protesting @GovWesMoore's new gun control law," Taylor added, using the Twitter handle for Democratic Gov. Wes Moore. "You'll hear from both sides at 5+6pm."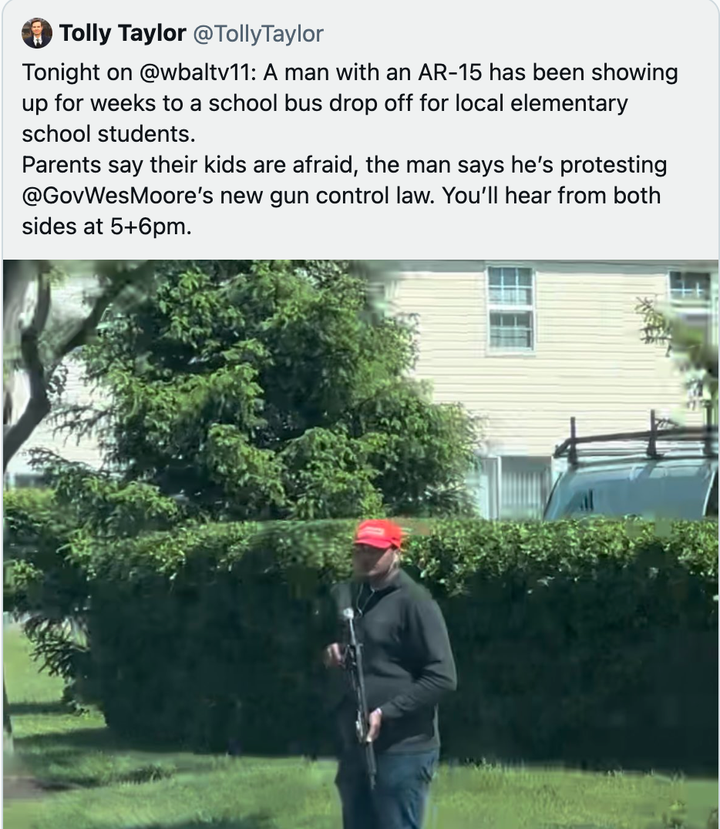 It was his "both sides" framing that rankled critics. The comment brought to mind former President Donald Trump's remark about "very fine people on both sides" of a 2017 white supremacist rally in Virginia that was also attended by counterprotesters, one of whom was killed by a neo-Nazi.
It also wasn't the best choice of words given the chilling sight of an aggrieved, gun-toting man parading around a bus stop amid a rash of school shootings nationwide.
"Nope…there are not two sides of bringing an assault weapon to an elementary school bus stop," tweeted MSNBC's Jen Psaki, the former White House press secretary for President Joe Biden.
"'Both sides'? Seriously?" her MSNBC colleague Mehdi Hasan wrote. "I feel like I am losing my mind. STOP WITH THE BOTHSIDES-ISM!"
The man with the rifle, J'den McAdory, told WBAL-TV that he was asserting his legal right. Police in Anne Arundel County, where Severn is located, said he's not violating the law.
One understandably freaked-out parent told Taylor that it could be "too late" if something is not done soon. And the school even changed its dismissal time Monday because of the issue.
Taylor reported that McAdory eventually agreed not to protest during school drop-off or pickup.
HuffPost reached out to Taylor for comment. Twitter users, meanwhile, continued to chime in on his choice of words:
Popular in the Community