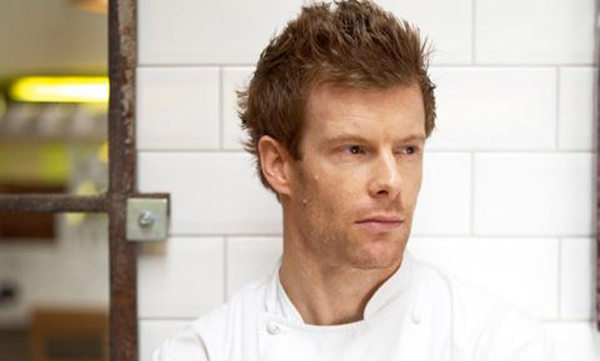 In the culinary world, Tom Aikens was a prodigy. Now 42, the chef has been working at Michelin-starred restaurants since his teens (19 to be precise) and at 26, while working at Pied à Terre, became the youngest head chef to earn a second Michelin star. By the time he opened his eponymous restaurant in 2003, he had made an indelible mark as one of the world's most promising young chefs.
At the top of his game, there seemed to be nowhere else for Aikens to go but down. His expansion plans failed and he was left with no other option but to close shop. Saved by new backers, he's just about managed to revive his flailing business with the much-anticipated re-opening of his restaurant on Elystan Street in Chelsea, London in early 2012.
Same chef, same standards, different menu, different setting. Oak floorboards and minimalist wooden tables, there's a nod here to Scandinavia, which is reflected in the food, something of a departure from the first iteration of the restaurant, which was decidedly more French and more formal, though it's quite clear that technique and gastronomic excellence have been upheld.
Aikens explains: "There has been a change in the last few years in terms of how, to a certain degree, fine dining has become a lot more relaxed and informal. I think there has been a transitional period where you can have good food in a more relaxed atmosphere and dining surroundings, which is what more and more people want now."
Don't however, let the quasi informality fool you, this is still very much a Michelin-star experience, which is what is to be expected from the likes of Aikens who has been trained by culinary luminaries, such as Joël Robuchon and Pierre Koffmann.
"It's an advantage to work with as many people as you can to gain as much experience, but also to take away with you what they teach you because everyone has their own philosophy either on food or how a kitchen is run. It's not about the actual cooking but the organization or the way a person particularly works or the routines they work to." Looking back at his own successes and failures, the veteran advises aspiring chefs to treat kitchens as classrooms. "I would always try to pick up how, for instance, chefs you work with run the kitchen or how they think about the business side of how they run their restaurant because all those things matter eventually further down the line when you've progressed in your career."
Four months since the re-opening of Tom Aikens Restaurant (note the lack of an apostrophe), Aikens is looking forward to spring, which should hopefully herald change and a fresh start for the chef. "Between the seasons, I really like the springtime because we're coming out of our long, cold winter and it's the start of hopefully a long summer, which never appears but it's still nice because it feels like the start of a new year. I always look forward to the start of a new season of vegetable growing."
Dedicated to using sustainably sourced, seasonal produce, Aikens shares his inspirations for spring cooking and shows us how to cook his favourite springtime dish: Wild Garlic Soup served with poached pheasant egg, wilted garlic leaves and smoked breadcrumbs.
Ingredients:
1 onion, thinly sliced
1 garlic, thinly sliced
large knob of butter
3-4 handfuls of wild garlic leaves, chopped
cream
sour breadcrumbs
salt and pepper
thyme
1 pheasant egg
chicken stock
Preparation method:
1. Sweat onions and garlic in butter.
2. Add garlic leaves into the mixture. Pour boiling chicken stock.
3. Add a little bit of cream. Cook for 30 seconds and then puree until consistency is similar to soup.
4. Cook sour breadcrumbs in butter until they go crispy. Add a pinch of salt, pepper and thyme.
5. Crack the pheasant egg into simmering water and lightly poach.
6. Cook garlic leaves in butter.
7. Serve soup in a little glass bowl. Add poached pheasant egg, sour breadcrumbs and wilted garlic leaves.