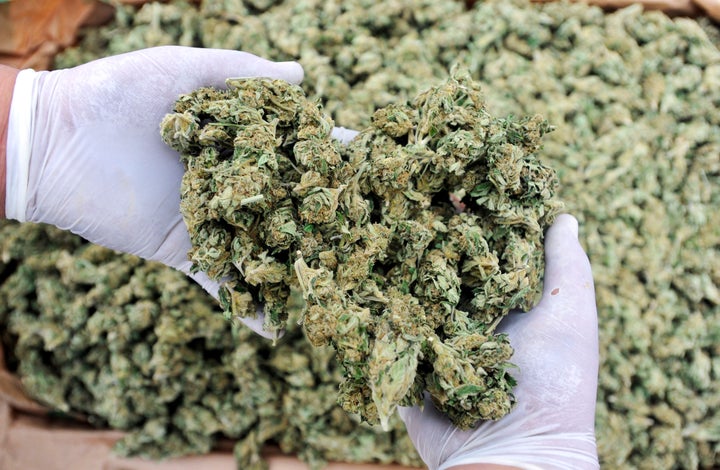 Call it an industry, call it a movement, call it a gigantic scam. Law enforcement and politicians can't agree what to call California's medical marijuana scene, except to say it exists in a legal gray area.
And how. A dispensary operator in Vallejo was arrested last week -- twice -- because the police chief and a majority of the City Council believe state medical marijuana law doesn't allow dispensaries to conduct "sales," and because there's no local ordinance allowing dispensaries, they're illegal.
But state law doesn't say that, according to the retired legislator who wrote the law. And just in case there's still confusion on the matter, a bill introduced Friday by Assemblyman Tom Ammiano (D-San Francisco) not only allows for medical marijuana sales -- and would appear to allow for profit -- it also makes it clear that dispensaries are fine and dandy under state law.
If passed, Ammiano's bill, A.B. 2312, would allow "collectives, cooperatives, and other business entities to cultivate, acquire, process, possess, transport, test, sell, and distribute marijuana for medical purposes." This is a departure from current law, which says the above are not subject to penalties.
The bill also makes it a misdemeanor for a doctor to give a bad recommendation, and would limit dispensaries to one per a city of 50,000 residents. And -- and most importantly -- it creates a medical marijuana bureaucracy.
The governor, the assembly speaker, and the Senate Committee on Rules would appoint nine people to the Board of Medical Marijuana Enforcement, a new body within the Department of Consumer Affairs. This body would be in charge of the Medical Marijuana Fund, which would be funded with state fees and fines.
Ammiano's bill is similar to a proposed ballot initiative: The Medical Marijuana Regulation Control and Taxation Act, the brainchild of medical marijuana patient advocacy group Americans for Safe Access and labor union United Food and Commercial Workers. A major difference is that the MMRCTA includes a state tax, which requires a two-thirds majority, according to a release from Ammiano's office.
Nobody from team Ammiano was available for comment Sunday, but even if it doesn't pass, the bill will "raise awareness" in the legislature that the industry needs some kind of fix, UFCW organizer Dan Rush said via e-mail.
Even if the bill is passed, however, it's highly unlikely it will become law: A bill passed last year allowing California farmers in select counties to grow hemp was returned without Gov. Jerry Brown's signature, and it's generally taken as a given that Brown will not sign any medical marijuana-related bills.
So who's going to convince local law enforcement that sales are allowed -- and what about profit?
Claims that dispensaries turn profits has been used by both federal and state law enforcement officials to shut down pot clubs. But barring medical marijuana operators from turning a profit was never on the table, said retired state Sen. John Vasconcellos, the author of 2003's Senate Bill 420.
"It was a deal-breaker," he said in a recent telephone interview. The bill does include language saying "nothing in this section shall allow," a profit, but that does not mean a profit isn't prohibited either, he said.
Related
Popular in the Community