A top aide in the Los Angeles County Sheriff's Office who was caught sending racist messages on his work email offered a tepid apology Wednesday, sparking outrage and calls for his ouster from advocacy groups.
Tom Angel, chief of staff to Sheriff Jim McDonnell, appeared to show more regret that his off-color humor became public than he did for the offense he caused forwarding emails that mocked blacks, Mexicans and Muslims while he was the second-highest official at the nearby Burbank Police Department.
"Anybody in the workplace unfortunately forwards emails from time to time that they probably shouldn't have forwarded," Angel told the Los Angeles Times in an article that disclosed the messages. "I apologize if I offended anybody, but the intent was not for the public to have seen these jokes."
The LA Times reported Angel sent the emails in 2012 and 2013 that joked at the expense of various minority groups. One included a list of reasons why "Muslim terrorists are quick to commit suicide," such as "rags for clothes [and] towels for hats," and "your wife smells worse than your donkey."
Other messages made jokes at the expense of African-Americans, women and Mexicans. It didn't appear that Angel wrote the crude humor himself, but instead forwarded messages from elsewhere. The emails are available here. Angel described himself as Mexican to the LA Times.
McDonnell said in a statement that he was concerned about the tone of Angel's emails, but would not impose discipline for something that occurred when Angel worked for another department.
Although his judgment in this situation is of concern to members of the Sheriff's Department, no one is more distressed about it than Chief Angel himself. His apologies for this uncharacteristic act have been profuse and sincere.

Chief Angel's decision-making and actions in his long prior career with the Sheriff's Department and since his return in 2015 reveal more about his actual character and typical good judgment than the instances from four years prior currently reported in the media. Although there is no doubt that such instances, if occurring within the Sheriff's Department, would result in disciplinary action, there is also no doubt that Chief Angel understands and respects that fact.

The sharing of non-work-related material on a police agency computer is ill-advised, and is always of serious concern if the material contains disrespectful commentary, whether joking or serious, about such things as ethnicity, gender, religion, etc.
The Los Angeles Sheriff's Department has a "a great history of promoting a culture of respect," said Haroon Manjlai, a spokesman for Los Angeles chapter of the Council on American Islamic Relations. But he characterized Angel's apology as "disappointing.
"To say this was meant to be internal is not the issue," said Manjlai. "The issues are the biases that he may hold and the impact they may have on his ability to do his job."
Other groups called for the sheriff to take action against Angel. The president of the LA chapter of the NAACP said the emails show Angel is unfit for the job.
"In the United States, our population looks like all the other countries' populations put together," said NAACP leader Minnie Hadley-Hempstead. "The public you serve is from all parts of the world. If you cannot get past that, you should not be a public servant. If this person has passed on that kind of information, he should not be in the sheriff's department. If something like that had come past my desk, I certainly would not pass it on."
The Muslim Public Affairs Council said inaction by McDonnell could reduce the public's confidence in the department.
"Holding Mr. Angel accountable for his actions by demonstrating a zero tolerance policy for hate and bigotry is critical for the LA Sheriff's Department to maintain public trust, especially in the face of the growing climate of bigotry and racism we are witnessing across the country," Salam Al-Marayati, Muslim Public Affairs Council president, said in a statement.
HuffPost was unable to reach Angel for additional comment.
Before You Go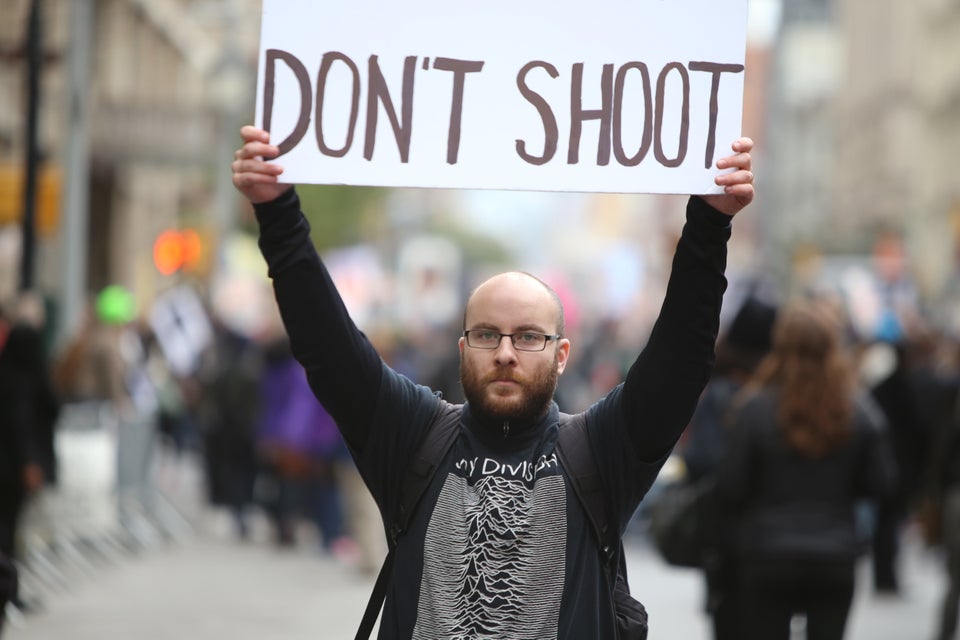 Police Brutality
Popular in the Community