Tom Barrack, a longtime friend of former President Donald Trump and the chair of Trump's inaugural committee, secretly worked for the government of the United Arab Emirates for more than a year as he helped shape Trump's campaign and presidency, according to a Justice Department indictment released on Tuesday.
Prosecutors say Barrack and two partners ― a U.S. employee named Matthew Grimes and an Emirati liaison named Rashid al-Malik Alshahhi ― illegally influenced U.S. politics on behalf of a foreign power. Agents for international governments are legally mandated to declare that relationship. Federal agents have arrested Barrack and Grimes in California and are seeking to transfer them to New York because it sees them as flight risks; al-Malik is at large.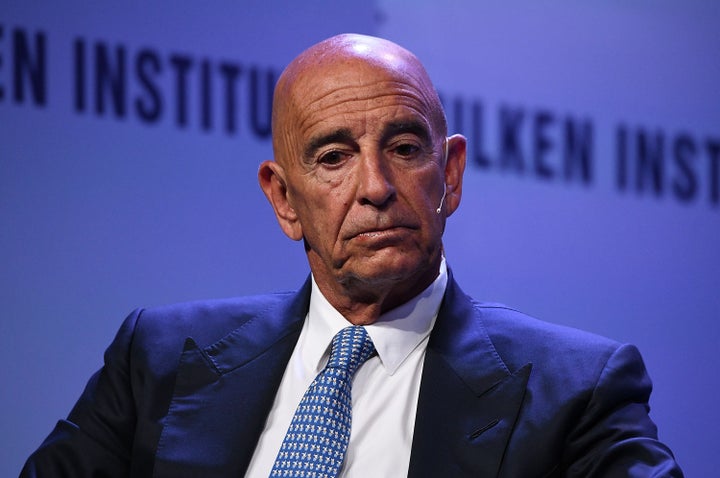 The indictment reveals the often-successful efforts by the UAE, still a major U.S. partner in the Middle East, to exploit Trump's haphazard approach to foreign policy to advance its own ends over U.S. interests. It also torpedoes the reputation of Barrack, a prominent real estate investor who helped bolster Trump among skeptics in the media and the business world.
Further, it underscores the staggering degree of misconduct in Trump's inner circle as his allies took over the most powerful jobs in government: Barrack sought a senior appointment, and fellow campaign figures Steve Bannon and Michael Flynn both worked in the White House and ultimately faced federal charges, too.
Trump's campaign chair Paul Manafort, his deputy Rick Gates, his attorney Michael Cohen, his political adviser Roger Stone and his former fundraiser Elliott Broidy have also been in legal jeopardy; all five were found guilty of various crimes.
A Barrack spokesperson told The Washington Post he will plead not guilty.
Most foreign officials were unprepared for Trump to win the Republican presidential nomination in 2016 and anxious about what his potential presidency would mean for America's role in the world. In April 2016, as Trump neared his shock primary victory, Barrack boasted to UAE officials of his ties to the candidate, per text messages and emails cited in the indictment. Barrack demonstrated his sway soon afterward by working with UAE officials to include a reference to America's Persian Gulf partners ― a group that includes the Emirates ― in a Trump campaign speech about energy policy.
The businessman then repeatedly urged UAE officials to share talking points he could promote for them on television without disclosing any UAE affiliation, the indictment says. He also allegedly sought their input for a Fortune op-ed in October ― removing an accurate description of Persian Gulf regimes as "dictatorships."
As Trump prepared to take office, prosecutors say, Barrack and Grimes collaborated with al-Malik on a plan to create a UAE-funded organization to promote the UAE's interests and boost industries linked to Trump, closely tying the foreign country to the new administration. And come 2017, Barrack and the UAE repeatedly took advantage of Trump's distaste for traditional, formal policymaking designed to prioritize U.S. interests rather than personal or foreign concerns, prosecutors believe. Barrack upgraded protocol for a visiting official from Saudi Arabia, the UAE's closest regional ally, then asked the UAE to push for Barrack himself to get a job as a special envoy ― a move that he pitched as securing "more power" for the Gulf regime.
In the summer and fall of 2017, prosecutors say, Barrack supported the UAE's effort to isolate another U.S. partner in its neighborhood, Qatar, telling Emirati contacts that he personally discussed the matter with Trump and was discouraging efforts by U.S. officials ― including most foreign policy experts and career personnel ― to negotiate an end to the spat.
At the time, Barrack was also promoting a plan to boost nuclear power in the Middle East that would personally enrich him, House of Representatives staffers later reported.
Federal officials began probing Barrack's activities as part of special counsel Robert Mueller's investigation into foreign interference in the 2016 election. Barrack repeatedly lied to the FBI in a June 20, 2019, interview, the indictment alleges.
The government's move against Barrack and his associates comes at a complicated time for the UAE.
Though wealthy and well-connected in Washington, the Emirati regime has faced unprecedented criticism in recent years as lawmakers, activists and media outlets have highlighted its responsibility for human rights abuses.
The UAE is militarily intervening in Libya and in Yemen ― a campaign that has produced the world's worst humanitarian crisis and shattered millions of lives ― and recent reporting shows it has aggressively pursued reporters and critics abroad. The kingdom's close ties to Trump and support for policies like his hard-right plan for the Israel-Palestine conflict also weakened its traditional ability to draw bipartisan support.
President Joe Biden has pledged to push controversial American friends like the Emiratis to abide by rights standards, and many top Democrats want to hold him to that promise. But after reviewing a massive $23 billion weapons package that Trump offered to the UAE, Biden OK'd the arms deal, HuffPost revealed in April. The fight over the package is ongoing ― and fresh frustration toward the UAE will not help its case.
Meanwhile, new revelations about the Trump team's foreign entanglements could bolster calls for Biden to more aggressively hold former officials and associates of the ex-president accountable, as well as further investigate Trump himself.
"If the information regarding Tom Barrack is true, it's more evidence that the former President was willing to advance the interests of foreign powers rather than the United States," Rep. Ted Lieu (D-Calif.) tweeted after the news about Barrack broke.
Popular in the Community