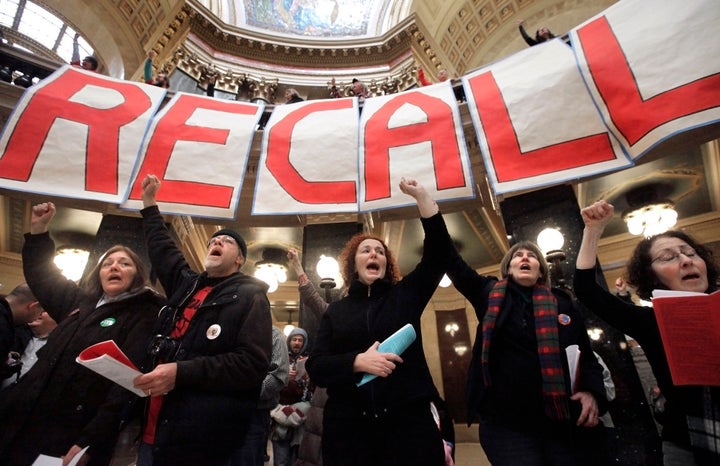 The two frontrunners in the Democratic primary in the recall race to unseat Wisconsin Gov. Scott Walker (R) rolled out big endorsements on Wednesday.
Milwaukee Mayor Tom Barrett (D) announced the backing of retiring Sen. Herb Kohl (D-Wis.), and former Dane County executive Kathleen Falk nabbed the support of the Wisconsin AFL-CIO.
Statement from Kohl for Barrett:
I'm supporting Tom Barrett for governor. While I wouldn't ordinarily endorse in a primary, this is no ordinary race or time. Tom's decision to run speaks volumes about who Tom is -- a strong leader known around the state as someone who will work with everyone to help bring Wisconsinites together and move our state forward again. Tom and I have worked together for years, and his commitment to the people he represents is as strong as his many accomplishments. Whether it's working with businesses to create jobs, protecting education or standing up for working families, Tom will be an effective and forward-thinking governor for all of our state.
Statement from Phil Neuenfeldt, president of Wisconsin AFL-CIO, for Falk:
Kathleen's dedication to improving the lives of working people and strengthening our middle class communities are key reasons for her endorsement. She has dedicated her life working for and listening to the people of Wisconsin. Her style of clean, open and honest government is the type of leadership Wisconsin needs.
Barrett recently picked up the endorsement of former Wisconsin Democratic Rep. Dave Obey, while Falk has the support of every union that has endorsed in the race thus far, as well as that of groups like EMILY's List and the Sierra Club.
Four Democratic candidates are currently competing in the May primary. Barrett and Falk are considered the two frontrunners, while state Sen. Kathleen Vinehout and Secretary of State Doug La Follette are also in the race.
The primary is set for May 8, and the general election will be on June 5.
More here on the state of the Democratic primary in the recall.
Popular in the Community