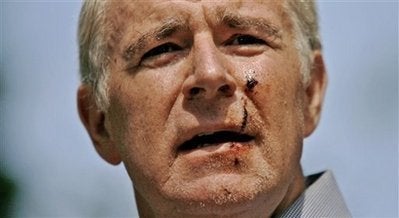 MILWAUKEE — A bloodied scab on his face and his shattered hand bound by a bulky cast, Milwaukee's mayor said Wednesday his decision to intervene in a domestic dispute got "very ugly" quickly but he did what any good citizen should have done.
Tom Barrett spoke for the first time Wednesday about being attacked by a man as he attempted to help a woman and her 1-year-old granddaughter near the Wisconsin State Fair on Saturday night. The popular 55-year-old mayor suffered a shattered hand, got two of his teeth knocked out and had gashes on his face and the back of his head.
"I'm still standing," he said.
Speaking in the front yard of his home where he has been recuperating since he left the hospital on Monday, Barrett said he initially thought something was wrong with the baby before realizing the 20-year-old man was agitated.
"I think it's fair to say things got very, very ugly, very, very quickly," Barrett said.
The mayor declined to discuss details of the attack, saying he didn't want to jeopardize the ongoing criminal investigation.
The 20-year-old man has been arrested, and Chief Deputy District Attorney Kent Lovern expected charges to be filed Thursday morning. The grandmother has said the suspect is the girl's birth father.
Barrett said he was most concerned about his hand injury but his overall prognosis was good.
"We're on the mend, everything's heading in the right direction, and I just wanted to let you know I'm still standing," he said.
About 100 neighbors and friends gathered and applauded the mayor Wednesday as he emerged with his wife, Chris, sister Betsy Barrett-Flood, and his 20-year-old niece, Molly Barrett-Floodwho called 911 for help after her uncle was attacked.
As he's been recovering, Barrett has gotten calls from many well-wishers, including President Barack Obama. He said he was happy to get the call – but told the president he'd prefer "to be called for pitching a perfect game" instead.
A reporter told Barrett her television station had received hundreds of get-well wishes from people who called the mayor a hero.When asked to respond, the mayor said simply: "I'll say Molly's my hero."
Kathleen Hubing, 58, was among the neighbors who came to hear Barrett speak. She said she was impressed that he spent so much time praising his family, as well as police and hospital officials.
"That's our mayor. He's always giving honor and praise to those who need it rather than himself," said Hubing, a retired schoolteacher.
On Tuesday, Brew City Brand Apparel started selling black and yellow T-shirts in honor of Barrett that read, "Our Mayor Ain't No Cream Puff." Cream puffs are enormously popular at the state fair, which ended Sunday.
Barrett's name has been circulating as a possible Democratic candidate for governor in 2010 after Gov. Jim Doyle announced this week he will not seek a third term. Reporters didn't ask Barrett about those rumors because a mayoral spokesman requested before the news conference that questions pertain only to the mayor's condition.
Barrett was elected Milwaukee mayor in 2004 and re-elected last year with nearly 80 percent of the vote. He also served in the U.S. House of Representatives from 1992 to 2002.
Popular in the Community