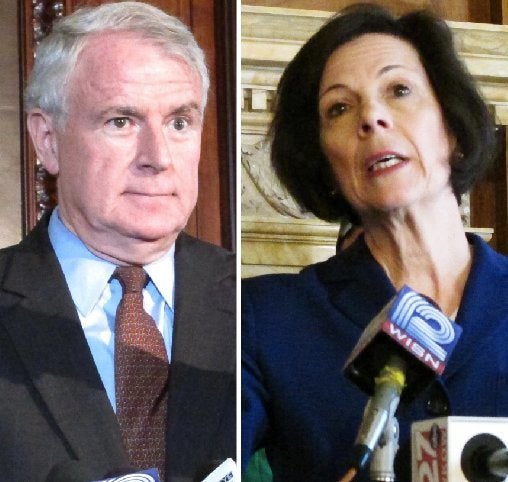 WASHINGTON -- The battle lines are finally set for the June gubernatorial recall election in Wisconsin. On one side is Gov. Scott Walker (R), a polarizing incumbent who could become only the third sitting governor in U.S. history to be recalled. And on Tuesday, Democrats turned out to the polls and chose the person they believe is best able to make that happen: Milwaukee Mayor Tom Barrett (D).
Barrett beat former Dane County executive Kathleen Falk, Wisconsin Secretary of State Doug La Follette and state Sen. Kathleen Vinehout (D-Alma) in the Democratic primary. The Associated Press called the race for Barrett shortly before 10 p.m. Eastern time. By the time results from 93 percent of the precincts were in, Barrett had 57 percent, and Falk had 35 percent.
"We cannot fix Wisconsin with Walker as governor -- this election is not about fighting past battles, it is about moving forward together to create jobs and get our economy moving again," said Barrett in his victory statement.
On Wednesday morning, there will be a unity event in Milwaukee, with the four Democratic candidates and Democratic Party chairman Mike Tate. The rest of the day will be devoted to a "Day of Action," with canvassing, phone banking and other events statewide.
"It's all about voter contact," said Wisconsin Democratic Party spokesman Graeme Zielinski. "We know that the main thing that we can do right now to win this election is to drive turnout."
The pro-labor coalition We Are Wisconsin will hold a "unity march" on Wednesday, and a "Solidary and General Election Kick-Off" on Saturday.
Democrats will also be jumping in with advertising and money. The Progressive Change Campaign Committee will begin TV ads in Wisconsin, and Democrats, in the coming days, will be raising money for the nominee.
A couple of hours before the polls closed, the AFL-CIO super PAC Workers' Voices had already begun advertising on Google, Yahoo and Bing for people searching for information about the recalls, as well as targeted ads on Facebook and Twitter. It put up a banner on the progressive blog DailyKos, directing users to its site devoted to the Wisconsin recalls.
Barrett had been the frontrunner in the polls since he announced his candidacy, with a recent survey showing him as the only Democrat in the field who would be neck-and-neck with Walker in the general election. The Republican Party actually jumped the gun on Tuesday night, sending out a press release about Barrett's win before the polls had closed.
But Barrett's task won't be easy, and there are just 28 days until the June 5 general election. The fact that Walker's facing a recall does not mean that he is universally unpopular, but rather that he is one of the most polarizing governors in the country. He is a hero for conservatives for taking on labor unions, and the Republican National Committee has pledged all its resources to help Walker stay in office.
"Anything Scott Walker needs from the RNC, Scott Walker's going to get from the RNC," said RNC chair Reince Priebus in late March, calling the governor the "anti-Barack Obama." Priebus was previously the head of the Wisconsin Republican Party.
Barrett had already sent out a fundraising solicitation to his email list about an hour after he was declared the winner in the primary, asking for $12 donations.
"Defeating Scott Walker and his entrenched, out-of-state special interest allies will not be an easy task. Right now our campaign is up 47% to 46% in the polls, but we know that Walker and the Koch brothers are ready to unload everything in their right-wing arsenal in a desperate attempt to bring us down," he wrote.
To the left, Walker has been a top target ever since he pushed through an anti-union bill last year that stripped most collective bargaining rights from public workers. More recently, he repealed the state's Equal Pay Enforcement Act and pushed policies restricting women's abortion access.
Falk, not Barrett, was the choice of most labor unions, who threw in more than $4 million for her in the primary. Unions have tussled with Barrett during his time as mayor and were discouraged that he has not committed to vetoing any budget submitted by the legislature that does not restore the collective bargaining rights. (Barrett has said he is committed to restoring those rights.)
Still, on Tuesday, union officials insisted that they were squarely behind whoever came out as the winner in the Democratic primary.
"AFSCME members have been proud to support our friend Kathleen Falk. But the ultimate goal has always been to defeat Scott Walker. The grassroots campaign we've built to counter Walker's millions from out-of-state billionaires will be working hard to help Tom Barrett win," said AFSCME Council 24 Executive Director Marty Beil.
Labor unions had set up an independent expenditure called Wisconsin For Falk, to help the former Dane County executive in the primary. The 29 field offices built by that group will be shifted back to the nominee.
Zielinski said the polls showed a very close general election, with just 5 or 6 percent of voters undecided, underscoring the polarization of the state.
"We know that their [Republican] voters are very regular voters. Our votes are very motivated, but they aren't as regular and don't have as long a history," Zielinski added. "So voter contact is key to turnout. … We're never going to have the money to compete, and our candidate won't have the money to compete dollar-to-dollar with Walker on anything, but we have a great database of volunteers. We had 35,000 volunteers circulating the recall petitions. We're using that as the base of the grassroots community that's going to be out there, doing the shifts."
Barrett told The Huffington Post in April that he believed the outcome would be different this time, because voters regret choosing Walker.
"But since that time, there are a lot of people in that state who have buyer's remorse. ... I think it's because, first of all, they see how the other side governs. But in particular, with Scott Walker, they see how differently he is governing from the way he spoke," Barrett said.
Falk, who was the other main competitor in the Democratic primary, said she is committed to defeating Walker and will help the nominee.
"We are all united, and all have been. We all know what the goal here is," Falk told The Huffington Post on Tuesday. "It's been the most positive Democratic primary that anyone can remember in the history of our state."
While collective bargaining was the issue that sparked the protests against Walker, the economy has been the focus of the recall election. As the AP notes, although Wisconsin's "unemployment rate is at its lowest level since 2008, Wisconsin lost more jobs than any other state between March 2011 and March 2012. Since Walker took office, only 5,900 private sector jobs have been created."
On Tuesday, before the polls closed, Walker was already hammering Barrett.
"Simply look at the difference between the City of Milwaukee and the State of Wisconsin," said Walker in a radio interview. "We're moving forward. Do people really want to go backwards like we've seen in that city? I don't think so."
After the results came out, Friends of Scott Walker deputy campaign manager Dan Blum sent out a statement reacting to Barrett's win.
"As Milwaukee Mayor Tom Barrett enters the general election in his soon to be third statewide losing campaign, he will surely find that his record of raising taxes and promises to continue to do so will not resonate with voters," said Blum. "While Governor Walker's term has seen unemployment drop to its lowest rate since 2008, unemployment under Tom Barrett has risen more than 28%. Rather than Tom Barrett's path of taking Wisconsin back to the days of billion-dollar deficits, double-digit tax increases and record job loss, we are confident that voters will choose to stand with Governor Walker and move Wisconsin forward."
This story has been updated.
Popular in the Community