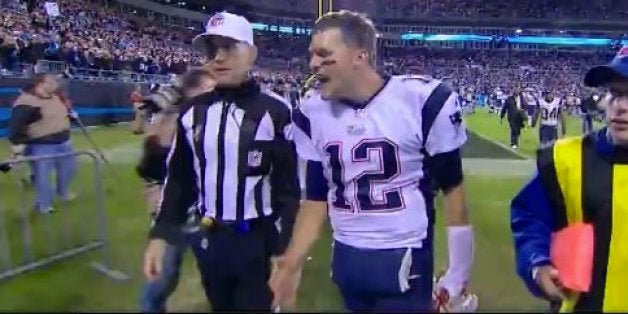 Referee Clete Blakeman didn't say much after the final play of the Carolina Panthers' controversial 24-20 win over the New England Patriots. Tom Brady said plenty.
In the chaotic aftermath of the "Monday Night Football" thriller, Blakeman seemed to just want to get off the field as quickly -- and with as few words -- as possible. Before Blakeman could get away, Brady tracked him down and needed just a few words to get his point across. One word in particular from Brady had people talking.
"This is fucking brutal," Brady could be heard yelling as he walked alongside Blakeman.
The two-time NFL MVP was furious after the referees decided to pick up a flag thrown in the end zone during the final play of the game. The Patriots were attempting to score a game-winning touchdown as time expired and Brady had attempted a pass to tight end Rob Gronkowski. The pass was intercepted by Panthers safety Robert Lester but a flag was thrown as Gronkowski appeared to be wrapped up Panthers linebacker Luke Kuechly, potentially preventing him from making a play on the ball.
"There is no foul on the play," Blakeman announced a brief huddle of the officials. "The game is over."
The game may have been over but the argument was merely beginning.
Popular in the Community