Based on the evidence, it also is our view that it is more probable than not that Tom Brady (the quarterback for the Patriots) was at least generally aware of the inappropriate activities of McNally and Jastremski involving the release of air from Patriots game balls.

So, what exactly do we know about Brady's involvement in any deflation that did or did not occur throughout the season? Let's break it down:
He addressed ball inflation throughout the season.
Brady's unhappiness with the footballs' level of inflation throughout the season is clear in the text messages of Jim McNally, the Patriots officials locker room attendant, and John Jastremski, an equipment assistant for the Patriots. The two men were those identified as playing a role "in a deliberate effort to release air from Patriots game balls after the balls were examined by the referee."
They also said a lot in text messages, like in this Oct. 17 exchange following a game against the Jets: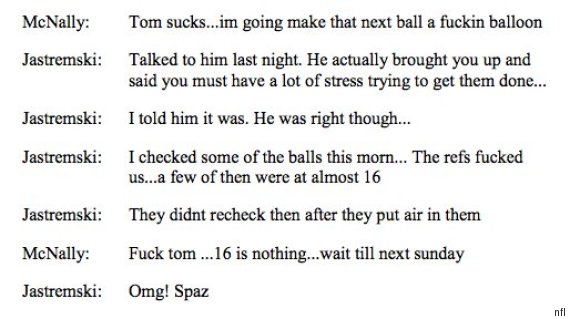 He provided "valuable items" to personnel seemingly involved.
In a number of other text between the two men, while discussing the inflation of game balls, the pair also spoke about McNally getting shoes and "cash" with Jastremski asking for McNally's sizes. The report described the references of Brady in their texts "as the catalyst for Jastremski's offers of sneakers and clothing".
"Tom must really be on you," McNally wrote in October.
"Nah. Hasn"t even mentioned it, figured u should get something since he gives u nothing," Jastremski replied.
McNally, for some reason, also "received valuable items autographed by Tom Brady the week before the AFC Championship Game" as well as other games, the report said.
On January 10, 2015, immediately prior to the game between the Patriots and the Ravens, in the Patriots equipment room with both Brady and Jastremski present, McNally received two footballs autographed by Brady and also had Brady autograph a game-worn Patriots jersey that McNally previously had obtained.

He increasingly called and texted Jastremski after Deflategate news broke. And had an "unprecedented" meeting.
After the "Deflategate" firestorm broke out, Brady's communication with Jastremski "significantly increased frequency in the following days." The report said Brady, after not communicating with Jastremski for more than six months, spoke to him on six separate phone calls over the next three days before Jastremski's phone was confiscated.
Brady said he couldn't remember specifics of their conversations on Jan. 19, but that texts were to show support after he believed Jastremski was nervous.

As for subsequent phone calls, Brady said they were to talk about Super Bowl preparations and Jastremski's upcoming wedding.
Brady also took the unprecedented step of inviting Jastremski to the QB room (essentially Brady"s office) in Gillette Stadium on Jan. 19 for the first and only time that Jastremski can recall during his twenty-year career with the Patriots.

While Brady in interviews for the investigation said he did not know McNally or anything about his role, the report said these claims are "not plausible and contradicted by other evidence."
"In fact, during his interview, Jastremski acknowledged that Brady knew McNally and McNally's role as Officials Locker Room attendant," the report said. "Similarly, McNally told NFL Security that he had been personally told by Brady of Brady's inflation level preference."
Jastremski explained that Brady "knows that Jim is the referees locker room attendant," and recalls that Brady said something like, "isn"t he in there to make sure the balls are staying where they should be?" Jastremski said that he mentioned Brady"s comment to McNally on the sideline, and that McNally responded "f— Tom." McNally also recalls Brady being angry about the footballs during the game and expressing frustration about the game officials and their examination of the game balls. McNally claimed that he viewed Brady"s comments as "an attack on me" because McNally was responsible for bringing the game balls to the Officials Locker Room, and interpreted Brady"s statements as criticism.

The report summed up that it's likely Brady knew what was going on.
[T]here is less direct evidence linking Brady to tampering activities than either McNally or Jastremski. We nevertheless believe, based on the totality of the evidence, that it is more probable than not that Brady was at least generally aware of the inappropriate activities of McNally and Jastremski involving the release of air from Patriots game balls.

As for the investigation? Brady did give an interview, but declined to make any texts or emails available that pertained to the subject matter of the investigation.
Related
Popular in the Community