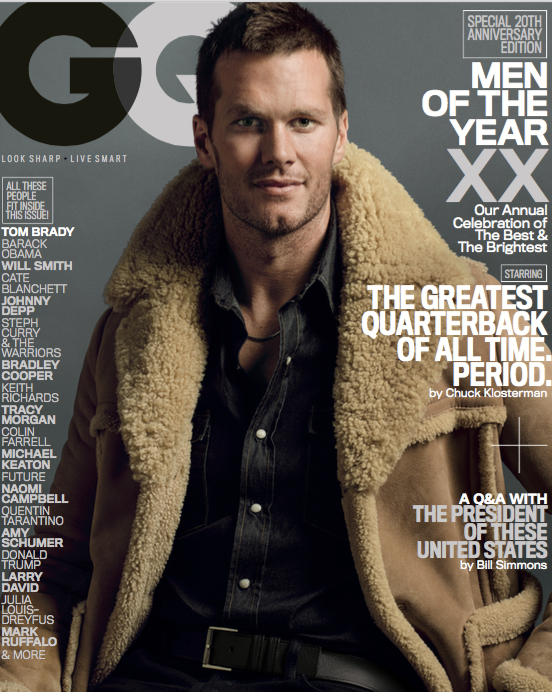 Capping off a record year for Tom Brady, GQ Magazine named the quarterback one of its "Men of the Year" this week. In exchange for the honor, Brady was supposed to give reporter Chuck Klosterman a 60-minute face-to-face interview. He didn't. 
Instead, Brady gave Klosterman a call while he was behind the wheel, allotting only 45 minutes to chat. Those 45 minutes marked what should be considered the GQ Awkward Interview of the Year. Klosterman tried and tried to get the controversial New England Patriot to talk about the biggest scandal of the year: You know, that time he may or may not have encouraged a team staffer to deflate footballs prior to last season's AFC Championship Game.
What ensued was a 746-word chunk of the interview that can be summed up in just nine letters: No comment. Klosterman warned Brady that if he didn't give him anything more meaty, "the fact that [he] refused to talk about it [would] end up as the center of the story." It seems that Brady really didn't care about that, and that Klosterman wasn't bluffing.
Here are some choice quotes from their chat.
There's one element of the Wells Report that I find fascinating: The report concludes that you had a "general awareness" of the footballs being deflated. The report doesn't say you were aware. It says you were generally aware. So I'm curious -- would you say that categorization is accurate? I guess it depends on how you define the word generally. But was that categorization true or false?


[pause] I don't really wanna talk about stuff like this. There are several reasons why. One is that it's still ongoing. So I really don't have much to say, because it's -- there's still an appeal going on.


Oh, I realize that. But here's the thing: If we don't talk about this, the fact that you refused to talk about it will end up as the center of the story. I mean, how can you not respond to this question? It's a pretty straightforward question.


I've had those questions for eight months and I've answered them, you know, multiple times for many different people, so --


I don't think you have, really. When I ask, "Were you generally aware that this was happening," what is the answer?


I'm not talking about that, because there's still ongoing litigation. It has nothing to do with the personal question that you're trying to ask, or the answer you're trying to get. I'm not talking about anything as it relates to what's happened over the last eight months. I've dealt with those questions for eight months. It's something that -- obviously I wish that we were talking about something different ... 
Unfortunately, it doesn't get much better from there.
PHOTO GALLERY
DeflateGate In Pictures
Calling all HuffPost superfans!
Sign up for membership to become a founding member and help shape HuffPost's next chapter