In an ironic twist, Tom Brady's zealous longevity regimen ― and the acolyte who sells it ― could be what ultimately does him in.
Here's the short version: Tom Brady is deeply involved with Alex Guerrero, a personal health trainer known for his unconventional (and outright questionable) advice.
A New York Times profile in 2015 referred to Guerrero as Brady's "spiritual guide, counselor, pal, nutrition adviser, trainer, massage therapist and family member." Boston Magazine has a slightly different take, portraying him as a modern-day snake oil salesman who'd had repeated troubles with regulators until he found the ultimate sucker in Tom Brady, who's now his business partner.
That relationship has eroded the power of head coach Bill Belichick, so much so that earlier this year Patriots owner Robert Kraft ordered Belichick to trade away Jimmy Garapollo, the franchise's quarterback of the future, in a bid to pacify Brady.
It's also caused a schism in the locker room, with players forced to choose between appeasing Brady by seeking treatment at Guerrero's "TB12 Sports Therapy Center," or sticking with team doctors ― a de facto endorsement of Belichick.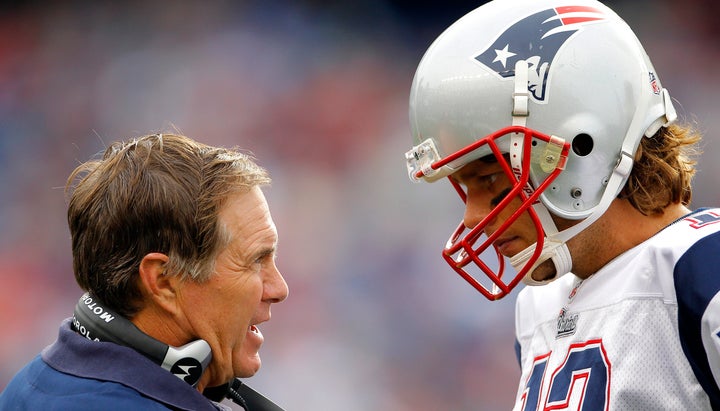 Now the Patriots are left with a 40-year-old, increasingly temperamental quarterback and no clear plan for succession at the position. Meanwhile, Belichick, who'd groomed Garapollo and thought highly enough of him to have (potentially) soon installed him as the team starter, is more isolated and frustrated than ever.
ESPN speculates that could be enough to convince Belichick to seek greener pastures elsewhere, especially as the Patriots' offensive coordinator and defensive coordinator will likely leave the team during the offseason this year and become head coaches for other teams.
The Patriots denied the reports in a statement Friday, dismissing them as "theories that are unsubstantiated, highly exaggerated or flat out inaccurate."
But let's get back to Guerrero for a minute, the man whose clinic one Patriots staffer told ESPN felt "like a cult."
The trainer and close associate of Brady's used to refer to himself as "Dr. Guerrero" ― until the Federal Trade Commission came after him in 2004 for a supplement he peddled on a late-night infomercial, claiming it cured 96 percent of a group of 200 terminally ill cancer patients. And could do the same for AIDS, Parkinson's, Multiple Sclerosis, arthritis and more!
The feds shut down his supplement operation, noting there was no evidence they worked, and that his degree ― a masters from a school for traditional Chinese medicine that's since shuttered ― doesn't grant him the title of "doctor."
By 2011, Guerrero had nevertheless become a key player behind the scenes at the Patriots, where he came up with numerous other supplements of dubious merit. One, called NeuroSafe, was marketed to football players as a "seatbelt for your brain" that would help protect from "sports-related brain injury." (The FTC investigated NeuroSafe but decided not to penalize Guerrero so long as he refunded everyone who'd bought the supplement.)
Backed up by Brady, Guerrero apparently gained more and more access inside the organization until Belichick cut him out of meetings in 2014, ESPN reports, ultimately banning him from the building entirely by 2016.
REAL LIFE. REAL NEWS. REAL VOICES.
Help us tell more of the stories that matter from voices that too often remain unheard.
BEFORE YOU GO