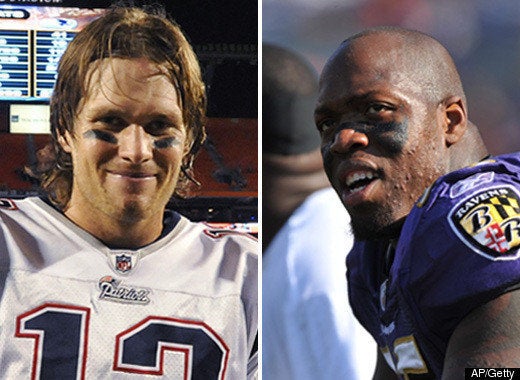 New England quarterback Tom Brady and Baltimore linebacker Terrell Suggs were shouting at each other while Brady was leading the offense down the field en route to Sunday's 23-20 Patriots victory. The trash-talking between the two continued after the game too.
Suggs told the Boston Herald that Brady made some plays, but he "better hope he don't see us again."
The trash-talking allegedly began after the former Michigan Wolverine was hit on a long completion. Brady started to slam his hand on the ground, begging the referee to throw a flag. But no flag was thrown and Brady and Suggs began jawing at each other.
"He was trying to tell me how to bag a Hollywood actress," Suggs said when asked what the two were talking about on the field. "He said, 'If you want to get a Hollywood actress, take my seminar on Saturday.' ...He was going over the Dow and the economy and politics. He doesn't really talk football that much."
"We play those guys a lot and they've only beat us one time in all the times that I've played them," Brady said. "So they talk a lot for beating us once in nine years."
Calling all HuffPost superfans!
Sign up for membership to become a founding member and help shape HuffPost's next chapter