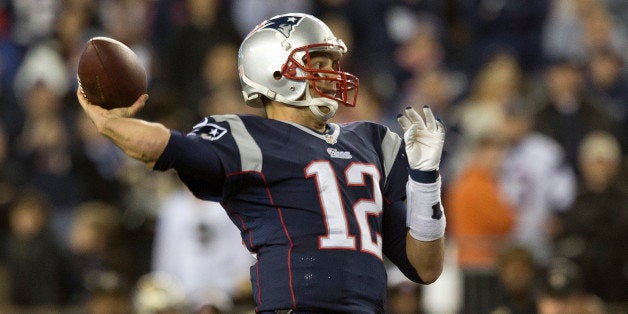 Tom Brady is still Tom Brady. This fact saved the New England Patriots and made Rob Ryan sad.
The Patriots' offense may be working in untested rookies at wide receiver and missing two tight ends who had been key contributors in recent seasons, but the man slinging the ball is still wearing No. 12. That man threw a game-winning touchdown pass to rookie wideout Kenbrell Thompkins with five seconds left as the Patriots edged the New Orleans Saints 30-27.
With defeat seemingly seventy-three seconds away, Brady and the Patriots took over possession on their own 30-yard line. Facing a 27-23 deficit and equipped with zero timeouts, Brady marched the Pats 70 yards in eight plays wihch took sixty-eight seconds off the clock. On his way to the red zone, Brady completed passes to Julian Edleman, Austin Collie and Aaron Dobson. After spiking the ball on first down at the Saints' 17-yard line, the two-time NFL MVP lofted a touchdown pass to Thompkins in the back-left corner of the end zone.
"That's our leader," Patriots running back Stevan Ridley told FOX on the field after the game. "He's one of the best to play the game."
The Ryan brothers would likely agree. While Jets head coach Rex Ryan is quite familiar with Brady's heroics. Rob, the Saints' defensive coordinator, got a crash course on Sunday. He didn't look like he enjoyed the experience.
GIF: Rob Ryan looked sick after Brady's game-winning TD
That memorable drive capped an otherwise forgettable day for Brady. He had missed a few open receivers and been victimized by a few more drops in a 25-43 passing performance that included an interception earlier in the fourth quarter. With time running out, however, Brady came through.
BEFORE YOU GO
PHOTO GALLERY
PHOTOS: NFL Week 6