Quarterbacks Tom Brady and Peyton Manning are the NFL's two most dynamic players of their generation. Combined, they have won four Super Bowls and six MVPs. But Brady is 36 and Manning is 37, so the opportunities for the two of them to face off against one another are quickly dwindling, and this could very well be their final matchup. And the beauty of this particular game is that there is actually something at stake.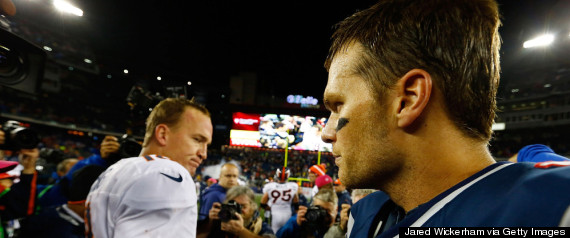 Denver is 9-1, fresh off a convincing 27-17 win over the previously unbeaten Kansas City Chiefs. The Broncos have a dynamic receiving core featuring Demaryius Thomas, Eric Decker and Wes Welker, who happens to be the Pats' all-time leader in receptions. Tight end Julius Thomas, a matchup nightmare at 6-foot-5, has caught a team-best 10 touchdowns this season.
Manning himself has been brilliant all season, and is on pace to reclaim the single-season record for touchdown passes that Brady set with 50 in 2007 when the Patriots ran the table during the regular season. Manning has completed a career-high 69.9 percent of his passes and also leads the league with his 3,572 yards and 34 touchdowns.
And yet at Foxborough, Manning is just 2-9 (including the playoffs) in his career.
On the other side, New England (7-3) ranks 12th in yards against. Its defense features elite corner Aqib Talib, who has struggled to contain the pass at times. He had to leave last week's game early, and the Patriots have other injury concerns at corner that Manning is likely to exploit.
For Brady, 2013 has been a giant struggle. He has endured the lowest completion percentage of his career, and by season's end may have the worst TD-interception ratio of his career. Six of his seven top receivers from a year ago left before the start of this season, and the seventh, tight end Rob Gronkowski, was out through mid-October.
"I'd say our offense is very different than it's ever been in the past. Everything that we do has a different feel to it," Brady said. "We've had so many new players, like every team has new players, but we have a lot of new players. We have different schemes. We're trying to find different things that work."
Now that Gronk is healthy, alongside Welker's replacement in the slot, Danny Amendola, things have started to improve. The Pats are also running the ball with the solid duo of Stevan Ridley and Shane Vereen. The trick is to give Brady enough time to throw the ball: Along with the running game, Brady's signature quick hitches to Amendola and Julian Edelman do much to relieve the defensive pressure.
And there will be pressure. With All-Pro Von Miller back from a six-game suspension, Denver's pass rush is considerably improved. But at the same time, Denver's vulnerable secondary ranks 28th in the league in pass yards against, and it had to send starting safety Rahim Moore to injured reserve this week. So if you thought the Cowboys-Broncos game was high scoring...
This is the 14th career matchup between these two future Hall of Fame quarterbacks. Expect it to live up to their reputations.
Email me at jordan.schultz@huffingtonpost.com or ask me questions about anything sports-related at @Schultz_Report and follow me on Instagram @Schultz_Report. Also, be sure and catch my NBC Sports Radio show, Kup and Schultz, which airs Sunday mornings from 9-12 ET, right here.
REAL LIFE. REAL NEWS. REAL VOICES.
Help us tell more of the stories that matter from voices that too often remain unheard.