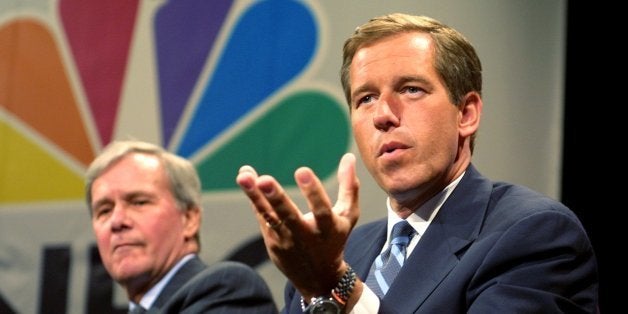 NEW YORK -- NBC News continued to reel on Friday in the wake of revelations that "Nightly News" anchor Brian Williams misled the public about his experiences reporting on the Iraq war and as his Hurricane Katrina coverage came under fresh scrutiny.
NBC News president Deborah Turness, who has not publicly commented since Williams' on-air apology Wednesday, told employees in a memo Friday afternoon that the network had assembled "a team dedicated to gathering the facts to help us make sense of all that has transpired."
The network's decision to investigate Williams comes nearly two days after the onslaught of questions and social media criticism began. Williams apologized on-air Wednesday night for falsely claiming during a broadcast the previous week that his helicopter was hit by a rocket-propelled grenade in March 2003. But Williams has not explained how his version of events shifted dramatically over the course of 12 years and several Iraq War veterans have since disputed whether he was anywhere near the attack.
Williams appeared to have been thrown a life preserver Thursday when Rich Krell, an Iraq veteran who claimed to have flown Williams' helicopter in Iraq, told CNN that the aircraft came under small arms fire, though not anything as heavy as an RPG. But after other crew members disputed his account, Krell told CNN he could no longer trust his memories of that day's events.
The internal investigation will be led by Richard Esposito, who heads NBC's investigative unit, according to the Daily News. Reached on Friday, Esposito referred HuffPost to a network spokeswoman who declined to comment.
The New York Post reported that in addition to Williams' work on the Iraq war, the probe will involve his coverage of Hurricane Katrina, which has also faced criticism in recent days. The New Orleans Advocate raised questions Thursday about Williams' claims that he saw dead bodies floating in the French Quarter, which sustained less flood damage than other parts of New Orleans since it's on higher ground, and that he contracted dysentery after the storm.
In the memo, Turness said that she and Williams addressed the "Nightly News" team Thursday night and a larger group of colleagues Friday morning. "Brian apologized once again, and specifically expressed how sorry he is for the impact this has had on all of you and on this proud organization," she wrote.
Turness said the network is now trying to figure out "what the best next steps are – and when we have something to communicate we will of course share it with you."
While management may not be revealing more until the investigation concludes, the Williams controversy is the talk of 30 Rock. Staffers are questioning whether he can weather the media storm and if he has enough allies to keep in him in the anchor desk.
Some at the network have speculated that former "Nightly News" anchor Tom Brokaw isn't a fan of Williams and has been particularly upset about his successor's admittedly false claim about his Iraq war reporting.
Brokaw pushed back against a New York Post story claiming he wanted Williams fired, but notably didn't offer his own statement of support.
"I have neither demanded nor suggested Brian be fired," Brokaw said in an email to The Huffington Post. "His future is up to Brian and NBC News executives."
Related
Popular in the Community