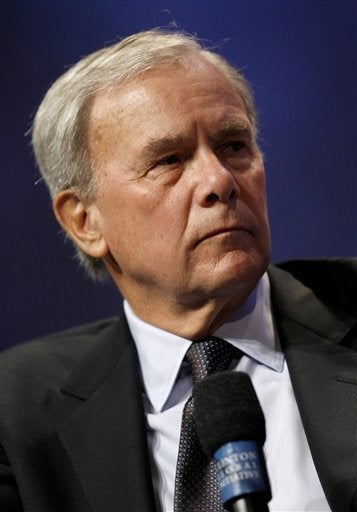 Forbes's Lacey Rose interviewed Tom Brokaw on the heels of his upcoming documentary King, which premieres on the History Channel this coming Sunday. But in the context of discussing a long-form documentary, Rose got to ask Brokaw his thoughts on the media today:
How do you get your news?

In a variety of ways. I'm sitting here at my computer now. When I log on in the morning, I go to MSNBC.com because that gives me kind of a fix on what we're up to. We're tied into The Washington Post too.

Then I generally go to one or two political sites like Politico, for example. And I get the [ New York] Times, the New York Post and The Wall Street Journal. I'm still a child of my generation--I like the tactile experience of sitting back with a newspaper in my hands. But I'll see something in the paper and I'll go Google it--a personality or an issue that I want to know more about. So I try to marry the small screen to the newspaper.

Do you watch the evening news?

I do when I can. I'm traveling a bit more. But I also have the advantage because I'm tied into the NBC system. I can come in and read the scripts, and they even let me weigh in from time to time if I spot something.

What purpose should the evening news serve today?

Well, it's a struggle. It was a struggle when I left 3.5 years ago. I think the Nightly News has found the right balance. People still want to know what happened that day. What we do is not so much wire service accounting but two or three of the biggest stories of the day. Maybe do them for a little longer and maybe with a little longer analysis.

And then give them what I call added value: medical news; you can't do enough about the economy these days; the environment is on a lot of people's minds. So it's that mixing and matching that is the trick to holding people and giving them reason to want to come watch it.
Related
Popular in the Community