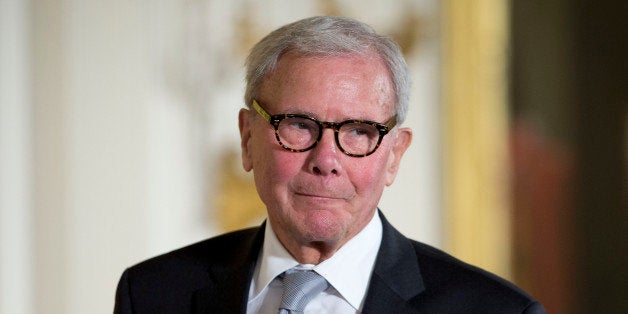 Tom Brokaw revealed some more personal details about his battle with cancer Monday morning, concluding that it has ultimately been a learning experience for him and his family.
Brokaw admitted that his journey since being diagnosed with multiple myeloma in 2013 has been very painful. He described one surgery to treat compression fractures in his spine that resulted in him shrinking from 5 feet 11 inches to 5 feet 9 inches.
"They didn't tell me just how difficult it was going to be," he said on MSNBC's "Morning Joe." "There was a lot more pain involved. There was a lot more bone destruction than I expected."
"It was really tough," he added.
The former "Today" co-host has opened up about his fight against cancer in a new memoir, A Lucky Life Interrupted, which hits stores Tuesday. The NBC News veteran said that his journey has taught him that cancer "involves the whole family," so his motive in writing the book was to help other families experiencing a similar struggle.
Brokaw did joke that slowing down has not been easy for him, and said that he has not let the disease stop him from chasing his goals as an anchorman. Since being diagnosed, he has traveled to report in places like Normandy and Berlin, and says he has continued to do the things he loves, like hunting and fly-fishing.
"The fact is, having cancer has been instructive for me," he said. "I've learned a lot."
REAL LIFE. REAL NEWS. REAL VOICES.
Help us tell more of the stories that matter from voices that too often remain unheard.