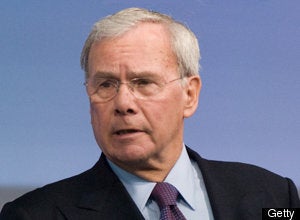 Brokaw is going to be in Chicago next week for an event honoring the late Tim Russert. He told the Tribune's Phil Rosenthal that NBC was better placed than its rivals because of MSNBC.
"Where it got sticky is when our commentators were anchoring political coverage," he said, in a clear reference to Olbermann. Brokaw was widely known to have complained about Olbermann's anchoring of campaign coverage during the 2008 race. "Those are, in some ways, incompatible roles," Brokaw continued. "We worked our way through that."
Rosenthal then asked Brokaw what he thought of Olbermann's exit. "You're not going to get me to go there," Brokaw said. But when pushed, he said that MSNBC will weather the storm.
"All of our component parts -- NBC News, MSNBC, CNBC -- are much bigger than one player, and I include myself in that," he said. "If I went away tomorrow, NBC News would still be the dominant news division in America. There ain't none of us who is irreplaceable."
Read the full interview with Brokaw here.
Related
Popular in the Community