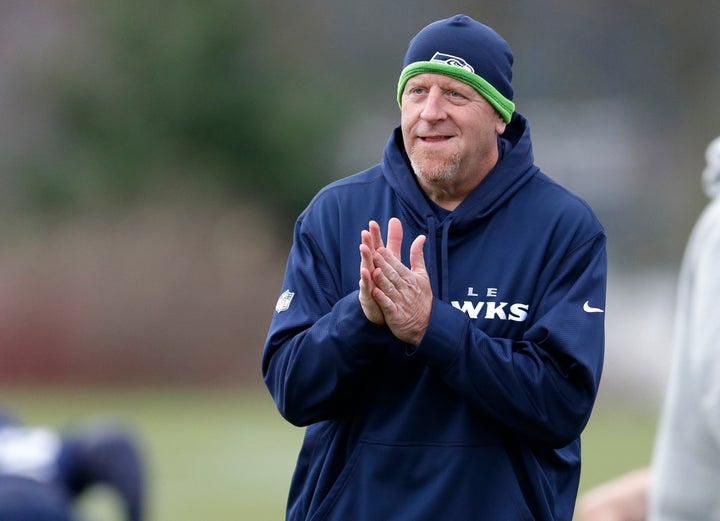 As NFL training camps approach, the Seattle Seahawks once again find themselves one of the prohibitive favorites to win the NFC -- and potentially, a second Super Bowl in four years. Following free agency, a leading online betting shop listed the Hawks at 9-to-1 to win the championship, the second-best odds in the league.
In an interview with The Huffington Post last week, the Seahawks' offensive line and assistant head coach, Tom Cable, spoke about his hopes for the coming season, which rookies have him most excited, and how he's not concerned about his unit's turnover, including losing guard J.R. Sweezy -- a favorite of Cable's -- to Tampa Bay. He also addressed the allegations of domestic abuse that continue to cloud his reputation even as he has reached, arguably, the peak of his professional career.
Cable highlighted two rookies, Germain Ifedi and George Fant, as particularly promising. "They've made a bunch of progress. The teaching phase has gone very well," he said. "Germain is a very intelligent guy, very strong, and has to learn how to play with leverage. When you're that big and strong in college, you get away with things, but in the NFL you've got to tighten up those things."
Fant's early progress may be even more significant considering his basketball background. A four-year standout and 1,000-point scorer at Western Kentucky, he didn't even play football until his senior year of college.
"I want to say he played about 32 snaps of football in his life before about three weeks ago," Cable said. "His learning curve is a) what's the game of football about and 'what do I need to do,' and b) what is the kind of combative nature -- because basketball doesn't have that. But all those basketball skills show up."
Cable, 51, believes his team's success will depend on how quickly his assortment of first-year linemen can learn the complexities of an NFL offense. Building on last year's momentum is paramount to the Seahawks' offense, led by star quarterback Russell Wilson, who became the first player in league history to throw for 4,000 yards and 30 touchdowns while also running for 500 yards.
"If you think back to last year, in the first 7 games, we go from 31 sacks allowed to 15 in 11 games," Cable said. "Our whole goal in regards to protection is to pick up where we left off and not go backwards."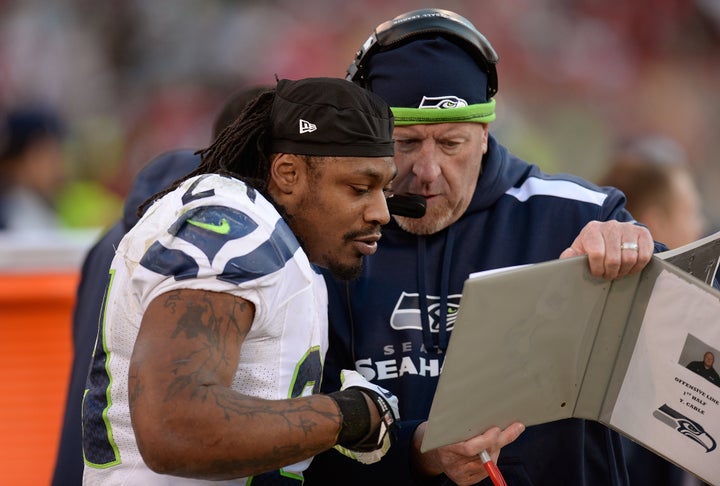 Even as he works to improve on past seasons, Cable tries not to dwell on them. "I believe in the now," he said. "There's no other way than the 'right now.' Today's all that really matters."
And while Cable is all about the moment when it comes to football, off-field matters are more complicated. Cable opens the 2016-2017 NFL season trailed by past allegations of violence, particularly against women. Those allegations surfaced in 2009 amid a larger narrative of domestic violence in the NFL and widespread criticism of the league's lenient punishments.
That year, while head coach of the Oakland Raiders, Cable was accused of punching assistant coach Randy Hanson in the face and fracturing his jaw. No charges were filed, and a civil suit brought by Hanson was settled in arbitration. Cable was later fired from the Raiders.
His second wife, Glenda, said in divorce documents from 2008 that Cable had been "physically and verbally abusive" to her during their 17-year marriage. She contradicted that statement in a response to ESPN, saying that Cable had "never been violent to me or our children."
"On only one occasion in my life have I ever touched a woman inappropriately," Cable told ESPN at the time. "I became very angry and slapped [Sandy] with an open hand. What I did was wrong and I have regretted and felt sorrow about that moment ever since."
In 2010, the NFL declined to punish Cable after investigating the allegations of domestic violence and the fight with Hanson. Cable denied the allegations in his interview with HuffPost, and neither of his ex-wives responded to requests for comment.
"It's kind of the label that I've had to live with, and once the media got it and ran with it, you really can't protect yourself then," Cable said.
Cable said he draws inspiration from his wife, Carol, who runs a hospice center, and four children. His son Alex, 24, struggled with drug and alcohol addiction but now helps others in need. Watching his son persevere made him a better person and coach, Cable said.
In interviews with HuffPost, former Seahawks J.R. Sweezy, Max Unger and Marshawn Lynch praised Cable's talent, commitment and ability to inspire. Seahawks head coach Pete Carroll, who has worked alongside Cable for five years, lauded his intelligence and depth, adding that he has the talent to take the helm of an NFL team once again. "He has all of the makings of being a terrific head coach, and I think that's in his future," Carroll said.
Cable "really relates to you on a personal level," said Unger, a two-time Pro Bowl center. "It was a really positive experience."
"He's innovative, he understands players, he's been a mentor to me, and he's going to be one hell of a head coach," Lynch said.
Atlanta Falcons coach Dan Quinn, who spent two seasons alongside Cable as the Seahawks' defensive coordinator, says he's mentioned Cable to two organizations as a potential head coach. "He's a pretty broad thinker," Quinn adds. "He takes the info in, thinks about it, and the next day comes over and says, 'That was a pretty cool idea you had.'"
Cable says he would "absolutely" like to be a head coach again, but he has also learned the value of patience and finding a good fit, thanks in large part to his time in Seattle. "I hear guys say all the time there's only 32 head coaching jobs, just get one," he said. "I don't know if that's true. I think it's important that you get the right match. The relationships between the head coach, the GM and the owner now are so important. ... Seattle has been pretty special."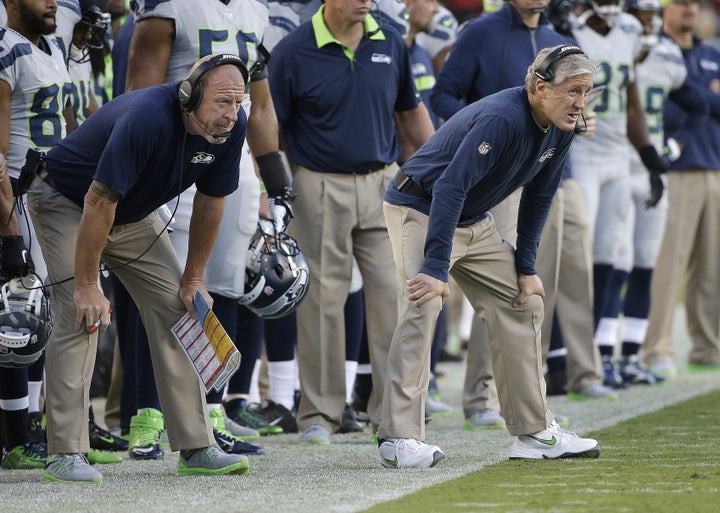 Popular in the Community