WASHINGTON — Sen. Tom Carper (D-Del.) has requested all documents related to /www.huffingtonpost.com/topic/epa"}}" data-beacon-parsed="true">Environmental Protection Agency Administrator /www.huffingtonpost.com/topic/scott-pruitt"}}" data-beacon-parsed="true">Scott Pruitt's decision to go against the scientific recommendation of his own agency and refuse to ban a widely used pesticide that's been /www.huffingtonpost.com/2014/02/14/chemicals-brain-development_n_4790229.html"}}" data-beacon-parsed="true">linked to learning disabilities in children.
In a Friday letter to Pruitt, Carper, a ranking member of the Senate Committee on Environment and Public Works, said he is "troubled" by the agency chief's /www.epa.gov/sites/production/files/2017-03/documents/chlorpyrifos3b_order_denying_panna_and_nrdc27s_petitition_to_revoke_tolerances.pdf"}}" data-beacon-parsed="true">order to allow /www.epa.gov/ingredients-used-pesticide-products/chlorpyrifos#basic"}}" data-beacon-parsed="true">chlorpyrifos, an organophosphate insecticide that's been used since the 1960s, to remain on the market for agricultural use. Pruitt "did not present any new scientific or legal analysis" to justify the decision, Carper noted.
"The previous finding to ban chlorpyrifos was based on extensive data, models and research developed by industry, government and academic scientists," Carper wrote. "Absent such justification, this decision to lift the proposed ban could undermine the trust the public has in the agency to keep its food, water and air safe."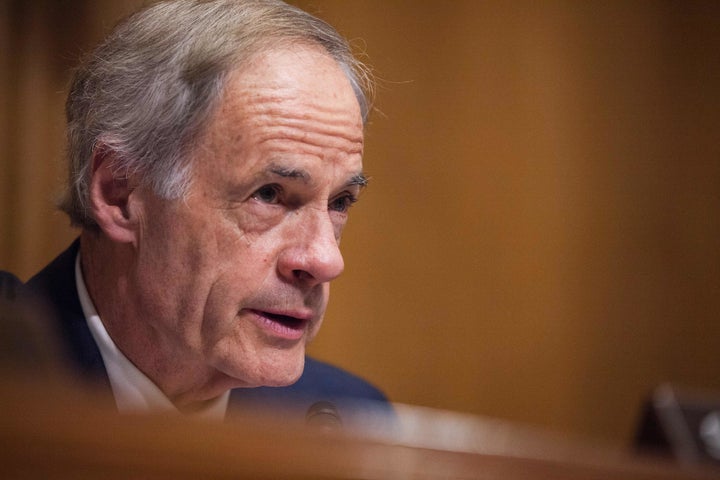 In announcing his reversal, Pruitt said the proposed ban relied largely on studies "whose application is novel and uncertain." He claimed that his decision was about "returning to using sound science in decision-making — rather than predetermined results."
Chlorpyrifos, also known by its trade name Lorsban, is used in nearly 100 countries on more than 50 different crops, including corn, soybeans, cranberries and broccoli. It was largely banned for at-home use in the U.S. in 2000, but continues to be widely used on thousands of American farms. 
Dow Chemical Co., the chemical's producer, says it "remains confident that authorized uses of chlorpyrifos products offer wide margins of protection for human health and safety." However, even low-dose exposure to organophosphates, particularly in the womb, has been found to harm brain development in children, leading to higher risk of disorders like autism.
Carper has asked the agency to provide him with copies of all documents and communications related to Pruitt's decision on chlorpyrifos by April 28. 
You can read Carper's full letter here.
Calling all HuffPost superfans!
Sign up for membership to become a founding member and help shape HuffPost's next chapter
BEFORE YOU GO
PHOTO GALLERY
Why Scott Pruitt Is A 'Dangerous' Choice To Lead The EPA