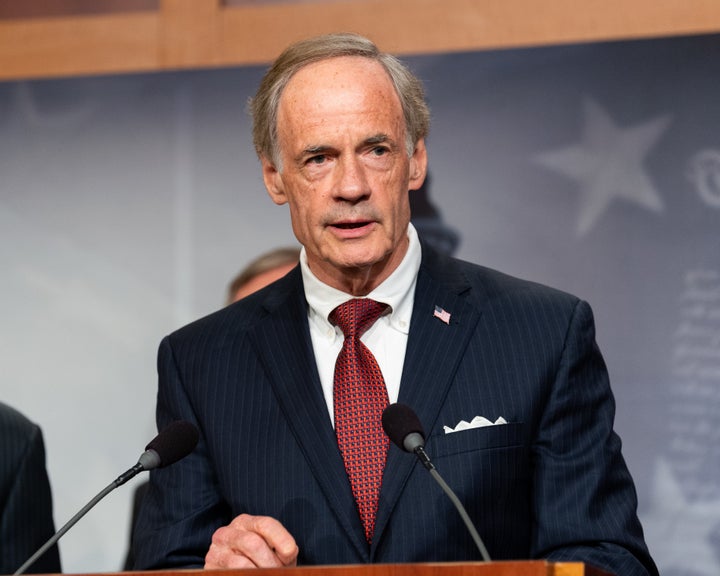 WILMINGTON, Del. ― Incumbent Tom Carper won Delaware's Democratic Senate nomination on Thursday, fending off an unexpectedly spirited primary challenge from a progressive that threatened his re-election quest.
Carper's win smooths his path to a fourth term in the Senate, where he has cultivated a record and reputation as a pro-business moderate. He defeated Kerri Evelyn Harris 65 percent to 35 percent.
In November's election, he is set to face Republican county councilman Rob Arlett, who won the Republican primary. Carper is a heavy favorite to triumph ― starting with his 1976 victory in a race for state treasurer, he has won 13 out of 13 statewide elections.
After three terms in the treasurer's office, the 71-year-old Carper went on to serve 5 terms in the U.S. House (Delaware has only one seat in the chamber) and two terms as governor before first winning his Senate seat in 2000.
His primary win disappoints progressive activists who rallied behind the upstart candidacy of Kerri Evelyn Harris, a 38-year-old community organizer who challenged Carper from the left. Harris, who has endured economic hardship since an injury ended her military career, received a swell of national attention and volunteers after progressive Alexandria Ocasio-Cortez upset a powerful and seemingly entrenched House member in New York's Democratic primary in late June.
In Delaware, "the most likely outcome occurred," said Geoffrey Skelley, an election analyst at the Universty of Virginia's Center for Politics. "This doesn't necessarily mean that progressive energy is not significant. The fact that [Carper] had a progressive primary challenge that caused us to keep an eye on things is notable."
Carper, who served in the Navy during the Vietnam War, has been a reliable progressive vote in the Senate on social issues like LGBTQ and abortion rights. And unlike some of his more conservative Democratic colleagues, he backed such Obama administration landmark measures as the Affordable Care Act and the Dodd-Frank Wall Street reform bill.
As the ranking Democrat on the Senate Environment and Public Works Committee, Carper also worked to secure GOP opposition to two of President Donald Trump's appointees to top posts at the Environmental Protection Agency. Trump subsequently withdrew the candidates.
At the same time, Carper's ideological profile has mirrored that of other Delaware politicians who have been fiercely protective of the state's status as a tax and regulatory haven for major corporations. It's a bipartisan political tradition of moderation, amiability and friendliness to big business known as the "Delaware Way."
As a leading adherent of that approach, Carper has consistently sought to water down rules that affect the mammoth financial institutions and pharmaceutical companies based in his state. Most recently, he was one of 17 Democratic senators who joined Republicans in passing legislation rolling back a key piece of the Dodd-Frank law.
Carper's relatively pro-Wall Street record and history of confirming Republican cabinet and judicial nominees made him a ripe target for the Democratic Party's restive progressive wing. A particular sore point is Carper's 2006 vote to confirm Brett Kavanaugh to the federal bench, which laid the groundwork for Trump to nominate him to the Supreme Court (Carper has said his past support for Kavanaugh was a mistake).
Another point of contention over the course of the primary has been Carper's reliance on corporate campaign cash at a time when 116 Democratic congressional nominees have pledged not to accept corporate PAC donations. Carper has received over $1.7 million from business-backed political action committees this election cycle alone.
In an impromptu interview with HuffPost on Thursday during his visit to Bayard Middle School, a racially diverse polling station on Wilmington's west side, Carper repeated a defense he has deployed throughout the campaign: that he has not technically received corporate money because corporations must donate to federal candidates through PACs.
I asked whether, going forward, he would nonetheless consider voluntarily refusing corporate PAC donations. I reminded him that activist groups, like End Citizens United, had successfully secured promises from candidates across the ideological spectrum to do so.
"Well, I never say never," he responded, before ticking off his support for various campaign finance reform policies.
Harris, a gay, biracial Air Force veteran, initially drew little national attention after she announced her run against Carper in February. But Ocasio-Cortez's win ― and the New Yorker's subsequent decision to endorse and campaign for Harris ― gave the Delaware challenger new life in her bid.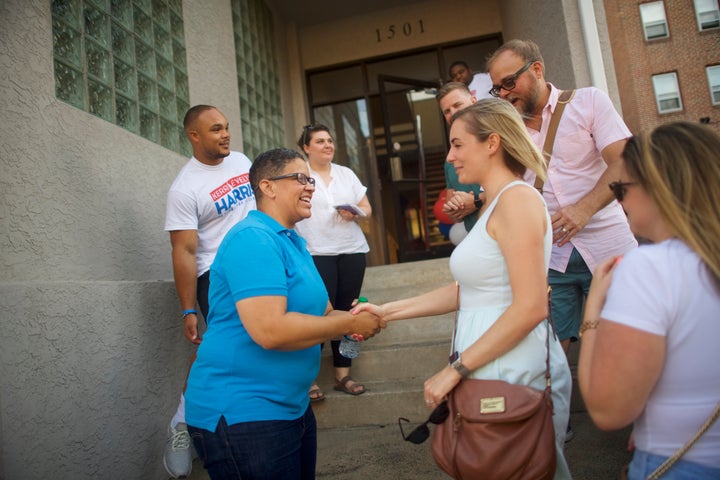 Harris got help from Justice Democrats, a group of alumni from Vermont Sen. Bernie Sanders' 2016 Democratic presidential campaign who helped engineer Ocasio-Cortez's win.
Claire Sandberg, another veteran of the Sanders' campaign who most recently helped lead a progressive's spirited but failed bid for the Democratic gubernatorial nomination in Michigan, likewise came to Delaware to help Harris. Sandberg oversaw a $100,000 campaign expenditure on Harris' behalf by Working Families Party, a progressive group that seeks to push Democrats to the left.
And Winnie Wong, a co-founder of the People for Bernie Sanders and the national Women's March, directed a 2-minute digital video advertisement for Harris' campaign that went viral.
Still, despite a modest influx of political cash after Ocasio-Cortez's win, Harris lagged far behind Carper in fundraising. As of mid-August, she had just over $51,000 in cash on hand; Carper, who unlike Harris accepts donations from corporate political action committees, had over $1 million.
Harris and her allies banked on galvanizing a progressive slice of the electorate ― voters more racially and economically diverse than the stereotype for the state who were hungry for something more than the "Delaware Way." If turnout remained relatively low, as it did in Ocasio-Cortez's race, Harris saw a chance to punch above her weight with digital and field organizing and mobilize just enough voters to win.
Delaware's genteel political culture notwithstanding, the state has not been inoculated from the national polarization trends. In 2010, Republican Rep. Mike Castle, a moderate, unexpectedly lost a Senate primary to conservative activist Christine O'Donnell, who went on to lose to Democrat Chris Coons in what was otherwise a Republican wave year. Carper told The New York Times that he consulted Castle about the loss, and the Republican said he had simply not taken O'Donnell seriously enough.
Carper resolved not to make the same mistake: He crisscrossed the state in his 2001 Chrysler minivan, blanketed the airwaves with advertisements and agreed to a debate with Harris that was broadcast live online, but not televised.
At Bayard Middle School, both Carper's and Harris' strengths were on display.
Shalynne Rogers-Bryant voted for Harris over Carper because she wanted a change, citing the poverty, violence and lack of resources in Wilmington. "Fresh is good," she said.
She was also impressed when a Harris campaign canvasser knocked on her door. Her daughter, T'Shay Brooks, who also voted for Harris, had received a call from one of Harris' volunteers. Neither experienced similar outreach from Carper's team.
At the same time, some voters at the polling place knew nothing at all about Harris.
LaTonya Allen voted for Carper because he is "familiar" and a "people person" who has "been good to the state of Delaware." Asked for her thoughts on Harris, Allen replied, "Don't know much about that guy."
In the end, Carper's name recognition, abundant campaign cash and decision to leave little to chance overpowered Harris' insurgent effort. The Delaware Way survived another day.
Harris also appears to have been hurt by a higher turnout that did not break in her favor. Assuming 50,000 people would show up ― a big increase in the size of the historic midterm primary electorate ― her campaign concluded that Harris would need 26,000 votes to win. Harris ended up getting more than 29,000 votes, but the electorate grew astronomically, leaving her with only 35 percent of the count.
Progressives can perhaps take heart that the primary nudged the incumbent to the left. He now supports a federal $15 minimum wage, which he once opposed, and the decriminalization of marijuana.
In a rousing concession speech to over 100 supporters gathered at the Washington Street Ale House in downtown Wilmington on Thursday night, Harris thanked Carper for his civil campaign and his years of public service. Then she warned him that she and other progressives would be "watching" his conduct closely.
"The same way he moved closer to us during this primary, we expect him to stay close to the people," she declared to the cheering crowd.
CORRECTION: Due to an editing error, a previous version of this story misstated the number of terms Carper served in the U.S. House.
Before You Go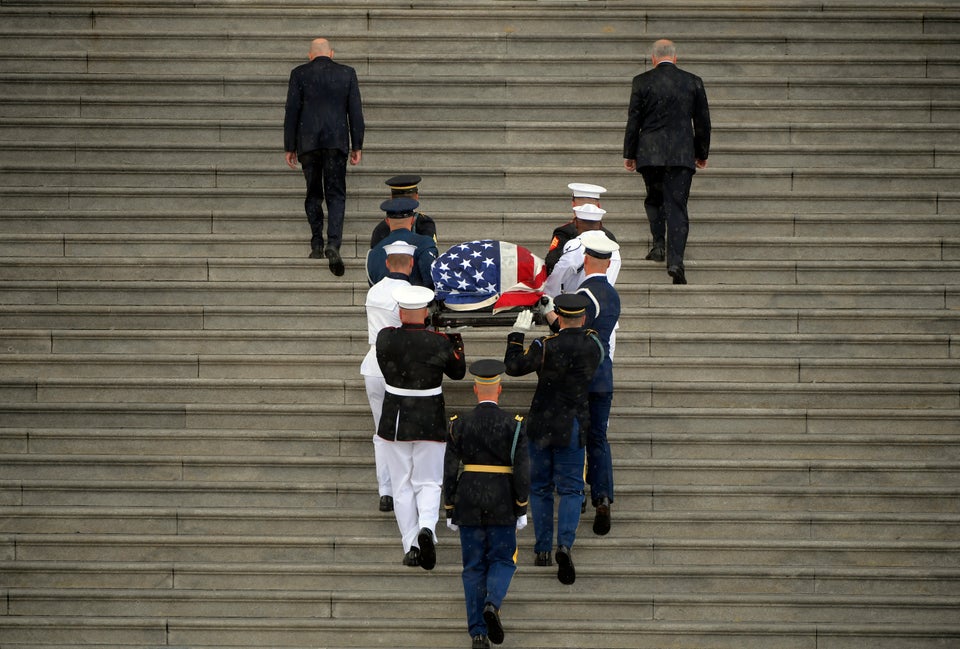 Sen. John McCain's Funeral On Capitol Hill
Popular in the Community