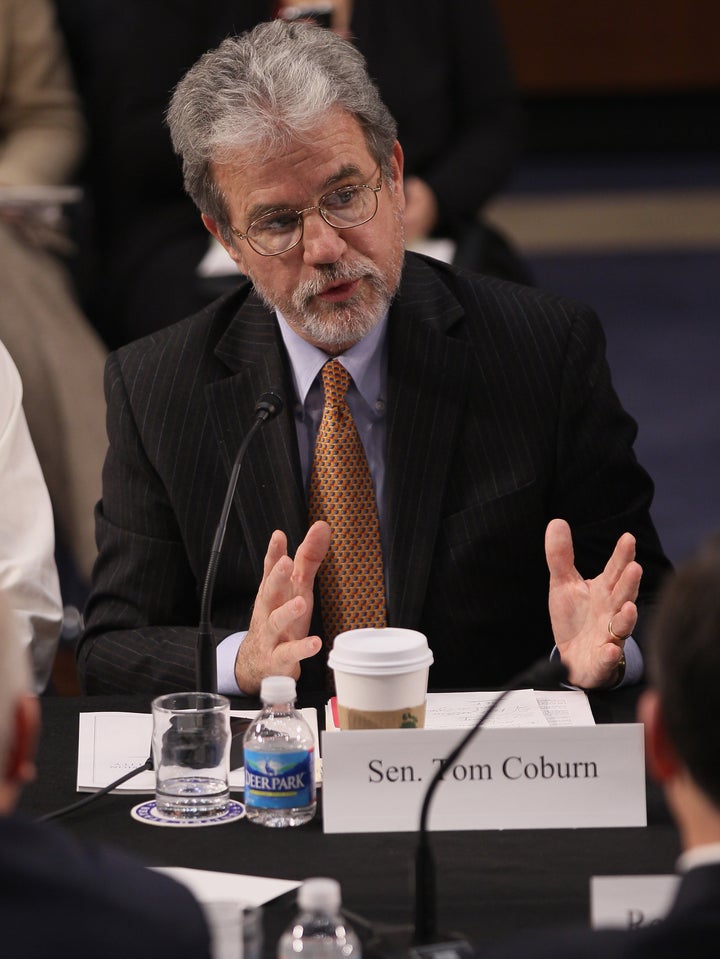 This story has been updated with additional reporting by Ryan Grim
WASHINGTON - Sen. Tom Coburn (R-Okla.), a licensed physician long known as the Senate's "Dr. No," plans to block legislation that would provide additional aid to cover the health care costs of 9/11 first responders, one of the senator's aides told The Wall Street Journal Tuesday morning.
John Hart, a spokesman for Coburn, told The Huffington Post that Senate Majority Leader Harry Reid (D-Nev.) has not asked for unanimous consent to move forward with the bill. "[Y]ou can't hold a bill that hasn't been brought up. Reid hasn't even tried to hotline the bill. This is the same game he's been playing for years going back to the 'Coburn Omnibus' and before," said Hart.
Hart said the responsibility currently lies with Democrats. "Why did Senator Reid fail to bring this bill to the floor this entire Congress? Supporters say the bill has been around for years yet the Majority Leader has prioritized hundreds of other initiatives ahead of this one. For instance, the Senate invested more energy into passing an omnibus bill with 6,700 earmarks than this bill. We're not responsible for the Majority Leader's failure to manage the Senate schedule," said Hart.
A Reid aide noted that the majority leader hasn't asked for unanimous consent because he doesn't have an agreement yet with Republicans that would allow it.
Senate Republicans have opposed the measure, also called the Zadroga bill, first over concerns that it would take precedence over a plan to extend the Bush tax cuts -- a deal that has since been reached -- and now due to issues with the cost-control measures and the $7.4 billion cost of the legislation. That money would go toward covering the medical bills of 9/11 emergency workers who have suffered from health complications following the inhalation of toxic chemicals at Ground Zero.
The original offset proposal would enact three small taxes and fees that are meant to target companies that rely on outsourcing jobs in order to provide goods and services. Coburn wants the offsets to come through spending cuts, and would prefer to see the legislation reach a floor vote through committee, rather than being fast-tracked, an action that has been taken to allow a vote on the bill to come before the end of the session.
Coburn said on Fox News Tuesday that he was blocking the bill because it hadn't had a proper hearing.
The Senate did hold a hearing, however, in June, though Coburn didn't attend it, according to a Senate Democratic aide.
To win Republican support, Democrats have slashed $1.2 billion from the cost of the bill -- by cutting out a victims compensation fund. And Democrats have backed off the attempt to close tax loopholes that benefit major corporations and instead are offering to pay for the bill, according to aides familiar with the negotiations, by setting a fee on federal government contractors with foreign countries that have not signed certain procurement agreements with the U.S and by extending a fee that already exists on certain H1B visas. The latter fee had unanimous support among Republicans and Democrats earlier this year.
Support for the measure had apparently been growing before Coburn's announcement. New York Democratic Senators Chuck Schumer and Kirsten Gillibrand, two of the bill's sponsors, both claimed Monday that the bill finally had the votes to pass. That contention appeared to be supported by the recent comments of a some key Republicans who had encouraged a Senate détente in order to send the package through to the President.
On Tuesday, former New York City Mayor Rudy Giuliani became the latest name on that list.
"This should not be seen as a Democratic or Republican issue. It shouldn't even been seen as a fiscal issue. This is a matter of morality, it's a matter of obligation," Giuliani said on an appearance on a local Fox affiliate.
And last week, former Arkansas Gov. Mike Huckabee said that "every Republican should vote for this bill."
Current New York City Mayor Michael Bloomberg, an independent, also urged the Senate to reach an agreement, saying Monday that the "time for excuses is over."
WATCH Giuliani on the 9/11 responders bill:
Popular in the Community