WASHINGTON -- The tea party Republicans who are threatening to shut down the government in order to defund the Affordable Care Act have the right idea, but they're going about it the wrong way, Sen. Tom Coburn (R-Okla.) said Tuesday, in another sign of a growing split in the Republican Party.
"I want to defund this bill, but I also want a way to do it that kills it," Coburn, who was one of the health care law's most vocal opponents when it passed, said in a Senate floor speech.
He argued that the plan by Sens. Ted Cruz (R-Texas), Marco Rubio (R-Fla.), Mike Lee (R-Utah) and several other tea party-backed senators to try and strip funds for the law from a September government funding bill simply won't work.
The reason, Coburn argued, is that most of the spending in Obamacare is mandatory, and the spending cannot be touched, even if the GOP were to shut down the rest of the government. He cited a new Congressional Research Service report that found as much.
"There's not a legislative method that we have that is capable of defunding it short of 67 votes in the U.S. Senate, short of two-thirds [of the] votes in the U.S. House," Coburn said, referring to the number of votes needed to override the presidential veto that would be sure to block any attempt to defund the law.
Nevertheless, Lee said that the GOP has an obligation to try.
He and Cruz argued that if the House passed a bill to fund all of the government except for Obamacare and the president blocked it, it would be the White House shutting down the government, not the GOP.
They also contended that this year was Republicans' last real chance to stop the health care law before it is fully implemented, and said any members of the GOP who don't stand against it now are essentially guaranteeing the law will continue to exist.
"Defund it, or own it," Lee said to his colleagues. "If you fund it, you're for it."
Cruz told reporters shortly before taking to the floor that Americans would essentially be hooked on the law if it's not blocked by the start of next year.
"Jan. 1 is when the exchanges start and subsidies start. And the administration's plan is to get as many people as possible addicted to the sugar, addicted to the subsidies," Cruz said, arguing that entitlements never get repealed.
"It is an iron rule of politics that those who receive subsidies, inevitably, after they start receiving those subsidies, fight to retain those subsidies," Cruz said. "They want as many people as possible receiving those subsidies in order to ensure that they remain a permanent aspect of the economy."
But other Republicans, like Coburn, think a shutdown showdown is doomed to not only fail, but to make Americans angry at the GOP, potentially harming chances to win fights in other areas, from tax reform and the debt ceiling later this year to next year's elections.
Sen. Richard Burr (R-N.C.) has called the defunding gambit the "dumbest idea" he's ever heard. Sen. Roy Blunt (R-Mo.) warned against it, while Sen. John McCain (R-Ariz.) said Americans were tired of GOP-led debt ceiling and government shutdown "shenanigans." Sen. Richard Shelby (R-Ala.) said shutting down the government was "foolish."
Sen. Susan Collins (R-Maine) added her criticism to the chorus Tuesday, saying the plan was simply not realistic, and that it was both bad policy and bad politics.
"The American people want commonsense solutions," Collins told reporters on Capitol Hill. "They don't want us to pursue policies that are pointless, that are going to end in governments shutting down, more partisanship, more gridlock. They want us to actually get things done."
Even conservative Sen. John Hoeven (R-N.D.) was not willing to join Lee, Cruz and company, although he opposes Obamacare.
"We all agree and have voted to repeal and replace Obamacare. Our conference is united on that," he told HuffPost. "Now we're just working through what's the best tactic or strategy to do it. So we're working through that, and obviously there are different opinions. Nobody wants the government to shut down. Nobody wants that to happen."
Nevertheless, Cruz said he saw a path, saying that "August is a critical period" to convince the public to put pressure on lawmakers while they are on their month-long recess.
"If we see a grassroots tsunami, if we see millions of Americans stand up and say, 'Stop giving speeches about Obamacare, stop casting symbolic votes that don't do anything, and actually stand and fight,' if senators, if members of the House actually listen to their constituents, I believe we will return and come September... I believe we will succeed in getting either 41 senators in the Senate to stand together, or 218 members in the House to stand together. That's the path to winning this fight," Cruz said. The 41 senators he referred to are the number needed to filibuster a bill in the Senate.
Cruz -- who argued on the Senate floor that no "parade of horribles" materialized when the GOP shut down government for several weeks in the Clinton era -- told reporters that Republicans need to stop being afraid of being blamed.
"Republicans actually will have to stand up and fight and win the argument, and say, 'No, we have voted to fund the federal government. We want to keep the federal government funded, and why is President Obama threatening to shut down the federal government in order to force Obamacare down the American people's throats?'"
During the shutdowns in 1995, the GOP took adamant positions on the budget while Clinton signaled willingness to negotiate. The showdowns are widely credited with aiding Democrats in the 1996 elections.
Before You Go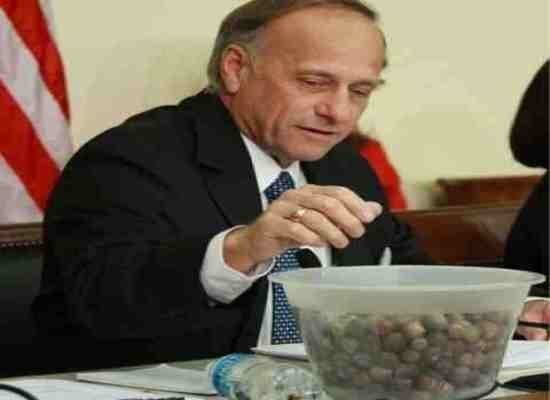 More Crazy Examples of Congressional Theatrics
Popular in the Community