You've heard of wine pairings designed to highlight the flavors between a wine and the dishes it's served with. Beer pairings have become increasingly popular with the rise of craft beer in recent years, but what about cocktail pairings? Yes please!
I sat down chef Tom Colicchio, Top Chef judge and founder of the beloved Gramercy Tavern, Craft, Craftbar, Craftsteak, and 'wichcraft restaurants to discuss this new trend. You're probably wondering, what makes a good pairing? Chef Colicchio tells me that there are two ways to do a pairing successfully; one is to mirror similar flavors and aromatics thus enhancing them, and the other is to oppose flavor profiles.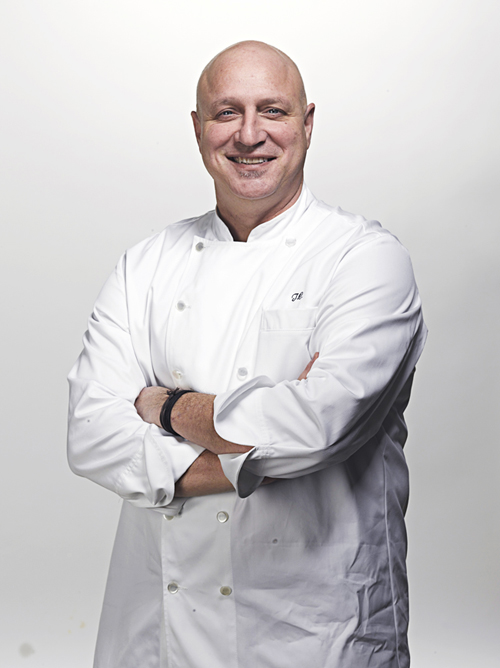 Chef Tom Colicchio, a G+T Man
But we're talking about cocktail pairing here, and gin is a perfect choice because it has so many different flavor profiles, Chef Colicchio told me. Bombay Sapphire Gin is a unique spirit that is distilled with a diverse selection of aromatics including lemon peel, almond, juniper, angelica, coriander, cassia, cubeb, grains of paradise, and orris root; creating a smooth gin that has the predominant flavor of juniper, complemented by the complex herbal aromatics. It is exactly this diversity of flavors found in a high quality gin that make it so versatile for use in cocktail and cuisine.
Chef Colicchio shared some of his favorite gin pairings with me, the first of which he doubles down on juniper berry -- the flavor that classifies a botanical spirit as gin. He recommends pairing a bright Gin Gimlet with juniper cured salmon, fresh lime juice, lemongrass and beets to add some sweetness. Its a perfect dish to enjoy during the lingering warm days of the Indian summer.
For those of you home chefs who have already mastered cocktail pairings with Bombay Sapphire Dry, their newest expression, Bombay Sapphire East. It has a more exotic flavor profile with highlights of Thai Lemongrass, Vietnamese Black Peppercorn, built over the aromatics of the dry expression.
So how many pairings work best in an evening? With spirits and wines high in tannins, the palate fatigues quickly, so three pairings is an optimal number, says Chef Colicchio. Seated pairings, or a more casual spread where all of the dishes and the cocktails are available to try? Casual of course, says Colicchio, let your guests discover flavors through the pairings, let them have the experience of tasting different combinations without it being prescribed to them. "It's not about the perfect match, it's about what works for you", he told me "if you're doing pairing of Bombay or Bombay East with various dishes, most likely all of them are going to work...for the most part they will all have a certain affinity for each other, and that's the fun part about it".
Chef Colicchio also shared a trick to his most successful pairings, which is to find a way to tap into your audience's cognitive memory and nostalgia for a particular food. If it be highlighting a pairing with Meyer lemon, or coriander, or almond, you, the home chef, have the power to instantly transport your audience back to another time and place. A good pairing will inspire the imbiber to fondly recollect that first moment of tasting that perfect gin cocktail, the G+T that made them a convert for life.
And how about dessert? Again, highlight the beautiful botanicals used to make gin, and compliment them with a sweet and savory dish. Chef Colicchio designed this dish on the spot, and it left me salivating. Lemon sorbet topped with pieces of clementine and peaches, fresh cracked pink peppercorns, fennel seed, and drizzled with star anise syrup. Divine.
And what is Chef Colicchio's libation of choice? He's a classic Bombay Gin & Tonic man, mixed with Fever Tree tonic, a favorite tipple of chefs, cocktail connoisseurs, and bartenders alike.
So I leave you, adventurous chef, to go forth and start pairing!
Related