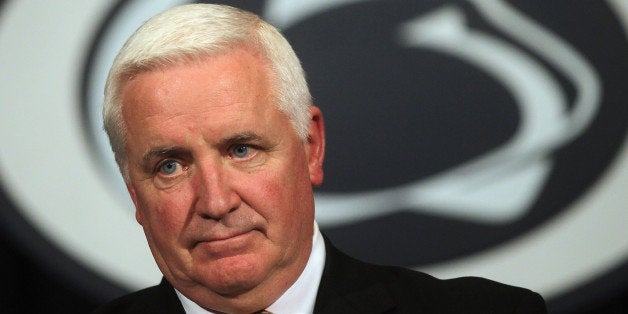 Pennsylvania Gov. Tom Corbett (R) gave an interview to KDKA NewsRadio in Pittsburgh on Friday and reignited the suggestion that immigrant children crossing the Mexican border into the U.S. carry diseases with them.
"We also are concerned about their health and, and what they may not cause in health issues in the state of Pennsylvania. From my standpoint where they're coming in, there are certainly enough military bases in Texas and Arizona that the federal government could at least house them in there temporarily to make sure before they even send them to any state, that their health conditions are okay for that. That they've had all their immunizations and so forth because we have a strong concern on that," Corbett told interviewer John Shumway.
When Shumway asked if he was worried about the spread of disease, Corbett said, "Well, measles is one that, that comes to mind very quickly and, you know, whatever other diseases that they may or may not have."
Rep. Phil Gingrey (R-Ga.), a physician, sent a letter dated July 7 to the Centers for Disease Control and Prevention in which he said that "reports of illegal migrants carrying deadly diseases such as swine flu, dengue fever, Ebola virus and tuberculosis are particularly concerning." And the argument has been circulated by some other GOP lawmakers.
However, the concerns have been disputed, with UNICEF's statistics showing that just 92 percent of U.S. children have been vaccinated against measles, compared with 93 percent of children in Guatemala, Honduras and El Salvador.
HuffPost Pollster, which combines all publicly available polling data, has Corbett trailing his Democratic opponent, Tom Wolf, ahead of the November general election:
Calling all HuffPost superfans!
Sign up for membership to become a founding member and help shape HuffPost's next chapter
BEFORE YOU GO
5

The Drug War And Mass Incarceration Leads To A Rise Of Gang Violence

Los Angeles police Chief William Bratton speaks at a news conference to announce an indictment naming 24 leaders, members and associates of MS-13, part of the Mara Salvatrucha gang affiliated with the Mexican Mafia prison gang, in June 2009.