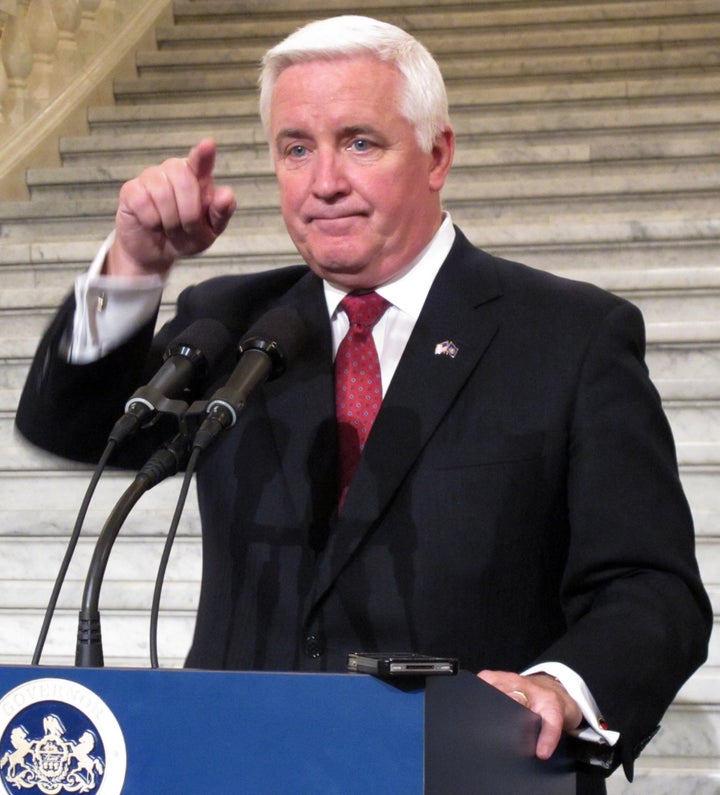 Pennsylvania Gov. Tom Corbett unveiled a four-part education reform proposal Tuesday morning that has since received mixed reactions.
At a news conference Tuesday at the Lincoln Charter School in York, Pa., Corbett said acting on an education reform agenda is a state priority. The announced agenda focuses on improvements to the charter school system, offering vouchers, expanding a tax credit program for businesses and overhauling the teacher evaluation process.
Vouchers: An "Opportunity Scholarship Program" that assists low-income students attending the lowest-performing 5 percent of schools in Pennsylvania. The state Department of Education would, through this program, offer tuition assistance for eligible students to attend a public or private school of their choice.
Tax Credits: Expands the current Educational Improvement Tax Credit program, which gives businesses tax credits for sponsoring scholarships and educational improvement groups. This part of the proposal would also expand the scope of assisted students beyond the current 40,000 from middle- and low-income families.
Charter Schools: Creates a statewide entity to administer charter schools and makes it easier to convert buildings to charter educational facilities. The proposal also calls for charters to carry accountability for academic performance and mandates that charter officials comply with state ethics and financial responsibility laws.
Teacher Evaluations: Overhauls the current system of grading teacher performance of simply "satisfactory" or "unsatisfactory" to a more comprehensive method that incorporates classroom observations with student achievement. The rating scale would include four tiers instead of two: "distinguished," "proficient," "needs improvement" or "failing," and teachers, principals and education specialists will all be assessed on separate systems.
The reforms aim to foster competition among schools and motivate improved student performance.
"We can't guarantee their success, but we owe all students a fighting chance," Corbett said in a statement Tuesday. "We're talking about our children and we owe it to them to reform the system."
StudentsFirst issued a statement Tuesday supporting Corbett's proposal, noting that the plan would evaluate teachers in "meaningful ways" and help teachers improve. StudentsFirst is a grassroots education organization founded by former D.C. Schools Chancellor Michelle Rhee.
"The bipartisan support this proposal has received speaks to the need for the kind of transparent, rigorous and fair accountability system this would create in Pennsylvania," Rhee said in the statement. "Similarly, our grassroots members support the measure in that it expands educational opportunities for all children regardless of family income by allowing great charter schools to thrive and expand."
Related
Popular in the Community