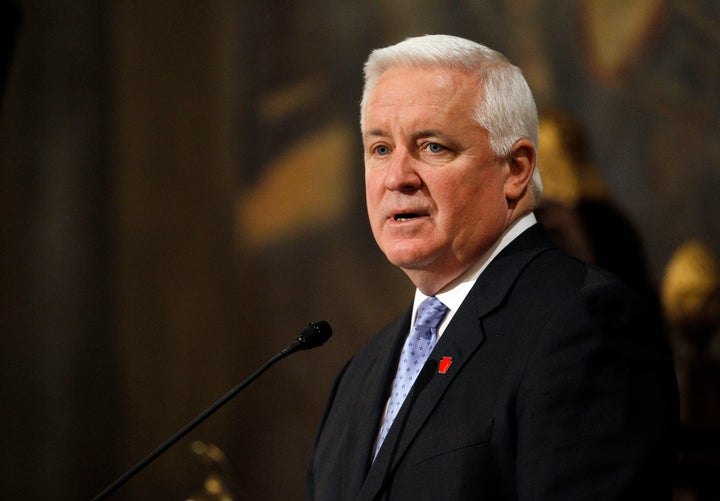 NEW YORK (Reuters) - Pennsylvania's governor and other state politicians have been sued in a class action suit after 41,000 residents lost health coverage following the state's axing of an insurance program for low-income workers.
The suit, filed in a state court by three of the affected residents, said freshman Governor Tom Corbett wrongly redirected Pennsylvania's share of the money from a master settlement agreement between cigarette makers and states away from the health plan.
As a result, the health plan, adultBasic Insurance, closed because no other funding provision was made. This left the people who were enrolled in the lurch along with 500,000 other individuals who were waiting to be covered, according to the law suit, which was filed on Monday in Commonwealth Court.
The over $200 billion settlement between cigarette-makers and states aimed to compensate taxpayers for the soaring healthcare costs of treating ailing smokers.
The lawsuit said that a Pennsylvania statute enacted a year after the 2000 national settlement required that "the tobacco monies would be used to make Pennsylvanians healthier and to fund the health of future generations of Pennsylvanians."
Some 30 percent of the tobacco money was set aside for the adultBasic Insurance program and the Medicaid program for disabled workers, according to the lawsuit, which seeks class action status.
The governor's office in a statement said: "The lawsuit is without merit and will be successfully defended in court."
The statement added: "The fiscal reality is that adultBasic is not a financially sustainable program."
The lawsuit seeks an injunction that would require the Pennsylvania Treasury to hang onto the tobacco funding until the case is decided on its merits.
Many states are struggling to erase budget deficits spawned by the recession and a number of governors have proposed deep cuts in health plans, especially Medicaid, which funds healthcare for the poor, elderly and disabled.
With state unemployment rates still fairly high, demand for public health plans has risen -- just as the federal stimulus program winds down, taking away the extra Medicaid payments the states were temporarily given.
Corbett's office had no immediate comment on a story published Tuesday by the Post-Gazette that said the governor wanted to use $220 million of the $2 billion a year the state gets from the tobacco money for economic development.
(Reporting by Joan Gralla; Editing by Leslie Adler)
Support HuffPost
The Stakes Have Never Been Higher
Popular in the Community