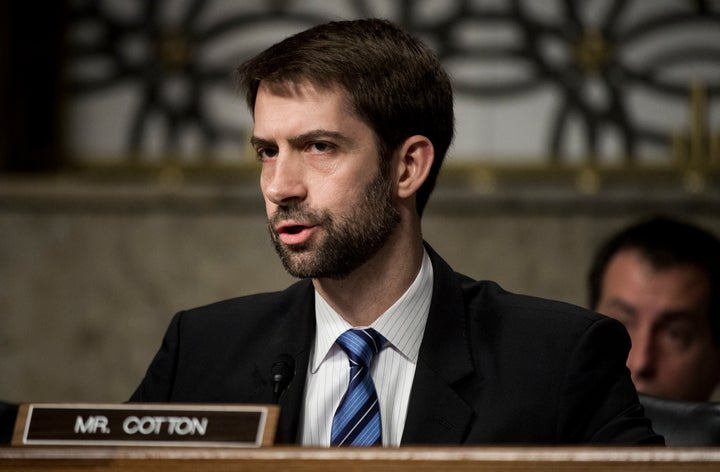 Sen. Tom Cotton (R-Ark.) is criticizing efforts to reform America's criminal justice system, arguing on Thursday that the country actually has an "under-incarceration problem" -- even though the U.S. has the world's largest prison population. 
Cotton gave a speech on criminal justice Thursday at the Hudson Institute, a conservative think tank in Washington, D.C. During his remarks, he argued that policy goals like reducing mandatory minimum sentences, restoring voting rights for felons and reducing barriers to employment for ex-offenders are misguided and "dangerous."
"The claim that too many criminals are being jailed, that there is over-incarceration, ignores an unfortunate fact: For the vast majority of crimes, a perpetrator is never identified or arrested, let alone prosecuted, convicted and jailed," Cotton said. "Law enforcement is able to arrest or identify a likely perpetrator for only 19 percent of property crimes and 47 percent of violent crimes. If anything, we have an under-incarceration problem." 
Cotton specifically criticized a bill under consideration in the Senate that would reform federal sentencing laws for nonviolent crimes. He dismissed as "baseless" the argument that too many low-level offenders are already locked up, and declared the bill "dead" even though it has bipartisan support. 
"The truth is you cannot decrease the severity and certainty of sentences without increasing crime," Cotton said. "It's simply impossible."
According to the latest rankings from the Institute for Criminal Policy Research at Birkbeck, University of London, the United States has the largest prison population in the world and the second highest incarceration rate, trailing only Seychelles. (Experts argue that Seychelles, an island country with about 90,000 citizens, is an outlier due to its small population size.) At the end of 2014, more than 2.3 million Americans were inmates in federal or state prisons, local jails or juvenile correction facilities, with people of color accounting for a far greater share than national demographics would suggest.
Meanwhile, 18 states plus the federal prison system were over capacity at the end of 2014. In Illinois, prisons had 20,000 more inmates than the facilities were designed to hold. 
Thursday's speech marked Cotton's latest move against the Senate reform bill. He's heavily lobbied his colleagues to oppose the legislation, repeatedly claiming that its passage would lead to the release of thousands of violent criminals.
The bill's proponents have pushed back against his claims.
"Nobody is getting out of jail free, which is some of the characterization that is out there," Sen. John Cornyn (R-Texas), a co-author of the bill, said in January.
Calling all HuffPost superfans!
Sign up for membership to become a founding member and help shape HuffPost's next chapter
BEFORE YOU GO
PHOTO GALLERY
Scenes From 114th Congress And Capitol Hill