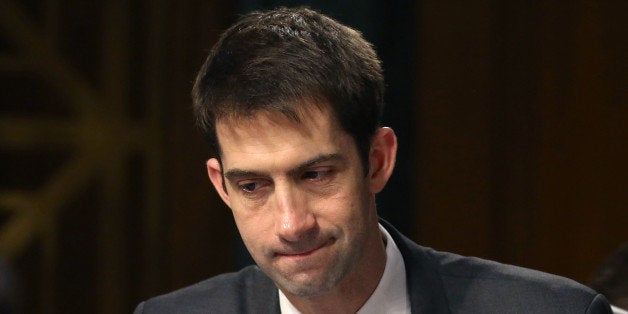 WASHINGTON -- Sen. Tom Cotton (R-Ark.) got an earful Friday from a father whose son was killed in Afghanistan in 2010.
Cotton, known for his hawkish views on military conflicts, gave a speech on foreign policy, during which he lambasted President Barack Obama's policies on Iran nuclear negotiations and his views toward regions fostering terror threats.
Cotton paused to address Fred Boenig, asking the significance of Boenig's four lapel pins. Boenig explained that he is a gold-star dad, the term used for parents who have lost loved ones in war.
"I have three more kids currently serving and I would consider you probably the biggest hawk in Washington," Boenig said.
Cotton explained that he believes in "strength in confidence."
"When I hear that term and when I hear you speak, all I hear is somebody knocking at my door again, and I only have one question to ask," Boenig said.
He didn't stop there, asking Cotton if he knew how long it had been since the last military combat fatality overseas -- a question he said he also posed to self-described hawk Rep. Adam Kinzinger (R-Ill.).
Cotton couldn't give a specific answer, acknowledging that Americans have died in Afghanistan this year. "I can't tell you the exact time frame though," he added.
"It was 58 days ago, and before that it was the longest period and it was 116 days," Boenig said. "When do I get to get my kids to come home safe again?"
Pressed further on U.S. wars in Iraq and Afghanistan, Cotton said it wasn't that simple.
"There is no definite answer because our enemies get a vote in this process. I'm deeply sorrowful for your loss and I greatly honor the service that all of your children have rendered like all of our veterans do, but in the end I think the best way to honor our veterans …" Cotton said.
Boenig interjected: "Is to have more killed?"
"... Is to win the wars they fought," Cotton said, remaining calm.
Boenig continued to corner Cotton, expressing frustration with Cotton over a meeting he had with defense contractors shortly after sending a letter to Iran's top leaders
"It's very clear what your views are," Boenig said. "My views are keeping our kids safe, which include my children. Now that you have a child you will understand the difference between going yourself and sending your child is a much greater thing, Sir. I just think when you speak of sending our kids again, let's make it worth it, not just to send them to politically help some Halliburton or somebody else to make money," Boenig said.
Cotton said he understood the pain wars create for veterans and their families, but stressed that extreme threats still exist.
"I wish we could say that a group that is 7,000 miles away and has no air force or navy -- doesn't pose us a threat. But the threat environment that we face here at home and throughout the West is more grave today than in any time in any of our lifetimes. That's not just my assessment … that's the assessment of Obama's own national security and intelligence officials," Cotton said, referencing the Islamic State in Iraq and Syria.
After the event, Boenig told Politico that he wasn't surprised by how Cotton handled the talk, adding, "I was a conservative my whole life, but it all changed."
Calling all HuffPost superfans!
Sign up for membership to become a founding member and help shape HuffPost's next chapter
BEFORE YOU GO
PHOTO GALLERY
Scenes From 114th Congress And Capitol Hill