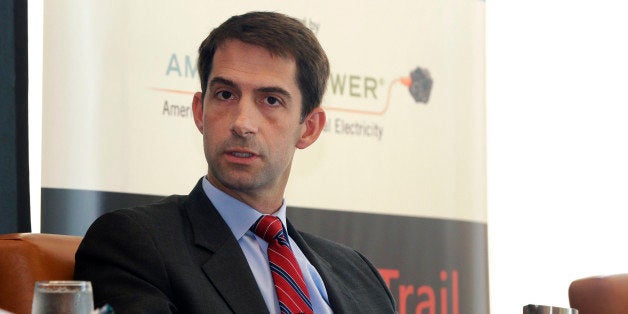 Fear-mongering and demagoguery in the heated Arkansas Senate race isn't new. But Rep. Tom Cotton (R-Ark.), who is running to unseat incumbent Sen. Mark Pryor (D-Ark.) in November, delivered a particular whopper in a recent tele-town hall.
Suggesting that his opponent is weak on national security, Cotton told his constituents that extremists from the Islamic State, also known as ISIS, are actively collaborating with Mexican drug cartels to infiltrate the U.S. border and attack Arkansans.
"The problem is with Mark Pryor and Barack Obama refusing to enforce our immigration laws, and refusing to secure our border. I'll change that when I'm in the United States Senate," he said, according to audio obtained by The Washington Post's Greg Sargent on Tuesday. "And I would add, it's not just an immigration problem. We now know that it's a security problem. Groups like the Islamic State collaborate with drug cartels in Mexico who have clearly shown they're willing to expand outside the drug trade into human trafficking and potentially even terrorism."
"They could infiltrate our defenseless border and attack us right here in places like Arkansas," he added.
Never mind that the U.S. southern border isn't "defenseless." Never mind that Arkansas is a contiguous state located hundreds of miles from Mexico. Never mind that ISIS militants would probably have trouble locating Arkansas on a map. And never mind that two of the country's top intelligence officials said there is no credible evidence to support the theory that militants are operating next door, nor that they are plotting to sneak across the border.
The operating word for Cotton is that it "could" happen, much like how anything "could" happen, but that doesn't say anything as to its probability or basis in fact.
Cotton took it a step further, however, by implicating Mexican drug cartels in the process. It's only a shame he didn't go for the hat-trick by warning his constituents that Ebola-carrying terrorists were collaborating with Mexican cartels posed the ultimate threat to Arkansas. After all, the charge would be merely a step from previous GOP claims that undocumented immigrants could be sneaking across the southern border carrying the deadly virus.
REAL LIFE. REAL NEWS. REAL VOICES.
Help us tell more of the stories that matter from voices that too often remain unheard.
BEFORE YOU GO
PHOTO GALLERY
Senate Seats Up For Grabs In 2014