WASHINGTON -- Slamming what he characterized as a global effort to "delegitimize Israel," Sen. Tom Cotton (R-Ark.) introduced a new bill on Monday that would reverse decades of U.S. policy and allow goods produced in the West Bank and Gaza to be labeled "Made in Israel" when they are sold in the U.S.
Cotton's new bill, which his office says does not yet have any co-sponsors, resembles past congressional attempts to equate Israel with its settlements in the occupied Palestinian territories under the guise of resisting an international boycott against Israel. Yet it goes further than those past efforts: If signed into law, it would reverse a 20-year policy of labeling products from settlement businesses differently than those from Israel proper.
Specifically referencing the 1995 statute in guidance it issued on Jan. 23, the administration stated, "It is not acceptable to mark [goods produced in the West Bank or Gaza Strip] with the words 'Israel,' 'Made in Israel,' 'Occupied Territories-Israel,' or any variation thereof."
Yet until the Obama administration pointed this out, it seemed many U.S. lawmakers were unaware that the longstanding policy existed -- in part because the U.S. labeling rules have been inconsistently enforced.
Some took the administration's reminder about the existing labeling rules as an indication that the administration plans to step up enforcement. Katrina Skinner, a spokeswoman at U.S. Customs and Border Protection, declined to elaborate on future enforcement but told The Huffington Post that the Jan. 23 notice was "simply a restatement of existing requirements and was issued in response to recent mislabeling allegations received by CBP."
A concern about increased enforcement of the existing customs law is presumably why Cotton -- an outspoken supporter of past laws that would insulate Israeli settlements from scrutiny -- waited until now to call for reversing it.
It's far from certain that Cotton, who is one of the Senate's most polarizing figures, will attract enough support from his colleagues to move the law forward. Dylan Williams, vice president of government affairs at J Street, a progressive pro-Israel group that opposes legislation that equates Israel with the occupied territories, doubts that the bill will become law.
"It shows the same shallowness of policy understanding and disregard for longstanding, bipartisan U.S. diplomacy as his embarrassing letter to the Iranian regime last year," Williams wrote in an email, referring to a letter Cotton sent to Iranian political leadership in the midst of nuclear negotiations last year, warning that any nuclear accord could be scuttled once President Barack Obama leaves office in 2017.
All but seven Senate Republicans signed the Cotton letter, but the hawkish lawmaker faced widespread criticism across the aisle and failed to gain any support from Democrats -- even from those who opposed the nuclear deal.
Cotton's decision to include a reference in his new bill to goods produced in the Gaza Strip could prove particularly controversial. Israel withdrew its settlers and military from Gaza in 2005. The suggestion that Israeli goods would be produced in Gaza in the future indicates an openness to Israel re-entering the Gaza Strip -- an idea that is not even popular within conservative political circles in Israel.
Even so, it's possible Cotton's bill could gain traction, especially if a more mainstream senator co-sponsors the legislation. "The groundwork has been laid for this; it was just a matter of time," said Lara Friedman, director of policy and government relations at Americans for Peace Now, another liberal pro-Israel group that is opposing Cotton's bill.
A similar measure is tucked into a customs bill that passed in the House last year and is expected to move through the Senate shortly. In November, 36 senators signed a letter Federica Mogherini, the E.U.'s foreign policy chief, describing the E.U. labeling measure as an effort "impose more diplomatic and economic pressure on Israel" and "prejudge the outcome of future negotiations" over a two-state solution.
"On this issue, there is already bipartisan agreement, thanks to AIPAC [the American Israel Public Affairs Committee] and other groups," Friedman said, noting that legislation perceived as defending Israel will be even more popular than usual during an election year.
However, due to a combination of opposition from the Obama administration and lobbying by groups like J Street and Americans for Peace Now, some Democrats are increasingly hesitant to back legislation that has the unstated effect of protecting Israeli settlements.
If this growing skepticism prevents Cotton's bill from gaining enough supporters to move forward as a stand-alone bill, Cotton may choose to attach it to a high-priority piece of legislation, as other lawmakers did with the trade and customs bills last year.
AIPAC, a more conservative influential pro-Israel lobby group that has backed past legislation aimed at undermining the E.U. labeling guidelines, told The Forward last week that it does not have a problem with the 1995 U.S. customs law.
"This longstanding customs policy, in contrast to the actions of the European Union, was not intended to stigmatize Israeli products but to merely facilitate duty-free access to the U.S. market for Palestinian goods," said Marshall Wittmann, a spokesman for the group. Wittmann did not immediately return a request for comment on Cotton's bill.
This article has been updated with a statement from U.S. Customs and Border Protection.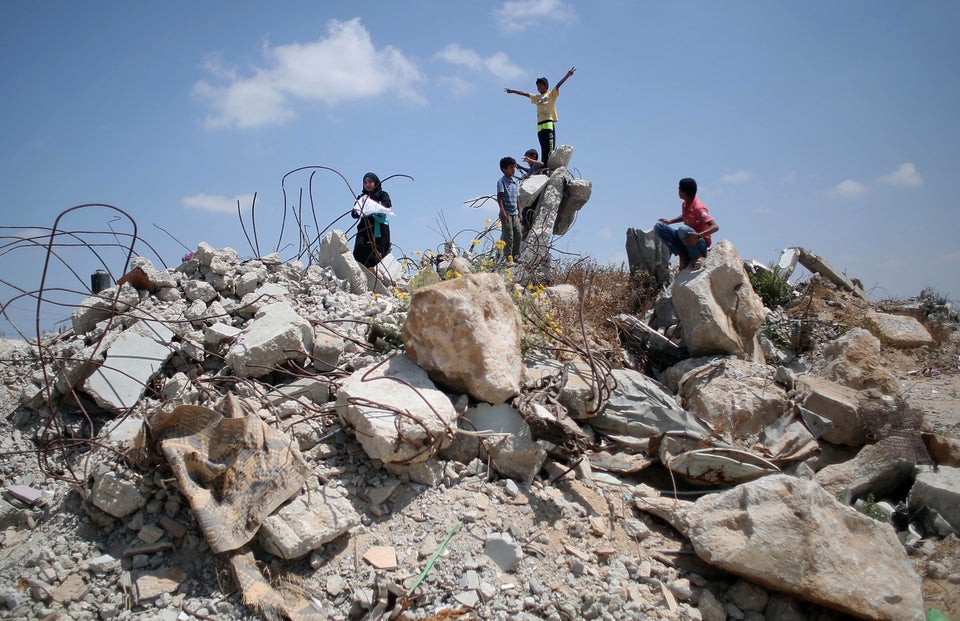 Gaza War Anniversary Photos
Popular in the Community