WASHINGTON -- An open letter from Senate Republicans to Iranian leadership, released Monday, ended up sparking scorn about its ultimate value and flak over the authors' adherence to protocol.
Drafted by Sen. Tom Cotton (R-Ark.) and co-signed by 46 Republican senators, the letter was a not-so-subtle threat to Iran that any international agreement reached with President Barack Obama on Iran's nuclear program would unravel under his successor.
Coming just weeks before a March 24 deadline for the current talks, it was met with a combination of outrage and ridicule. Former Bush administration legal adviser Jack Goldsmith poked a hole in the senators' interpretation of constitutional law. Others decried the letter's blatant effort to sabotage the ongoing talks between Iran, the U.S. and five other nations. Still others found the whole episode perplexing and overdramatized.
Former Sen. Richard Lugar (R-Ind.), who twice served as chairman of the Senate Foreign Relations Committee before retiring in 2013, told The Huffington Post that it was unusual to see so many senators reach out to a foreign leader on a controversial topic when the White House and the relevant Senate committee were both actively engaged on the matter. The letter, he added, was unlikely to be taken seriously.
"I think they may have a variety of motives, and I don't want to impute them. But as we have observed with the great deal of argument among members of the Senate and House on whether they should participate in the [Israeli Prime Minister Benjamin] Netanyahu speech, these things are partly about foreign policy but also domestic policy," he said. "I'm sure the 47 senators have their convictions, but they are not really in the position to formulate legislation and make a serious effort that the president will have to deal with."
To underscore his point, Lugar noted that one of the most powerful Senate Republicans on matters of foreign policy was absent from Cotton's endeavor: the current chairman of the Foreign Relations Committee. Sen. Bob Corker (R-Tenn.), who is sponsoring legislation to ensure that Congress has a meaningful chance to judge any final nuclear agreement, was not among the signatories.
"We've got a bipartisan effort that's underway, that's got a chance at being successful, and while I understand all kinds of people want to weigh in on this issue, and I appreciate that, I just felt like, as chairman of the committee who's working with the ranking member and others to get to a place where we have [a veto-proof] 67 votes, it was probably not something that was going to be helpful in that effort, for me to be involved in it," said Corker.
Six other Senate Republicans also didn't sign on. "I do agree that the ultimate agreement, if there is one, should come before the Senate. I don't think that the Ayatollah [Ali Khamenei] is going to be particularly convinced by a letter from members of the Senate, even one signed by a number of my distinguished and high-ranking colleagues," said Sen. Susan Collins (R-Maine).
Sen. Jeff Flake (R-Ariz.), who supports Corker's bill, "did not believe the letter was necessary," according to his office. In January, Flake was one of the few Republicans who resisted increasing sanctions on Iran, out of concern that it would derail the negotiations. The office of Sen. Lamar Alexander (R-Tenn.) said he "has expressed his position by agreeing to cosponsor Corker's legislation." Sens. Dan Coats (R-Ind.), Thad Cochran (R-Miss.) and Lisa Murkowski (R-Alaska), the three other Republicans missing from the bottom of the letter, declined to comment.
While Cotton's letter created divisions on the margins for the Republican Party, within Democratic circles there was uniform disdain, bordering on disgust.
Officials at the White House and the State Department confirmed to HuffPost that the freshman senator did not give them advance warning that he would be reaching out on congressional Republicans' behalf to a foreign government. They did not comment on whether Cotton's move violated the Logan Act, which prohibits unauthorized Americans from negotiating with foreign governments in relation to U.S. policy, but that suggestion has been floated in social media. Instead, they treated the letter as a dangerous piece of naivete.
"The erroneous and misconceived claims in this letter put at risk the basic conduct of American foreign policy, ignoring over two centuries of precedent and the ability of any President of the United States to secure political commitments or reach agreements with other nations," a State Department official told HuffPost in an email Monday afternoon.
"This letter is not a serious foreign policy critique," the official concluded. "It is an effort to score political points in ways that are profoundly dangerous."
The Obama administration wasn't the only entity left in the dark about Cotton's outreach to Iran. Several key Democratic senators confirmed that he had bypassed their offices as well. Sens. Robert Menendez (D-N.J.) and Tim Kaine (D-Va.), who are both cosponsors of Corker's bill, were given no advance notice. Neither was Senate Minority Leader Harry Reid (D-Nev.), whose office confirmed to HuffPost that he was not consulted prior to the letter's release.
"Look, I don't think that the Iranians need a letter to be told what they know about our government. This government and the Congress will have a say at some point on this issue," Menendez told HuffPost. "As far as I'm concerned, you saw it was a partisan letter -- [that] tells you everything about it."
The absence of prior consultation fed criticism among Democrats that the letter was a partisan stunt. It angered others who saw it as an affront to presidential prerogatives on foreign policy.
"In terms of protocol, in terms of precedent, the idea that you have members of the Senate reaching out to a foreign power, trying to sabotage an agreement that the president is working on, is outrageous," Sen. Bernie Sanders (I-Vt.) told HuffPost.
Cotton, perhaps anticipating the backlash, told "Fox & Friends" on Monday morning that he would keep the letter open for more people to sign. "I hope more Democratic senators will join us. I would encourage presidential candidates to join us," he said, noting that at least four of the senators who signed were considering presidential bids.
During the course of the day, however, Cotton showed no signs of backtracking on the letter's content. On Monday afternoon, he tweeted his letter at Iran's supreme leader, Khamenei, President Hassan Rouhani, and Foreign Minister Javad Zarif.
"It has come to our attention while observing your nuclear negotiations with our government that you may not fully understand our constitutional system," the letter opened, before reminding Iranians that while Obama's second and final term is nearly up, senators may serve for decades to come.
Later, Cotton tweeted his letter to each of the three Iranian leaders in Farsi.
The translation was most likely unnecessary, as Rouhani and Zarif hold doctorates from universities in Glasgow, Scotland, and Denver, Colorado, respectively.
UPDATE: 10:56 p.m. -- Vice President Joe Biden added his voice to the chorus of disapproval condemning Cotton's letter in a Monday night statement. Biden, who served in the Senate for 36 years, called the Republicans' tactic "beneath the dignity of an institution I revere."
"I cannot recall another instance in which Senators wrote directly to advise another country -- much less a longtime foreign adversary -- that the President does not have the constitutional authority to reach a meaningful understanding with them. This letter sends a highly misleading signal to friend and foe alike that our Commander-in-Chief cannot deliver on America's commitments -- a message that is as false as it is dangerous," Biden said
Ali Watkins, Akbar Shahid Ahmed and Sam Stein contributed reporting.
Before You Go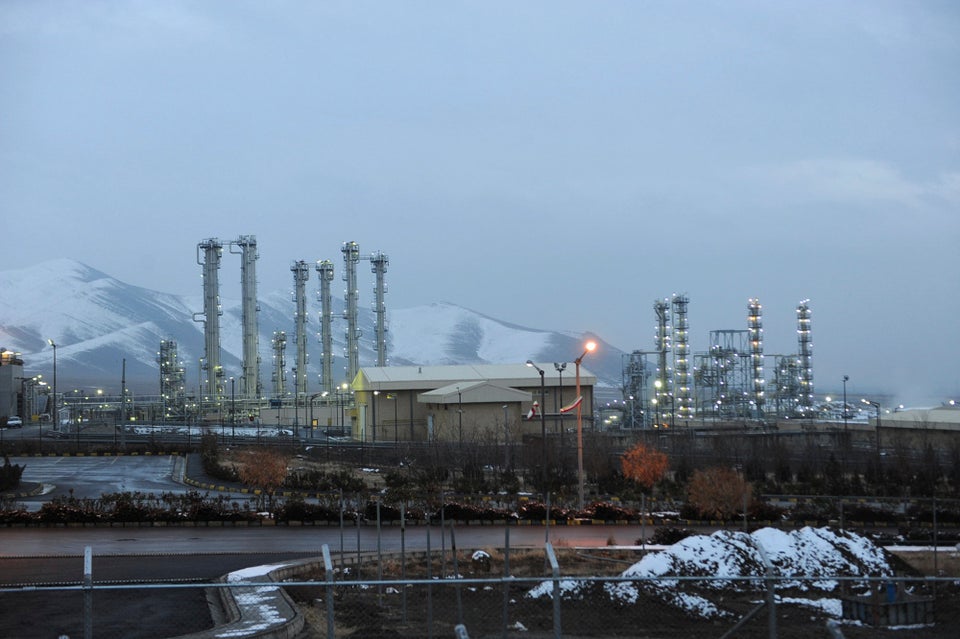 Iran's Nuclear Sites
Popular in the Community