The campaign of Sen. Mark Pryor (D-Ark.) is demanding an apology from his challenger, Rep. Tom Cotton (R-Ark.), who questioned the sincerity of Pryor's religious faith in a radio interview about this week's Supreme Court decision in the Hobby Lobby case.
The court ruled Monday that the craft store chain did not have to pay for insurance for several types of contraception for women, which many on the right hailed as a victory for religious liberty. Pryor said that he understood the religious inspiration for the suit, but that he thought families should be able to make their own health care decisions.
Asked about the ruling by local news station KNWA on Tuesday, Cotton didn't just praise the decision; he went on to question whether Pryor and President Barack Obama actually have faith.
"Barack Obama and Mark Pryor think that faith is something that only happens at 11 o'clock on Sunday mornings," Cotton said. "That's when we worship, but faith is what we live every single day," he added, suggesting that Pryor doesn't do the same.
Pryor's campaign fired off a statement Wednesday saying the senator "has always been open about his personal faith and has served as four-time co-chair of the National Prayer Breakfast."
"I'm disappointed in Congressman Cotton's deeply personal attack on me," Pryor said in the release. "He and I may disagree on issues, but for him to question my faith is out of bounds. From a young age I have never shied away from talking about the importance of God in my life, and it's my Christian faith that gives me comfort and guidance to be a steady voice for Arkansas in the Senate."
Cotton's remarks seemed odd since his campaign had defended Pryor's religious sincerity only last December, when the National Republican Senatorial Committee impugned the senator's faith.
NRSC spokesman Brad Dayspring had taken issue with a Pryor ad in which the senator said the Bible was his "north star." Dayspring found that hypocritical because Pryor had once said the Bible is "really not a rulebook for political issues."
"So is the Bible Mark Pryor's compass, providing the 'comfort and guidance to do what's best for Arkansas'? Or is it really not a good rule book for political issues and decisions made in the Senate?" Dayspring emailed reporters. "Guess it depends on which Mark Pryor that you ask."
At the time, Cotton spokesman David Ray responded by slamming Dayspring's attack, suggesting religion was out of bounds.
"That is an incredibly bizarre and offensive email from the NRSC's press secretary," Ray told The Hill. "We should all agree that America is better off when all our public officials in both parties have the humility to seek guidance from God."
Asked about the apparent flip-flop this week, Ray emailed a fresh statement from Cotton in which the congressman said that Pryor is "a man of faith," but suggested that faith isn't necessarily the same as the religious beliefs of his fellow Arkansans.
"Senator Pryor is a man of faith and practices it with commendable openness, which I respect, but I wish he would respect Arkansans' right to practice our faith," Cotton said. "Instead, Senator Pryor and President Obama still defend Obamacare even after the Supreme Court said it violated freedom of religion. Senator Pryor supports taxpayer-funded abortion and late-term abortion and would force Christians to pay for abortions despite their deeply held religious beliefs. That's a real attack on faith."
Pryor's campaign also noted that former Arkansas Gov. Mike Huckabee (R) was among those defending Pryor in December.
"I would never question at all Mark Pryor's faith," Huckabee said on his radio show back then. "I happen to know firsthand from my conversations with him that his faith is very real. He's very committed as a Christian believer. He believes the Bible. I just, I'm not going to say anything disparaging about Mark because it would be unfair."
Watch Cotton's remarks above.
Before You Go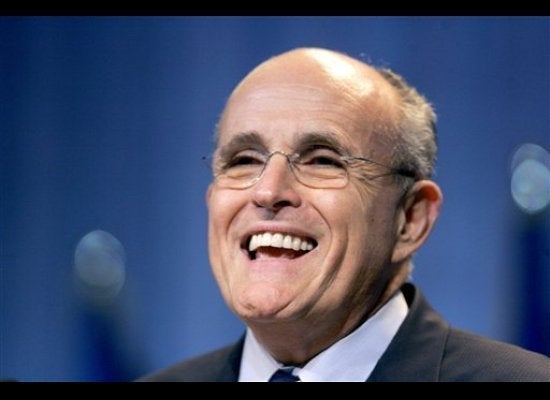 Out-Of-Touch Politicians
Popular in the Community