Sen. Tom Cotton (R-Ark.) is quickly becoming the most vocal Republican critic of House Speaker Paul Ryan's (R-Wis.) plan to repeal the Affordable Care Act.
Just days after warning the plan could cost House Republicans their majority in the 2018 midterm elections, Cotton ripped into the GOP's three-pronged approach to replacing the law with tax credits and health savings accounts.
"There is no three-step plan. That is just political talk. It's just politicians engaging in spin," Cotton said in a Tuesday morning interview with radio host Hugh Hewitt.
Last week, the speaker outlined the steps lawmakers and the administration will take to repeal and replace Obamacare. First, he said, Congress would pass the American Health Care Act with the help of a process called budget reconciliation. Second, Health and Human Services Secretary Tom Price would take administrative action to deregulate the Obamacare marketplace. And third, Congress would pass additional legislation to allow policies to be sold across state lines.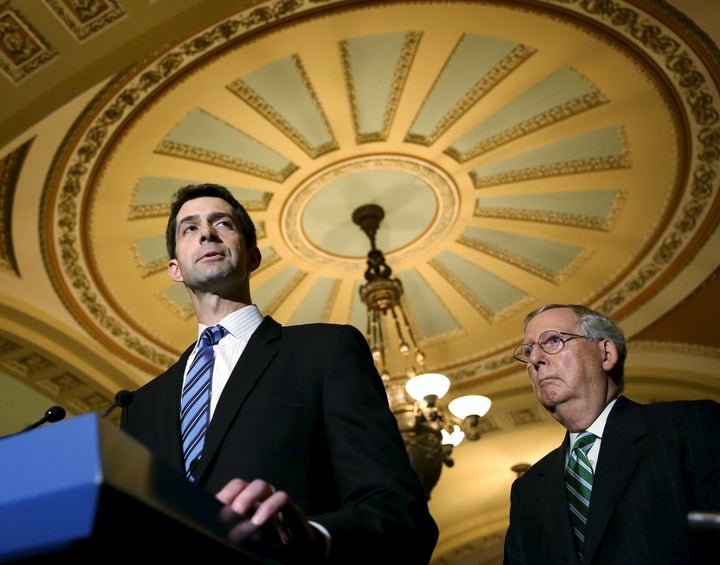 The three-step approach was a big part of the administration's response to a brutal assessment of the bill by the nonpartisan Congressional Budget Office on Monday, which said the legislation would lead to 24 million people losing insurance by 2026. During a hastily arranged press conference at the White House, Price called the CBO estimate "unbelievable" because there are still more changes to come ― some regulatory, but some as legislation ― as Ryan outlined in his three-step strategy.
Cotton isn't buying it, however.
"Step one is a bill that can pass with 51 votes in the Senate. That's what we're working on right now. Step two, as yet unwritten regulations by Tom Price, which is going to be subject to court challenge, and therefore, perhaps the whims of the most liberal judge in America," he said in the interview, referring to the U.S. Court of Appeals for the D.C. Circuit, where most regulatory challenges are heard.
The senator took particular issue with the prospect of Democrats joining Republicans in the Senate to overcome a filibuster and pass what he called "mythical legislation" to stabilize the insurance market in the future.
"If we had those Democratic votes, we wouldn't need three steps. We would just be doing that right now on this legislation altogether," he said. "That's why it's so important that we get this legislation right, because there is no step three. And step two is not completely under our control."
Several other GOP senators have also spoken out against the legislation in recent days. Sen. Steve Daines (R-Mont.), whose state expanded Medicaid under Obamacare, said he wants "to see costs and premiums go down to make health care more affordable for Montana families." Sen. Dean Heller (R-Nev.) also panned the bill during a meeting with constituents on Saturday.
During his interview on Tuesday, Cotton called the CBO estimate "directionally correct" and said he was worried whether insurance premiums, which the agency said would rise in the short term, would come back down as estimated.
"That's why I believe it's so important that the House take a pause and try to fix some of these fixable problems in their committees, which is the easiest place in Congress to fix them, whereas the Senate floor is the hardest place to fix them," he said.
White House press secretary Sean Spicer declined to address Cotton's criticism on Tuesday.
"We have a free country. He can say what he wants," Spicer said during a daily press briefing.
This article has been updated with comment from Spicer.
Before You Go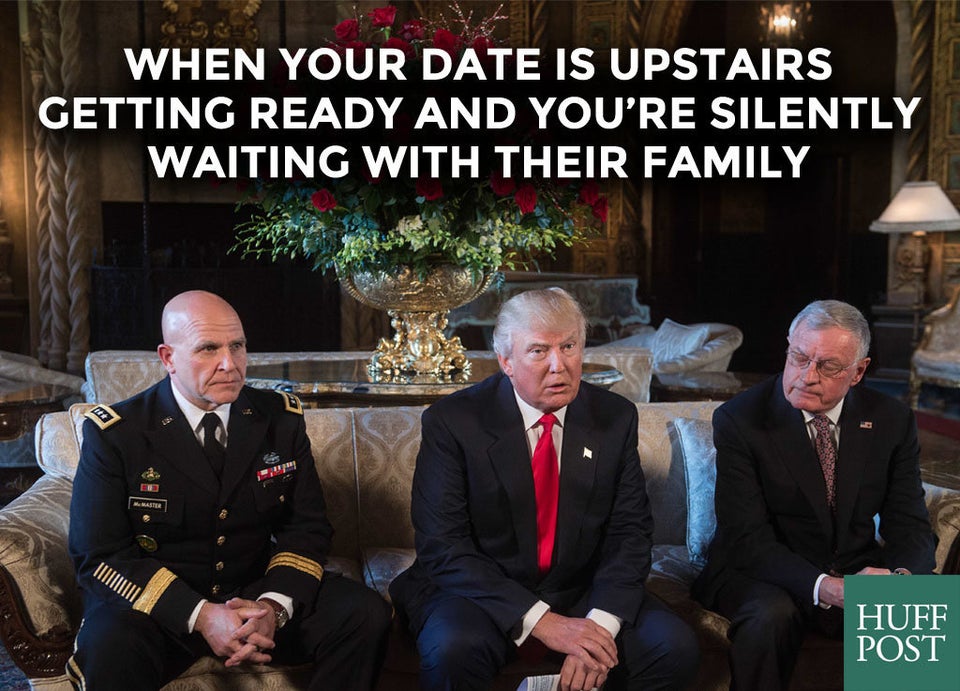 These Photos Of The Trump Administration Say Pretty Much Everything
Popular in the Community