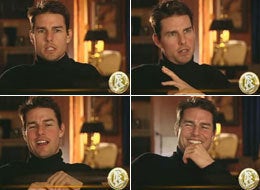 Update: The original embedded YouTube video has now been pulled, but new versions are getting uploaded.
If the YouTube does not work, Gawker again has it
Update:
Half an hour after posting this story Sunday at 10 pm, about two hours after gawker's time stamp, Huffington Post was alerted that the video content in the story was no longer there or playing. However, there are still excerpts of what Tom Cruise said in what was a 9+ minute video touting the wonders of Scientology. One quote Huffington Post remembers that gakwer does not mention is Tom Cruise saying something roughly equivalent to, "I have no time for spectators. Either get on the field or get out of the stadium." *(actual quote below)
Mark Ebner, the investigative reporter, just emailed us links to some Scientology promotional videos. Morton's central claim is that Cruise, star of movies from Risky Business to Mission Impossible, is the effective number two of the Church of Scientology, the cultish religion founded by L. Ron Hubbard, and subscribed to by other eccentric Hollywood actors such as John Travolta. The videos bear out, at the very least, that Cruise is central to the organization's marketing efforts. In this amazing clip, to a background track of theme from Mission Impossible, Cruise explains how Scientologists are "the authorities on the mind", the only people who can bring peace and unite cultures.

Keep reading and see the empty video box

Update II:
Us Weekly has more of a transcript. A few highlights:

"Look, I wish the world was a different place. I'd like to go on vacation and go and romp and play and just do that, you know what I mean. That's what I want it to be. There's times I'd like to do that, but I can't because I know I have to do something about it.

"I have to do it because I can't live with myself if I don't, and that really is it.

"I have to tell you something - it is rough and tumble, and it's wild and wooly, and it's a blast, it's a blast, it really is fun because, dammit, there is nothing better than the going out there and fighting the fight and suddenly you see things are better.

"I need more help, get those spectators either in the playing field or out of the arena. Really, that's how I feel about it.**
Calling all HuffPost superfans!
Sign up for membership to become a founding member and help shape HuffPost's next chapter