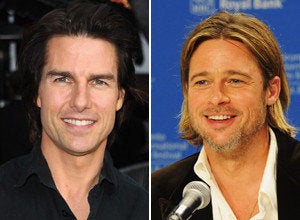 It's a legitimate question, given his wrinkle-free face and action star moves as he reaches 50 years of age. He's featuring this winter in "Mission: Impossible 4," will star in the violence-galore upcoming Jack Reacher adaptation "One Shot," and will play a futuristic soldier repairman in "Cloud Atlas."
The question of Cruise's mortality will be addressed in a new, manga-inspired way, if all things go as planned, in yet another gun-toting badass role in "We Are Mortals." Of course, that's what we heard about Brad Pitt, too.
According to The Hollywood Reporter, Cruise is in talks to join the Doug Liman-directed "We Are Mortals," an adaptation of the futuristic Japanese war manga, "All You Need Is Kill." Cruise would play a soldier who dies in the first day of combat in an intergalactic war, but is brought back to life each day to fight and die once again (and Bill Murray thought he had it bad).
Previously, Vulture had reported that Pitt was in talks for the role, which made sense since Liman directed his 2005 film, "Mr. and Mrs. Smith," which not only made a lot of money at the box office, but ended up making a lot of money for tabloids, too.
Popular in the Community