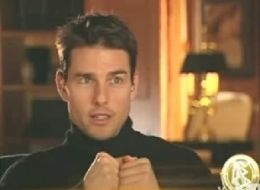 What's been the bigger sensation this week, the Tom Cruise Scientology Video and just-released unathorized biography or the release of the movie Mad Money — starring Katie Holmes, Ted Danson, Diane Keaton and Queen Latifah? If you gambled multiple segments of your very competitive morning show on the latter — you goofed! This week, it's been all about the Tom Cruise and Scientology, which has created an internet sensation between the original posted-then-pulled video on YouTube, cease-and-desist-defying version on Defamer, and an hour of follow-up footage on Gawker — all providing fodder for Andrew Morton, author of Tom Cruise: An Unauthorized Biography, to discuss on the Today Show.
Let's back up. This week, ABC's Good Morning America kicked off with an interview with Katie Holmes, wife of Tom Cruise and mother of Suri Cruise and, oh yes, actress co-starring in Mad Money. The interview was all about motherhood and the movie...but not Morton, or that book — for which interviewer Diane Saywer and ABC News took some heat the next day in the New York Post. GMA subsequently aired interviews with Diane Keaton, Ted Danson, Queen Latifah Tuesday through Thursday. Also, all the Mad Money stars except for Keaton went on to interviews on Live with Regis & Kelly. In none of those interviews was the Cruise Scientology book mentioned, the Scientology video or Scientology itself.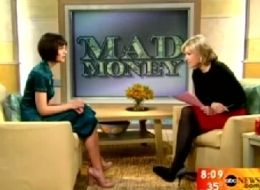 Meanwhile, over at NBC's Today Show they were less, shall we say, reticent: On Tuesday, Morton visited the Today Show for a lengthy sit-down, spread across three hours and different hosts. On Wednesday, Today looked at Cruise's religion in a report by Kerry Sanders pegged on the Scientology video. Today, Gene Shalit put a cherry on top of the cake by reviewing Mad Money...and calling it a "waste of time." Ouch.
Upshot: Exclusive Mad Money sit-down with four stars including a Diane Sawyer one-on-one with the almost-reclusive and highly inaccessible Katie Holmes? A great idea — in any week other than the week that a blockbuster secret video of Tom Cruise proselytizing for Scientology over nine mesmerizing, can't-look-away minutes happens to tear up the web. We're guessing the ratings will reflect it. Oh well. Better luck next time, ABC! And if you did make a deal not to mention Scientology, the book, or Katie's marriage to the scion of the first and subject of the second, well then, serves you right.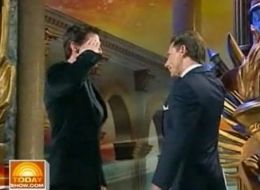 Related:
Fascinating interview with Andrew Morton in the Globe & Mail here. Apparently, the Today show gave him a tough pre-interview. Also, apparently Bert Fields sent Morton lots of letters. In other news, in this AP interview Morton discusses the Cruise-Holmes marriage contract.

Related
Popular in the Community