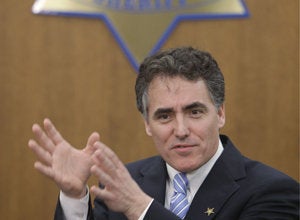 It's been a rough week for the Democrats hoping to take over President Obama's former Senate seat from retiring incumbent Roland Burris.
First, a Rasmussen poll showed Republican front-runner Mark Kirk edging out Democrat Alexi Giannoulias and completely dusting Democrat Cheryle Jackson.
Congressman Kirk beat out State Treasurer Giannoulias 41 percent to 38 percent in Rasmussen's survey of 500 likely Illinois voters, with 17 percent unsure of their vote and 4 percent picking "some other candidate."
Kirk led Jackson, the president of the Chicago Urban League, 47 percent to 30 percent, again with 17 percent unsure and 6 percent saying some other candidate. However, Kirk's slim lead over Giannoulias falls within the poll's 4.5 percent margin of error.
Also this week, Merchandise Mart boss Chris Kennedy decided against running after a long flirtation with the race. That doesn't help Jackson, whom Sun-Times columnist Laura Washington recently advised to get her on her knees and pray that Kennedy runs and splits the white male vote with Giannoulias.
More bad news for Jackson came Thursday, when the Illinois Democratic County Chairmen's Association endorsed Giannoulias.
On Friday, Sun-Times columnist Michael Sneed quotes an anonymous "top Dem" saying the party wants Cook County Sheriff Tom Dart to run.
"The sheriff is seriously considering it," an anonymous source close to Dart told Sneed, "and will announce his decision by the end of the month."
Sneed thinks Dart won't do it, because it would mean giving up the platform-- and income-- of his sheriff's job.
If true, the Dart courtship wouldn't be national Democrats first foray into the Illinois Senate race. Back in June, top Democrats tried to woo Attorney General Lisa Madigan into the race and brought her to the White House to make their pitch. Madigan spurned the President's overture, opting instead to stay in Chicago and run for re-election, leading the White House to declare that "the President is not going to pick a candidate in the Illinois Senate race."
The election is still a ways off, though, and that 17 percent of undecided voters will start picking sides as the campaigns move along.
Related
Popular in the Community