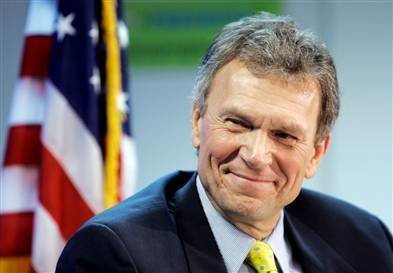 Daschle will not only serve as Obama's Health and Human Services secretary, a decision expected to be announced today, but will also oversee a new White House Office of Health Reform, the AP reports:
A Democratic official familiar with the plans _ to be announced Thursday in Chicago _ said the additional appointment makes it clear that Daschle will coordinate efforts within the administration to overhaul the nation's health care system.

"He will be the White House's voice on this critical issue," said the official, who was not authorized to speak publicly about the development.
***UPDATE*** 12/10 9:18PM Barack Obama will hold a press conference tomorrow to discuss the state of the nation's health care system. He will name Tom Daschle as his Secretary of Health and Human Services, the Huffington Post has learned. Obama issued this release announcing the press conference.
Tomorrow, President-elect Obama will hold a press conference at the Chicago Hilton to discuss the future of the nation's health care system.
Former Senate Majority Leader Tom Daschle has accepted President-elect Barack Obama's offer to be Secretary of Health and Human Services, Democratic officials said Wednesday.
The appointment has not been announced, but these officials said the job is Daschle's barring an unforeseen problem as Obama's team reviews the background of the South Dakota Democrat. One area of review will include the lobbying connections of his wife, Linda Hall Daschle, who has done representation mostly on behalf of airline-related companies over the years. They spoke on condition of anonymity because they weren't authorize to discuss the matter publicly.
Daschle was a close adviser to Obama throughout the former Illinois senator's White House campaign. He recently wrote a book on his proposals to improve health care, and he is working with former Senate leaders on recommendations to improve the system.
Organizations seeking to expand health coverage were quick to praise the selection.
"Sen. Daschle has a deep commitment to securing high-quality, affordable health care for everyone in our nation," said Ron Pollack, executive director of Families USA. "His new leadership position confirms that the incoming Obama administration has made health care reform a top and early priority for action in 2009."
Obama also announced several transition working group leaders, including Daschle, who will oversee the health policy working group. They include former Environmental Protection Agency administrator Carol Browner on energy and environment and former Clinton White House adviser Jim Steinberg and Obama campaign senior foreign policy adviser Susan Rice on national security.
Health policy wonks and universal health care advocates celebrated the move. The American Prospect's Ezra Klein called Daschle's appointment "huge news, and the clearest evidence yet that Obama means to pursue comprehensive health reform."
You don't tap the former Senate Majority Leader to run your health care bureaucracy. That's not his skill set. You tap him to get your health care plan through Congress. You tap him because he understands the parliamentary tricks and has a deep knowledge of the ideologies and incentives of the relevant players. You tap him because you understand that health care reform runs through the Senate. And he accepts because he has been assured that you mean to attempt health care reform.

Compare the choice of Daschle to Clinton's decision to task Hillary Clinton and Ira Magaziner with health care reform. Neither Clinton nor Magaziner had any relevant experience in Washington, either with the health care bureaucracy or with the legislative branch. [...] The choice of Daschle suggests that the Obama team has learned those lessons well.
Likewise, the New Republic's Jonathan Cohn writes:
This is a perfect role for Daschle. Although he was always been interested in health care, in the last few years he's become a true wonk on the subject, publishing a book called Critical: What We Can Do About the Health-Care Crisis. It urges precisely the sorts of reforms President-Elect Obama and his congressional allies are promoting right now.

Daschle is particularly interested in creating a "federal health board"--an independent govenrment-chartered body, structured like the Federal Reserve, that would both help set up the new system and then play a role in running it. One of its major goals would be to set basic coverage guidelines, to weed out payments for wasteful or unnecessary care. It's a complicated and politically dangerous notoin, but one that's necessary if we ever want to improve health care quality and get costs on control. (For more on the concept, and how to avoid its political pitfalls, see Ezra Klein's interview with Daschle from a few months ago.)
Via TalkingPointsMemo, here's video of Daschle discussing health care reform with Steve Clemons:
Popular in the Community