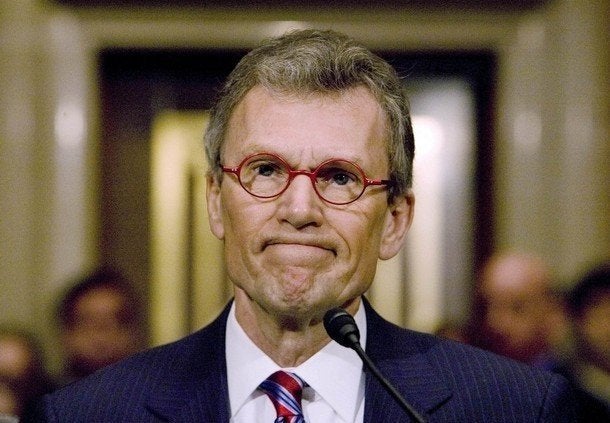 UPDATE: February 3, 1:05PM ET: Additional reporting by Sam Stein and Rachel Weiner
WASHINGTON -- Tom Daschle withdrew Tuesday as President Barack Obama's nominee to be health and human services secretary, dealing potential blows to both speedy health care reform and Obama's hopes for a smooth start in the White House.
"Now we must move forward," Obama said in a written statement accepting "with sadness and regret" Daschle's request to be removed from consideration. A day earlier, Obama had said he "absolutely" stood by Daschle in the face of problems over back taxes and potential conflicts of interest.
Moments after the news was announced, Andrea Mitchell of NBC News said she had just spoken to Daschle, who told her, "I read the New York Times this morning and I realized that I can't pass health care if I am too much of a distraction ... I called the president this morning." Mitchell described the call as emotional, and said Daschle was near tears.
The stunning Daschle development came less than three hours after another Obama nominee also withdrew from consideration, and also over tax problems. Nancy Killefer, nominated by Obama to be the government's first chief performance officer, said she didn't want her bungling of payroll taxes on her household help to be a distraction.
"They both recognized that you can't set an example of responsibility but accept a different standard of who serves," said White House press secretary Robert Gibbs.
Daschle, the former Senate Democratic leader, a strong and early backer of Obama's presidential bid and a close Obama friend, said he would have been unable to operate "with the full faith of Congress and the American people."
"I am not that leader, and will not be a distraction" to Obama's agenda, he said.
Obama had given Daschle two jobs _ to be White House health czar on top of the post leading the Health and Human Services Department _ and Daschle is relinquishing both. The developments called into question whether Obama will be able to move as quickly as he has promised on sweeping health care reform _ one of the pillars of his first 100 days agenda and expected to be among the hardest to accomplish.
"It really sets us back a step," said Sen. Dick Durbin, D-Ill. "Because he was such a talent. I mean he understood Congress, serving in the House and Senate; he certainly had the confidence of the president."
Said White House spokesman Gibbs: "We're looking for a new nominee, but the problem has existed for quite some time and the work toward a solution to make health care more affordable won't stop or won't pause while we look for that nominee."
Among those considered for the post before it went to Daschle was Howard Dean, the physician-turned-politician who ran for president in 2004 and recently left as head of the Democratic National Committee.
Asked repeatedly whether the White House sought Daschle's withdrawal, Gibbs said it was Daschle's decision alone. He "did not get a signal" from the White House to step aside, the spokesman said.
Daschle is the third high-profile Obama nominee to bow out. Obama tapped Bill Richardson to be Commerce secretary, but the New Mexico governor withdrew amid a grand jury investigation into a state contract awarded to his political donors. Obama named Republican Sen. Judd Gregg of New Hampshire to the position Tuesday.
Last week, the Senate confirmed Timothy Geithner as treasury secretary, but only after days of controversy over the fact that he had only belatedly paid $34,000 in income taxes.
Asked whether tax questions are going to arise with any other nominees, Gibbs said only that "the president has confidence in the people he has chosen to serve in government." He also defended the administration's vetting process.
He added: "the president takes responsibility" for the spate of nomination troubles.
The White House dispatched senior adviser David Axelrod to Capitol Hill to soothe Democrats whose nerves were frayed by the loss of Daschle.
Obama, Vice President Joe Biden and Daschle's former Democratic colleagues had rallied to Daschle's defense in the wake of questions about his failure to fully pay his taxes from 2005 through 2007. Last month, he paid $128,203 in back taxes and $11,964 in interest.
"Tom made a mistake, which he has openly acknowledged," Obama said Tuesday. "He has not excused it, nor do I. But that mistake and this decision cannot diminish the many contributions Tom has made to this country."
"I was a little stunned. I thought he was going to get confirmed," said Max Baucus, D-Mont., chairman of the Senate Finance Committee, the panel that would have voted on Daschle's nomination. "It's regrettable. He's a very good man."
Daschle also was facing questions about potential conflicts of interests related to speaking fees he accepted from health care interests. He also provided advice to health insurers and hospitals through his post-Senate work at a law firm.
The controversy has undercut Obama's promise to run a more ethical, responsible and special interest-free administration. Republicans and major newspapers had been questioning Obama's decision to stick with Daschle.
UPDATE: February 2, 9:15AM: WASHINGTON (AP) -- Tom Daschle says he's "deeply embarrassed and disappointed" about his failure to pay more than $120,000 in taxes.
President Barack Obama's pick to head the Health and Human Services Department apologized for his mistake in a letter to the Senate Finance Committee. Daschle is expected to answer questions from the panel on Monday in a closed session.
Daschle said he profoundly regrets the errors that the committee has had to deal with and he is willing to answer any questions.
The committee reported that Daschle recently filed amended tax returns to reflect $128,203 in back taxes and $11,964 in interest.
It remains to be seen whether the tax issue will stall or even derail Daschle's nomination.
UPDATE: February 1, 11:00PM: WASHINGTON (AP) -- Tom Daschle couldn't have received a much warmer welcome from his former Senate colleagues than he got three weeks ago when the prospective Health and Human Services secretary underwent his first confirmation hearing.
Story continues below
His next appearance promises to be less enjoyable.
Daschle is expected to answer questions Monday from members of the Senate Finance Committee, which has reported that Daschle recently filed amended tax returns to reflect $128,203 in back taxes and $11,964 in interest. Also, the financial disclosure form Daschle filed about a week ago shows that he made more than $200,000 in the past two years speaking to members of the industry that President Barack Obama wants him to reform.
The speaking fees were just a portion of the more than $5.2 million the former South Dakota senator earned over the past two years as he advised health insurers and hospitals and worked in other industries such as energy and telecommunications, according to a financial statement filed with the Office of Government Ethics.
Senators said Sunday they will await guidance from the Finance Committee before deciding whether the tax problem could stall or even derail his confirmation.
Obama has said that no one in his administration who has lobbied on a set of issues within the past two years can deal with the same subject matter. The president has already approved a few exceptions. Daschle is not a registered lobbyist but he worked at a lobbying firm.
Jenny Backus, a spokeswoman for Daschle, said the money he earned in speaking fees from health care interests do not pose a conflict for the health care reform Obama wants him to lead.
"He welcomed every opportunity to make his case to the American public at large and the health industry in particular that America can't afford to ignore the health care crisis any longer," she said.
Among the health care interest groups paying Daschle for speeches were America's Health Insurance Plans, $40,000 for two speeches; CSL Behring, $30,000; the National Association of Boards of Pharmacy, $16,000; and the Principal Life Insurance Co., $15,000.
Daschle said in a letter to the Department of Health and Human Services ethics office that if he's confirmed by the Senate, he will resign as a senior policy adviser at the Washington law firm of Alston and Bird LLP. He reported earnings of more than $2 million from that firm during the past two years.
Daschle also earned more than $2 million in consulting fees from InterMedia Advisors LLC of New York, an investment firm specializing in buyouts and industry consolidation. He said he also intends to resign from that firm upon his confirmation.
Daschle's financial disclosure report was released after he acknowledged that he had recently filed amended tax returns for 2005-2007. The amended returns reflect additional income for consulting work, the use of a car service and reduced deductions for charitable contributions.
Former Senate colleagues on Sunday described Daschle as a popular public servant knowledgeable in health issues, yet they wondered how he could find himself in a tax mess _ and why the matter escaped Obama's team of background checkers.
Backus said Daschle asked his accountant in June if the car service could be a tax issue. He did not learn until late December that the service _ valued at more than $250,000 over three years _ was subject to taxes. The issue never came up at Daschle's first hearing before members of the Senate Health, Labor and Pensions Committee on Jan. 8.
Democrats expressed strong support for Daschle and credited him with acknowledging a mistake. Republicans took some shots at the new administration now that a second Cabinet pick has run into tax problems and an earlier nominee withdrew amid a grand jury investigation.
The Senate Finance Committee planned to meet behind closed doors to discuss the Daschle nomination.
Sen. Jon Kyl, who is on the committee, said members will try to understand his explanation. "I think it's too early to tell," said Kyl, R-Ariz. "Well, sure, you have to be troubled by it."
But a Democratic committee member, Sen. John Kerry of Massachusetts, brushed aside concerns that Daschle's nomination was in jeopardy.
"It's obviously a mistake. But I think it's an innocent mistake. I don't think it affects one iota his ability to do the job," Kerry said.
Kyl appeared on "Fox News Sunday," and Kerry spoke on NBC's "Meet the Press."
UPDATE: February 1, 11:50AM: From HuffPost's congressional correspondent Ryan Grim:
Democrats in the Senate, with a nod from President Obama, are rallying behind Tom Daschle. Most notably, Sen. Ted Kennedy, the Massachusetts Democrat, has publicly backed Daschle, the former Senate majority leader, despite Daschle's tax problems.
Kennedy's support is crucial given his position as chairman of the health committee and his vaunted status in the Senate. "I know Tom Daschle. I know his character. And I look forward to his confirmation," said Kennedy in a statement.
Kennedy is joined by Obama in continuing to support Daschle. "The president believes nobody's perfect but that nobody's hiding anything," Robert Gibbs, Obama's spokesman, told reporters.
Sen. Charles Schumer (D-N.Y.) has also come out behind Daschle. Schumer is the third-ranking Democrat in the Senate and a senior member of the finance committee, which will vote on Daschle's confirmation. "At a time when health care policy will dramatically change, we need Tom Daschle leading the effort as HHS Secretary. Tom identified and self-disclosed his oversight. I believe Tom's reputation for integrity will assure that he will be confirmed by the Senate Finance Committee and the full Senate," said Schumer.
Daschle failed to report in-kind income in the form of a driver and car, saying he had become used to the treatment as Senate majority leader. His colleagues have defended Daschle by arguing that he self-reported the back taxes, admitted his mistakes and has rectified the situation.
Sen. John Kerry (D-Mass.), chairman of the foreign relations committee, backed Daschle and is also a senior member of the finance committee. "Tom Daschle has spent nearly three decades serving the public. It is important to put his experience to work during a critical time when our nation's healthcare system desperately needs an overhaul. I have confidence in his leadership ability. As a former member of both the House and the Senate, his knowledge of the legislative process is unmatched. He has built relationships with and is well respected by members of Congress on both sides of the aisle - necessary components to getting good legislation passed in a timely manner. Months ago, Tom personally and proactively addressed the taxes issue and took all necessary steps to correct his innocent error. I've known Tom Daschle for years and he is a man of great character and integrity who will do a superb job in helping us fix our healthcare system. I look forward to his speedy confirmation," said Kerry.
UPDATE: January 31, 11:20PM: The Washington Post reports further details on Tom Daschle's unpaid taxes. Daschle waited nearly a month after he was nominated by Obama before revealing that he owed a substantial amount of money in back taxes:
Daschle, one of Obama's earliest and most ardent campaign supporters, paid $140,000 to the U.S. Treasury on Jan. 2 and about two days later informed the White House and the Senate Finance Committee, according to an account provided by his spokeswoman and confirmed by the Obama administration.

Although Daschle had known since June 2008 that he needed to correct his tax returns, he never expected the amount to be such a "jaw-dropping" sum and "thought it was being taken care of" by his accountant, spokeswoman Jenny Backus said.
Popular in the Community