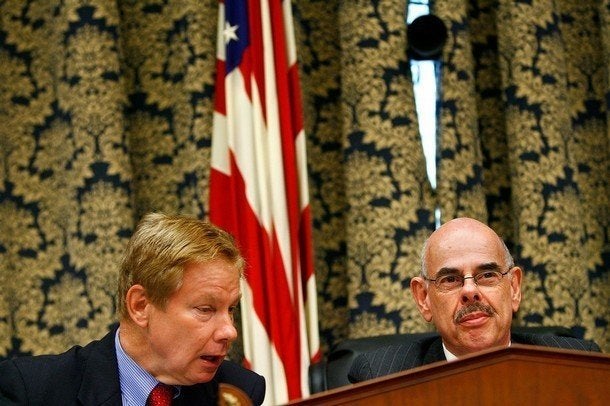 Former Rep. Tom Davis warned on Saturday night that the Republican Party he has been a part of throughout his career had become "a private club with an admissions test," destined to long-term minority status without major structural changes.
Speaking before the pro-gay rights Log Cabin Republicans, Davis, a long-serving Virginia Republican, warned that "cultural issues" and a lack of diversity (especially within cities) "has been killing" the GOP. The "old coalition," he concluded, simply "isn't working."
"We have been spiraling downhill," he said. "This administration, as they start making their decisions, it is going to be change some people can't believe in...The question for us is, as a party, are we going to be a welcome mat for these people? Or are we going to demand an admissions test and become a club? If that's the way we go, we are not going to be able to capitalize. We are not going to be able to grow. And we are not going to be able to govern."
Davis' remarks reflected much of the tone of the Log Cabin national convention. Steve Schmidt, who managed the McCain campaign in 2008, and Meghan McCain, the senator's daughter, both offered similarly biting and pessimistic takes on the exclusiveness of the GOP. Davis, however, offered the perspective of someone with a front row seat to watch his party's stumbles.
The Virginia Republican served 14 years in the House of Representatives before retiring from Congress in 2008. A Republican with an occasional moderate streak, he was endorsed by the Log Cabin Republicans despite supporting a constitutional amendment banning same-sex marriage. He dabbled with the notion of running for the Senate in 2008, before deciding to take time away from Washington. On Saturday, Davis floated the idea of returning to elected office. But any comeback, he seemed to say, could only be made possible if the Republican Party expanded its tent of voters.
"Right now, we've become a regional party," said Davis. "It is not the people in the party. It is the national branding that so hurts us... There are 18 states, which total, with the District of Columbia, 238 electoral votes that have now gone democratic in five straight presidential elections. And Sen. McCain wasn't within ten points in any of those 18 states."
Popular in the Community