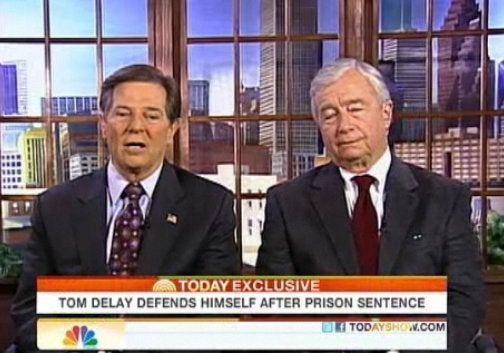 Former House Republican leader Tom DeLay says his conviction on money laundering charges was a politically-inspired case brought by prosecutors in "the most liberal county in Texas."
DeLay tells NBC's "Today" show that prosecutors "never proved" their case against him. DeLay is free on bond after being sentenced to three years in prison and 10 years' probation on a conviction of scheming to illegally influence Texas elections.
On Thursday, he again denied the charges.
"I was tried in the most liberal county in the state of Texas, and indeed in the United States," explained DeLay NBC's Matt Lauer in an exclusive interview. "The point is that this is a political campaign."
Appearing with DeLay, defense attorney Dick DeGuerin called it "a political prosecution." He said his appeal will be based partly on a 2009 Supreme Court ruling that overturned a longtime ban on political activities by corporations and unions. DeGuerin says DeLay was prosecuted "because he was so successful in bringing about redistricting in Texas."
In the interview, DeLay also said he stood by his stance on loosening gun control laws and promoting gun owners' rights in the wake of the recent shooting rampage in Arizona that left Rep. Gabrielle Giffords in critical condition.

"If I was still in congress I would welcome and urge those who can carry to come to my town meetings, I'd feel safer having them there," DeLay said. "Gun control and grandstanding doesn't help anyone."
REAL LIFE. REAL NEWS. REAL VOICES.
Help us tell more of the stories that matter from voices that too often remain unheard.